Do you know LOTD? Well you should!
LOTD, or Look Of The Day,  is a new up-and-coming fashion brand from Manchester, that appeared in our market with a powerful visual marketing advertising and I am in love with their things.
Affordable yet Stylish, fitting everyone, you will definitely love them.
After Halloween, is now time to say, that Christmas is coming and colder days as well.
Knitwear and Boots of the wardrobes or, like me, buying new things because I always need a new trendy coat or just accompany fashion trends – like accessible ones of course! Let's not get crazy with Fashion, let's get elegant and buy the right size and the right fitting for our bodies.
Always Elegant, never trashy! – this should be my motto!
I was in need of shoes (pffttt…any news here?), a pair of comfy yet stylish boots and something different.
I didn't want heels, something I could use not only to wear daily but have a proper statement.
Let the Catwalk starts: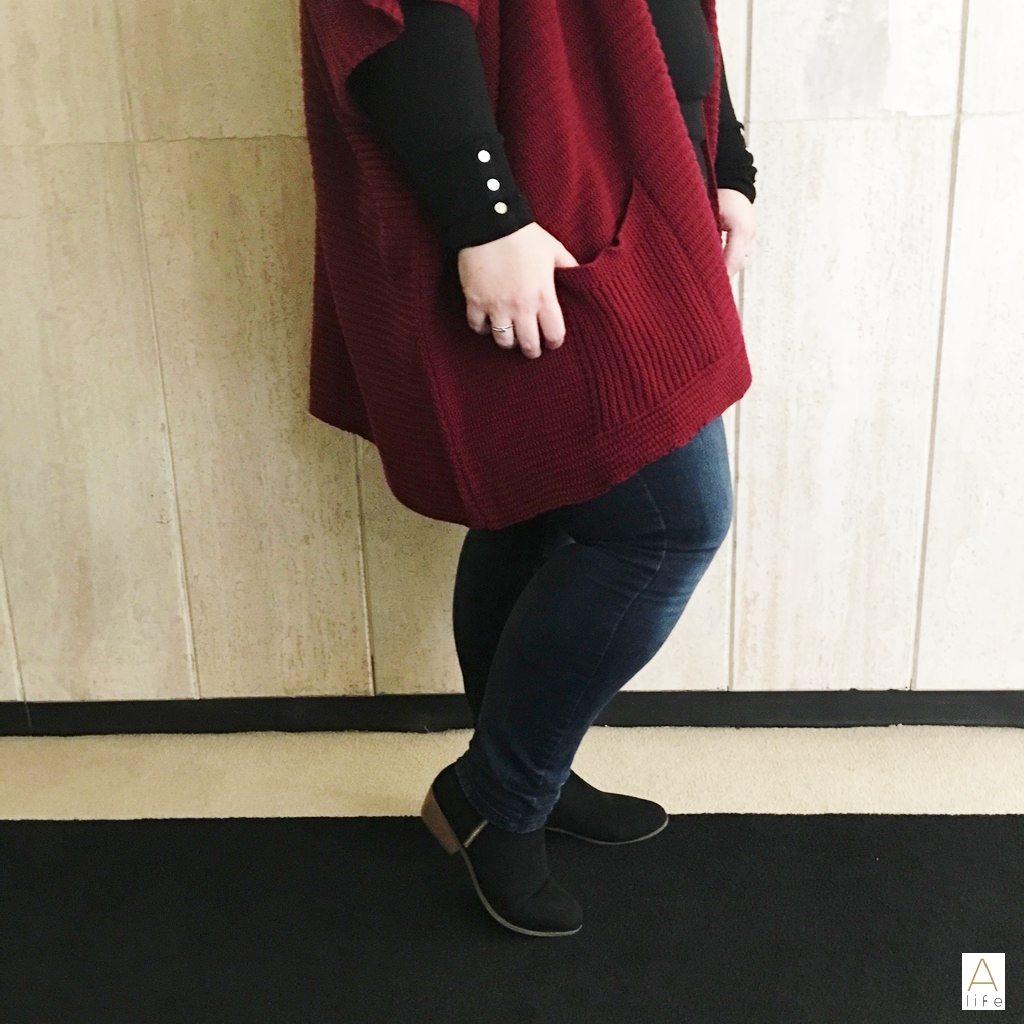 Cardigan
I told you – Knitwear and in the trendy colour: Wine! This next season is bringing back the Reds and burgundies plus the oversized cardigans or other knitwear, call it Boyfriend, I call it Oversized and that can fit any body of any size.
This Cardigan is one size and fits me really well – i am size 16/18, but this would fit probably till the 22UK.
With 3/4 sleeves, can be dressed for any occasion with trousers and a basic shirt or with a bodycon dress and high boots.
Since I got it that I have been wearing it, is comfy, suits really well, is trendy and is soooo warm!
Definitely a great cardigan and I can definitely says that Everyone would love to get one as a gift.
Waterfall Jacket with belt
You got it! In Wine as well! Waterfall jacket is always flattering to any body size.
I got mine in size Xl, which is an equivalent to a 16/18, but as the fabric is stretchy, fits really well in the arms (My main enemy).
I got this to wear with a more occasion dress or outfit, to go out at night for an event, but can be worn daily.
With or without heels, make sure you wear a sparkly shoe.
See more about LOTD Waterfall Jacket
Western Ankle Boots
Another trend, thank you for Westworld, Western is coming back, fringes and all!
These low ankle boots, with the outside zip in gold, is simple yet elegant and comfortable.
You can wear these boots not only with some skinny jeans, but also with dresses. Remember to mix Rocker/Western boots with your dresses for this season trend. I am loving them with anything really.
See more about LOTD Western Ankle Boots
Diamante Trainers
I actually have Louboutins Chucks trainers, and loved these as they are a shorter version for a more daily wear.
They have 2 gold zips and a different pattern in the lateral, back of the shoe, making it so cute to wear, with either jeans or with dresses, these are definitely a great and comfortable shoes to wear, and can add a sparkle to anything you wear, even if it's the most basic one.
See more about LOTD Diamante Trainers
And no one can buy things if it doesn't have a new bag in the cart!
Black Velvet Clutch
Another trend for this season, very 90's (I was there) with Velvet.
This little clutch is just what anyone needs in their wardrobe, you will use it for sure and is the perfect size (my Iphone 6S Plus fits perfectly, so we are covered!).
Has a gold closing and brings a little golden chain to wear on your shoulder, is a question on how do you like to wear it.
In my next events I will definitely wear this.
See more about LOTD Black Velvet Clutch
All the next season trends are here, from Velvet to Wine colours, from Jacket to Western Boots, make sure you let me know which on is your favourite?
Thank you to LOTD for these pieces.