By Dylan Bartlett
You don't have to be an interior designer to be great at decorating. All it takes is a little courage and ingenuity to beautify your home. So take down your cliché décor and make the following changes.
Here are seven unconventional ideas for your home's interior!
1. Peel-and-Stick Backsplash
An easy, fun way to decorate your kitchen or bathroom is with a peel-and-stick backsplash. It can give a whole new look to your space. Just choose a pattern and color, measure the area and get to work!
The tiles are adaptable and light so you can easily cut them with scissors to customize the design. Many products even feel like expensive glass or ceramic tiles, so your guests won't know the difference.
2. Floating Shelves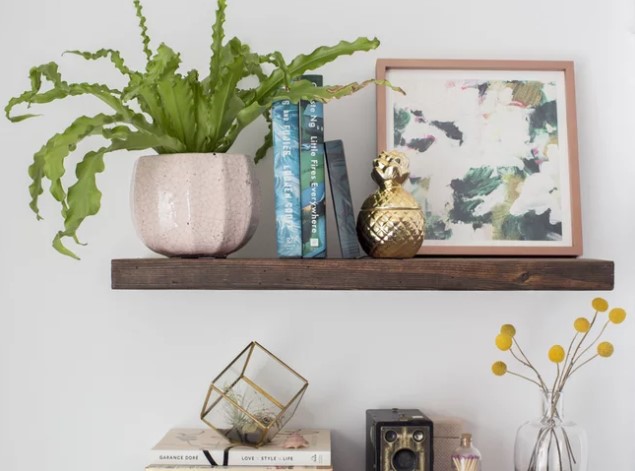 Why buy a whole bookcase when you can get crafty with floating shelves? They come in a variety of shapes, materials and colors so you can mix and match. They're also a great space saver and can be added into nearly any room however you see fit.
Or, make your own floating shelves for a truly unique — and affordable — look. All you need are some basic tools and some wooden boards to construct your masterpiece.
3. Garlands
Add a touch of warmth with a string of garlands. Wood beads, tassels, pom-poms, ribbons and even dried flowers are all fair game. String them across your fireplace mantle, your bed's headboard or even across walls for a fun and festive look that will make every day feel like a party.
Just like floating shelves, these garlands are fairly easy to make. So grab a fork, yarn in your favorite color and scissors to create your own.
4. Memo Boards
Decorate your home office with a memo board — or multiple boards! Functional, practical and stylish, cork or chalkboard walls are ideal for attaching notes, photos and even shelves.
A newer trend requires attaching a metal grid to your wall in place of these more traditional materials. Use binder clips or clothespins to hang pictures and notes and string your new garland through it to create a softer space.
5. Wine Bottle Towel Rack
Repurpose wine bottle racks as towel racks to better organize your bathroom. Instead of hanging your towels from a hook or keeping them folded up in the cupboard, roll up the towels and display them on your new rack.
If the rack won't stand up on its own, consider hanging it on the wall for a different look and to conserve space. And if you end up having more wine than towels, you can always go back to using the rack for its intended purpose.
6. Gallery Wall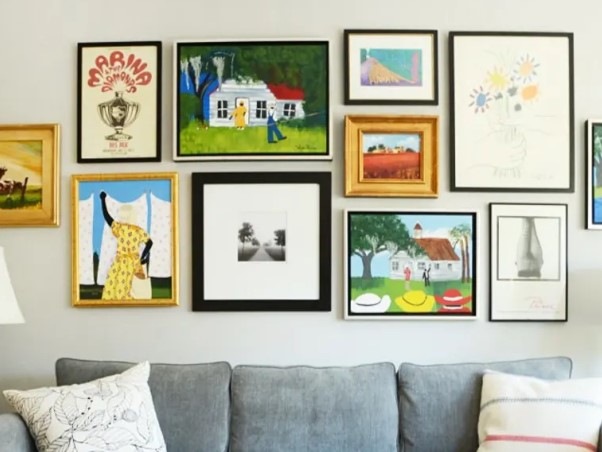 Is your wall art strewn throughout your entire house? Do you wish you could admire it all at once? Keep all your art in one place and make a gallery wall. This decor trend has stood the test of time for good reason.
Powerful, beautiful and eye-catching, these art displays easily fill up large empty walls with your own personality and taste. It's also a great way to display all the wild art you've been stashing away in your closet because you weren't sure where to hang it.
7. Baskets
Woven baskets are all the rage right now, but that doesn't mean you have to stick to the status quo and simply store things in them. Tightly woven baskets can hold plants, act as a footstool and double as decoration. You can even use them as wall decor.
Mix and match colors and patterns to bring a pop of culture to any room. Or search for shallow vintage farmhouse basket you can display on a shelf over a dining table to add some country charm.
Think Outside the Box
Furnishing a new living space or simply re-inventing a space can be an exciting process. It's your chance to make your home truly and uniquely yours and, if you use your imagination, the possibilities are endless.
However, when you begin to consider decorations or organizational items, it can be easy to stick to what you've always done. Big blue totes for storing things, a few family photos here and there and string lights worked before, so why not now?
While those ideas may suit you just fine, it's important to note that interior decorating isn't a one size fits all sort of deal. Often, your taste and go-to decor ideas will change as you and your family grow.
So don't be afraid to think outside the box and find new ways to better utilize and adorn your space. Each room and situation will be unique so take time to explore all your options and have fun testing out ideas. After all, this is your home and it should represent the unique personalities of the people who live there.