Don't know Nutribuddy Breakfast Shake? Let me tell you and explain everything.
You know those days when:
You are too tired of eating the same breakfast
In a rush to eat in the morning
Super late and no time to eat
no time to eat because your baby or child is in need for you?
Hangover or Sick
had a quick breakfast but your body is asking for a quick and early snack?
Got you! That's where Nutribuddy Breakfast Shake enters.
I have been trying it for 3 weeks now and while I am used to protein and shakes, not only for gym, but sometimes I prefer to make some changes in my food, and sometimes at dinner I just prefer a smoothie/shake because I feel too full. Either for weight loss or just as a healthy snack, the Nutribuddy Breakfast Shake can be taken.
Mine is in Chocolate with crunchy flax seeds, and tastes amazing with my soya milk, fresh in the morning. Best of all, it doesn't have sweetener. Just the natural one: Stevia!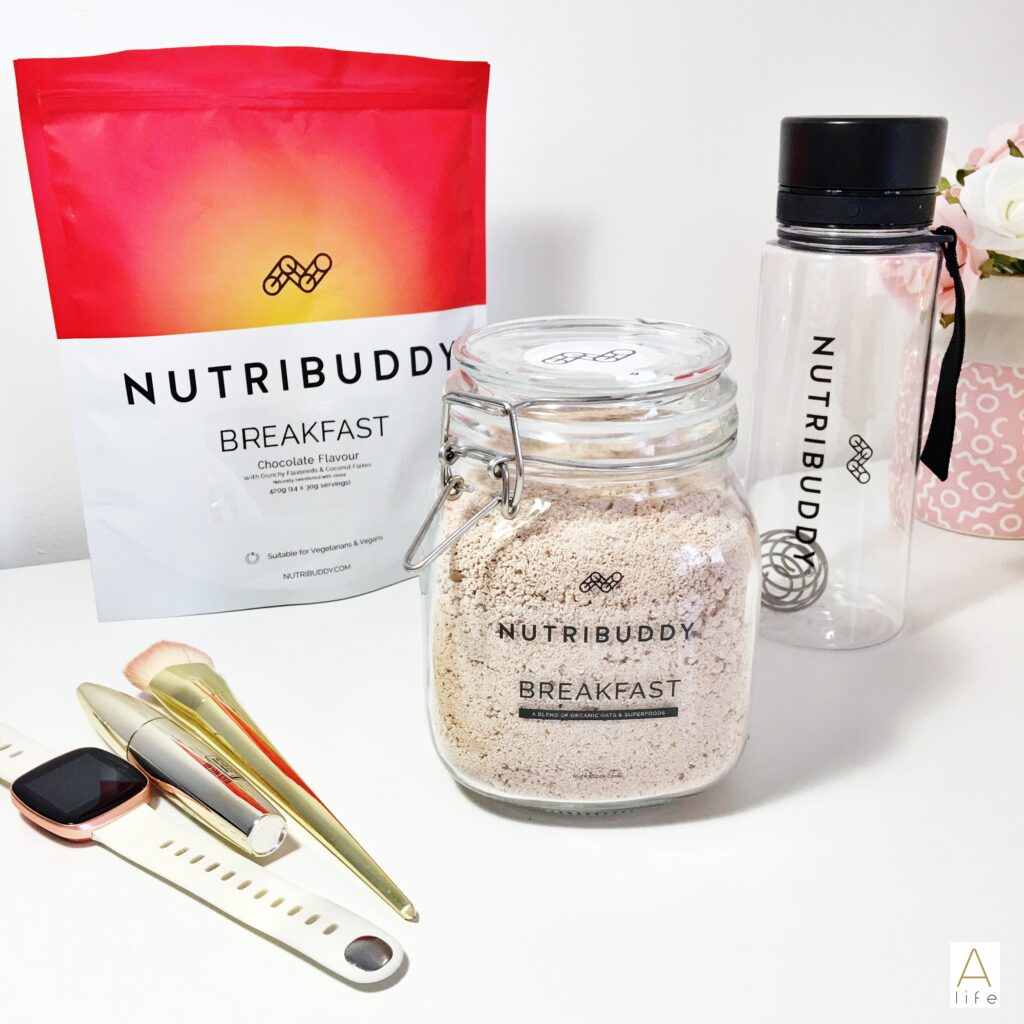 I got a Breakfast Bundle that brings:
A scoop
A Breakfast Refill pack in Chocolate with crunchy flax seeds
A shaker bottle in Black (there is pink as well)
Glass Jar to add my refill and keep it "plastic free"
How to make your Nutribuddy Breakfast Shake
Add 3 scoops of the shake onto your mixer bottle
Add between 300ml or 400ml of your milk, cow or vegetal, (less liquid = more sweet)
Why Flax seeds? Even though I have absolutely no problem in going to the loo, the flax seeds, or the crunchiness in it, makes my brain to assimilate that I am actually eating it. So instead of having bread and coffee in the morning, I decided to try out the Nutribuddy Breakfast Shake to make a cleanse of those, during these past 3 weeks. Of course the 3 first days you will feel the detox actually occurring, the caffeine and that nasty sugar called Gluten, will make you feel loopy and with low energy for those days but after that… light will shine and no more effects.
If you have problems such as constipation, flax seeds is your friends, and they are high in fibre and cleanse the colon in the balanced dosages.
My point of view:
I lost a bit of stomach and I notice on the amount of time I go to the bathroom, that the body is getting really well with the Nutribuddy Breakfast Shake.
So for me, this has been working really well, and actually, I am just checking their website for another flavour at Nutribuddy Breakfast Shake page and ordering one more.
Asking with a representative from Nutribuddy, I asked some questions about the Nutribuddy Breakfast Shake:
1 – For how long should people take the breakfast protein?
The Breakfast Shake can be used for as long as the customer wants! It's a completely safe, natural, nourishing formula so many of our customers use it as an ongoing, daily breakfast as it's so quick, healthy and easy.
2 – Should people only drink the protein and have lunch (and exercise) or can they eat something with it, or any other ideas/tips?
The shake isn't necessarily just for weight-loss, but instead just for a healthy, convenient breakfast. However, it totally CAN help with healthy weight loss simply as it provides full nutrition in relatively low calories and can help people keep a check on their calorie consumption. If people want to use it for weight-loss, we'd always recommend combining it an overall healthy lifestyle as it's better for the long-term. We'd suggest eating healthy, balanced meals for the other meals! Some people prefer to replace 2 meals with meal replacement shakes if they want to lose weight, but we'd never recommend replacing all 3 as this is too restrictive.
You can blend up the shake with fruit, nuts, seeds, yogurt, milk etc to make smoothies if people are looking for some variety from the product – it'll make the smoothies far more filling. We also have lots of recipes on our website for tasty but healthy treats and bakes!
3 – Why the difference in the mixes of some have flax seeds and others not.
We created both a crunchy and a smooth variety of our shake because some customers didn't like how crunchy/textured the shake was. The difference in ingredients was just to cater to these textures.
4 – What more products can people add for a weight loss (from Nutribuddy) and how long can people do this for (like a 3-month rigid diet) or any other tips.
We have a high-protein vegan shake which makes a filling yet low-calorie snack, or a meal replacement shake called the Shake Complete which contains the complete nutrition of a meal, is completely natural and vegan, but is relatively low in calories and therefore great for weight-loss! As the products are completely natural and safe formulas, customers can use the shakes for as long as they want! You can check out all our products and their uses at nutribuddy.com/shop
For more information and for a read on this matter and others, check
Nutribuddy Blog
.
Have you tried it? What flavour do you like?
Make sure you check the Nutribudy website often as they sometimes have great promotions and discounts.