Beware my dears! After this article, you will definitely search for any cream, eyeshadow, foundation, BB Cream, mask, Blush, etc, that you have at home and be amazed!
Either from a £1 eyeliner to a £75 foundation (from a very known and supposed Mineral brand), the Bismuth Oxiclorate, is everywhere!
Well, almost everywhere. Most of the Vegan brands don't use them, but strangely the biggest makeup brands use them since the Bismuth is used to cover everything to give that perfect and flawless look.
This article cames after my own sister, gained a reaction on her skin, an allergy type on Christmas day and only after a lot of search online, she finally got to the end of what was going on.
She bought a Mineral powder, expensive, and the Bismuth was there… lurking!
After that was just a matter of searching all her makeup, foundations, eyeliners, eyeshadows, etc, and it was there. All these years she used them and thought it was maybe because of food, but no: Bismuth you faker!
What is Bismuth Oxiclorate
Bismuth oxychloride is an inorganic compound of bismuth with the formula BiOCl, which is found naturally in the rare mineral bismoclite, BUT since every brand is using it, and the mineral itself is very rare, it has to be created in laboratory, produced as a by-product from refining lead, tin, copper, silver, and gold ores. – therefore, is NOT organic or mineral, and even though it's refined to the point were is safe to be used, under the law, it continues to be toxic!
It's also used by the companies to give a shine or glaze on the skin. So you get shiny with the product on, when you take it off, you get reddish!
Allergy reactions
That redness on your face, those eyes sored or puffy? Hi there Bismuth! People with this allergic reaction, say they feel like "something crawling under the skin". You can get the puffiness of the eyes (for some days), really swollen, or a "type of acne" skin reaction. It will spread if you continue to use it and can get to a point (if you don't stop) to an irreversible condition!
Here is the real pic from my sis face with the allergic reactions. And again: it will continue to spread on the skin if you don't stop and take care of it.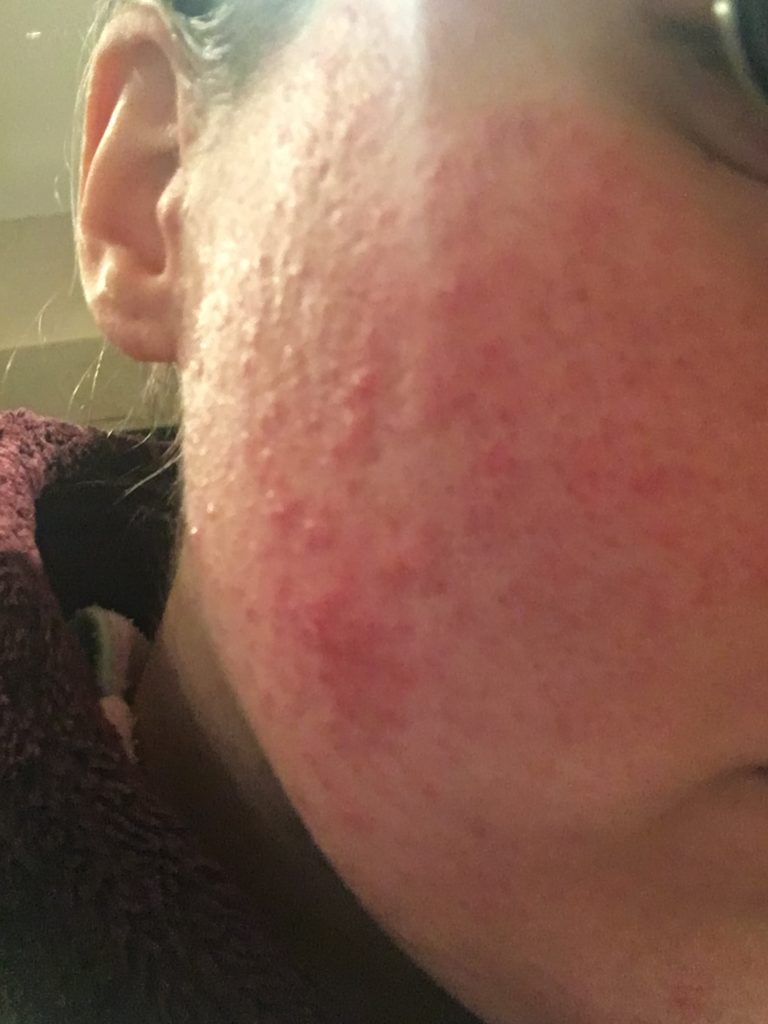 Beware if you don't know Chemistry 
Many companies (and I have now tracked down some of them) have noticed that using the word Bismuth Oxiclorate (CI 77163) on the list of ingredients, meant that they would not sell. So what happens? Some of them decided to go Bird Box, and Blindfold everyone, putting the list of what contains Bismuth, such as this line here:
"Tin Oxide, Titanium Dioxide, Iron Oxide, Carmine, Manganese"
Also if you see "Dimethicone" it means a very allergic thing: Silicone!! In fact, any component that ends in "Cone" is a relative to Silicone (tip by sis!).
Many brands know how Silicone is allergic, so they use the chemical name…shame on you guys!
All of these components are CI's and they give pigment to the makeup. The brand will never add LEAD because it was so much talked before, they simply removed it, or then add the Bismuth to cover that part… meaning the Lead is actually there!
So as I normally alert for known allergies, please be aware of this one. If you search online or on Youtube, many are talking about this, and this needs to be sorted out. First, because of the Health Hazard it is, secondly because the brands are scheming for profit and testing your skin, and getting away with it.
If you have any of these allergic reactions:
Contact your Doctor straight away
Search for this component of everything you own and touch your skin with it
Take pictures (document it)
send an email to the brand or laboratory with the picture and saying what is going on.
Don't apply anything unless it was your doctor's recommendation or a simple skincare without that component.
Have you had this reaction? Do you know someone who had this problem? Share it with me and I can tell those people's story to alert the others, simply Email Me.