New Children's non-fiction book in association with the Natural History Museum
What on Earth? Publishing has announced the launch of its latest book – 
EXPLORER 
DINOSAURS!
The pages open out to reveal a beautifully illustrated timeline of more than 100 dinosaurs, charting their rise and fall over 175 million years.
Every young reader is invited to become a Special Agent, and it's their job to sort through the clues, unravel the secrets and discover the truth behind the incredible story of dinosaurs.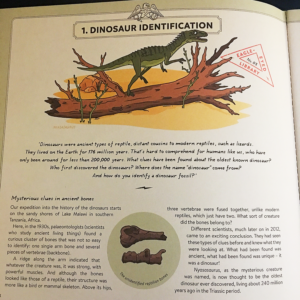 Which was the oldest dinosaur? Why did they grow so large? What did they eat? Would they have eaten us? Why did they die out?
These are just some of the intriguing questions that have passed the lips of curious children for generations – and this book answers them all.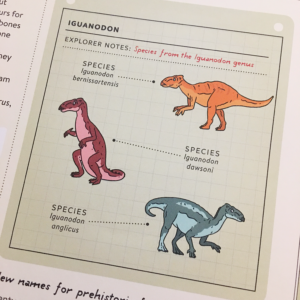 As Special Agents,
Explorer Dinosaurs!
 gives them all the tools they need to investigate and find out for themselves.
Explorer Dinosaurs!
 contains unique and exciting features including an 8-page pull-out timeline filled with fascinating facts about these extraordinary creatures that lived on our earth 230 million years ago, plus a 32-page illustrated explorer journal and dinosaur brain-teasers.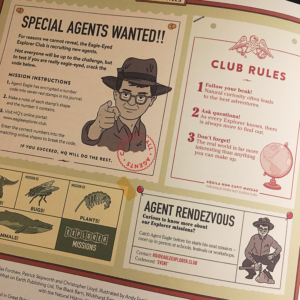 Calling All Agents:
Agent Eric Eagle is looking to recruit special agents for his next mission! Readers are invited to join the Eagle-Eyed Explorer Club, in which they embark on various adventures that will take them back in time. Agent Eagle has set special missions and challenges for the club's agents to complete.
The first 100 successful agents to complete their mission will be presented with a fascinating Coprolite Fossil (petrified dinosaur poo!) to start off their collection of prehistoric artefacts. Plus, every successful agent will receive an Eagle-Eyed Dinosaur Certificate of Merit.
To win this amazing prize, curious kids must crack Agent Eagle's secret code by matching the number of each chapter in the book with a series of shapes that appear on the Eagle-Eyed Explorer Club website.
Working closely with the Natural History Museum, Explorer Dinosaurs! is the first of four books in the brand-new Explorer Series, designed to stimulate children's curiosity aged between 7-11 years old.
This is more than just a book – children's active participation is encouraged with the opportunity to work with Agent Eagle, to find clues, solve puzzles, make new discoveries and complete challenges to test their mettle as budding young explorers.
Our 2 pence:
I am a lover of all things History and archaeology, facts and findings, but when it comes to Dinosaurs I am more excited than my son.
This book is filled with facts and well explained details for all ages to learn.
From Dinosaur identification pages to history of how they were discovered and by whom, you have a nice book not only for fun facts but also to learn in school projects.
The 1.8m Timeline – translated in imperial is 5 feet 10 inc – is fully described with wonderful design on the evolution and extinction of dinosaurs.
This book would be sooo suitable for a little younger me and when RJ starts to read on his own he will love to read it, meanwhile he is just pointing and asking what the dinosaurs are and we can continue to play.