By Now, you are all wondering why I have been less time on social media on December and what is this story about Photowall.
I will never, ever again, goodness forbids it happens again, to make a house move during Christmas… Ever!
It is the most stressfull thing to do, especially when you don't have anyone to help you and a toddler and going through Snow/rain/Christmas.
Best of all (not) is getting into a house where: washing machine broke, fridge freezer broke, boiler and central heating broke, dishwasher in a miserable state.
Even best of all, 2 days before Christmas, having the team from Curry's bring new appliances and look at the old machines, even though I've paid for the removal and install of the appliances (new and old), and they just got here, left the appliances in the middle of the living room and left saying they didnt had anything to install and I had to wait till the 29th… Curry's never again! That Friday I cried so hard but then I looked at little RJ and made my best – God dammit I was going to have MY Christmas MY way!
In a bright minute I just went to Gumtree (even though i hate that website) and searched for a handyman to install and take care of everything… and in my life there aren't coincidences, he used to live here!!! How curious. Things happen for a reason and I truly believe that.
Mr Russell, was prompt, he even said that he had so much work but felt the need to come over and help… is someone from up there playing? Fortune for us here at home, we've met a great guy and an excellent professional (if you need his contact let me know I can guarantee he is very cool and hard working person, absolutely brilliant!).
After he installed everything, I looked at my living room and it looked beyond pale and nothing like i really normally decorate for Christmas, at that precise time, mail come over and brought my Photowall package! I thought that it would arrive after christmas.
Still…believe in coincidences?
What is Photowall:
Photowall is a a Swedish company with a passion for design and quality.
They have wall murals and canvas prints that are environmentally friendly, fire-retardant in accordance with Swedish standards and do not fade in sunlight.
All motifs are selected with care and they created a Build your own/DIY canvas frame (very Swedish of course!); and every time someone purchases a product from photowall, they're actually helping planting trees in South Africa and make our planet greener and better. (To read more about their environmental work, please check this link: http://www.photowall.com/vi-skogen).
I loved their huge selection of paintings, they are very organised on the website and you can find from abstract, to nature, or children motifs as well as uploading your own photo or picture.
You can select the size of the canvas, select the borders and then select if you want the famous DIY frame – I asked for it, made no sense to not have it since I didn't have any frame for that size – My canvas has 1.50m to 50cms…. so… quite big.
It arrived quick, minding you it was the Christmas week and mail is always chaotic, and then I looked at the frame to build it.
Easy Peasy guys! Simple and easy to follow instructions, I started to build it and after 5 minutes the canvas was fitted!
Here is a quick tutorial on how to build the frame:
And this was the final look!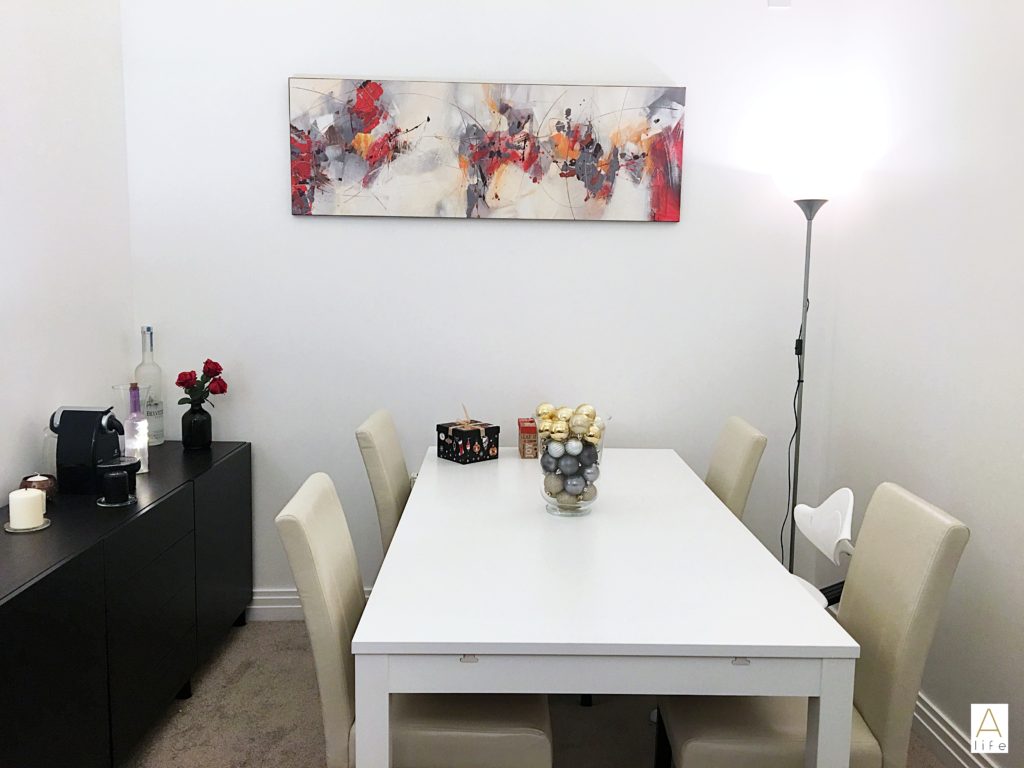 On that Friday I finally smiled happy!
– Oh by the way: on Christmas day the Oven also broke down….I had to use the neighbour oven  (Insert crazy laughing crying mum emoji here!)
To see more of Photowall, go to their website: http://www.photowall.com (make sure to select your country).
Don't forget to add this coupon – alejandraslifecampaign2018 – for my readers and followers have 20% off the final bill, and don't forget to tag me in your pictures so I can see what did you order! Let me me see the artsy in you!