Take a look at this beauty!
Tech, Smart, Definition, sound and Decor ALL in One Place – The Samsung Smart TV NU8500.
55″ of Smart TV, 4K UHD definition with HDR 10+.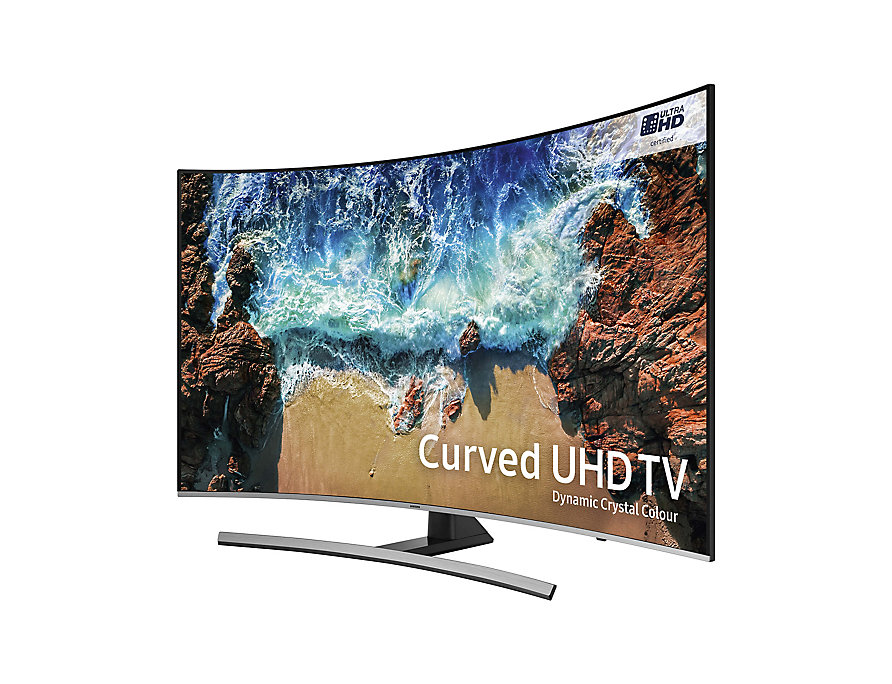 Some specs to look forward on this tv:
HDR 10+: 1000 More Depth of the image than the standard HDR or UHD (explained on the video below). Whites are whiter and darks are darker – the perfect contrast,
Sound: with a built-in woofer
Stylish: 360 degrees designed to be the art piece it is
Curved Elegance: to involve you and immerse in the excellent quality and vibrant colours for a great viewing experience
Smart tv app: create your Samsung profile and experience all in one. No more need of gadgets connected.
Smart Home: connect with your Alexa, or My Google and have fun with the Smart Remote with voice search
Auto Depth Enhancer: adjusts multi-layer contrast levels for more lifelike images
Ultra HD certified: certified quality, which guarantees the pure colours, sharp contrast and brightness you would expect from the latest 4K resolution standards
Clean Cable: no more cables showing up (see Below)
Voice Search: on the smart remote, search, open apps, change channel, command every gadget or box with only one remote.
Bluetooth connection: connect your sound bars or simply connect your Bluetooth headphones and enjoy that Fortnite game all night! (*guilty look*)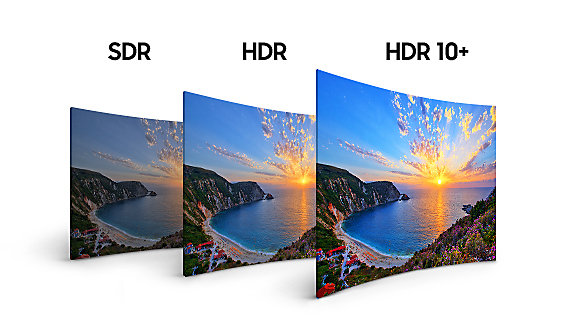 HDR 10+
HDR is the future. You will have probably seen it on TV's and now on Mobiles. But what is HDR 10+?
HDR means High Dynamic Range. Basically, it means better contrast, greater brightness levels and a wider colour palette. It's about making your films and TV shows look that bit more like real life. The idea is that your eyes can perceive brighter whites and darker blacks – greater dynamism – than traditional TVs have been able to display. HDR aims to improve on that.
HDR content preserves details in the darkest and brightest areas of a picture. It allows for more natural, true-to-life colours that are closer to how we see them in real life.
HDR10 is the standard form of HDR and has been around for a while, and  Samsung has its own standard, known as HDR10+ which Amazon Video has just announced it will be supporting. Therefore, it will be the future.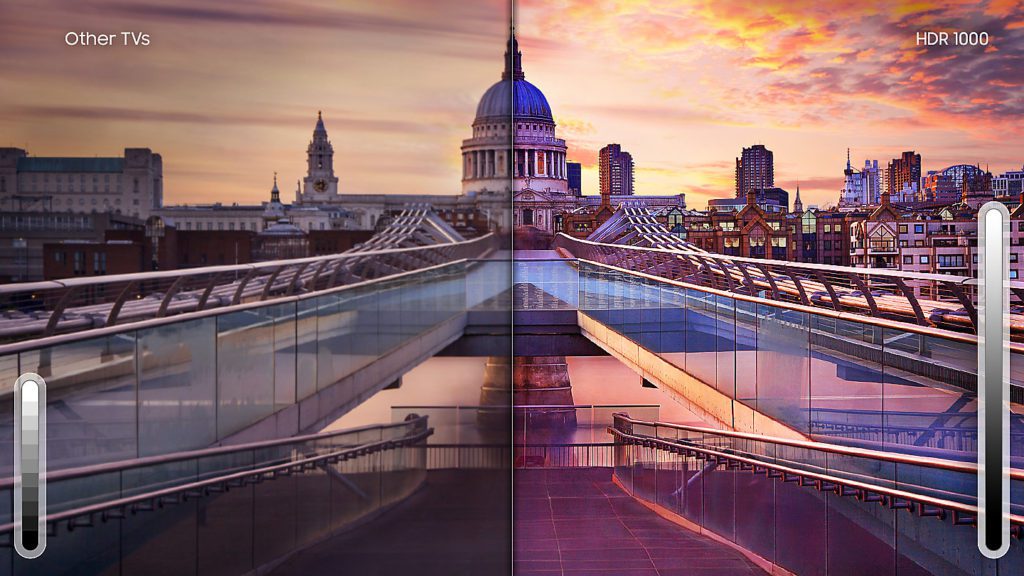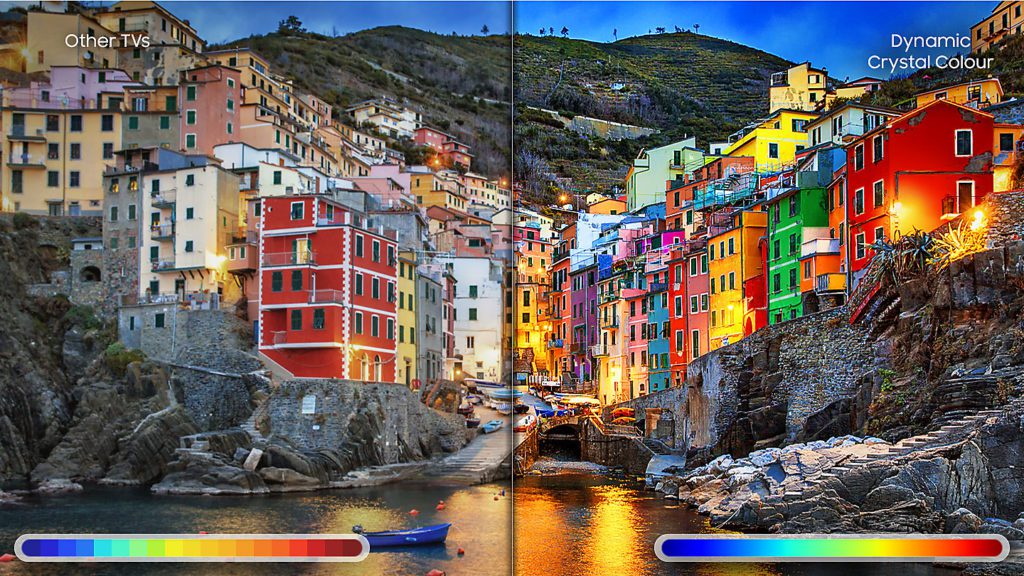 Source Samsung
360 Design
Why not have a Tv that is actually good in the back? This 8 series was built for that. No more putting the tv against the wall and struggle with the cables. You can put the TV even in the middle of your living room and go around it.
The minimalist stylish design with 3 sized bezel-less makes you set this TV in a prime location. No more Big frames, and enjoying more the viewing experience.
Samsung created a solution for the Cables and these will stay organized and in place.
Source Samsung
One Remote Control to Rule Them All
(LOTR pun intended) This TV brings 2 remotes. The traditional remote and the one that you will use for anything after to ditch the traditional full-on-buttons.
The Smart remote (as I call it) can control not only the TV but most of your gadgets connected to this TV. From setup boxes to soundbars. Best of all? You can control tv with your voice, make searches in either tv apps or ask to find a movie on Netflix. Brilliant isn't it?
Bluetooth and Smart TV Home connection
Having a Bluetooth inbuilt in your tv is a plus side. If you have children even better. If you're a gamer would be brilliant. If you love good movies but don't want to wake up your neighbours at 2 am to watch that match or the Oscars, then just connect your wireless Bluetooth headphones and enjoy all the surround.
But what about connecting your smart home gadgets to your tv and control it through the TV? Yes, you can! The Smart Things App from Samsung, already installed on the TV, can connect with all the smart home devices you have. I have connected mine with Alexa and my Google Home, I can turn on or turn Off (with my voice) the TV with Alexa, I can control my lights and mood lights from the tv or put the washing machine working or even put the Kettle/Coffee machine preparing your brew (smart plugs needed).
Everything inside this tv. Brilliant!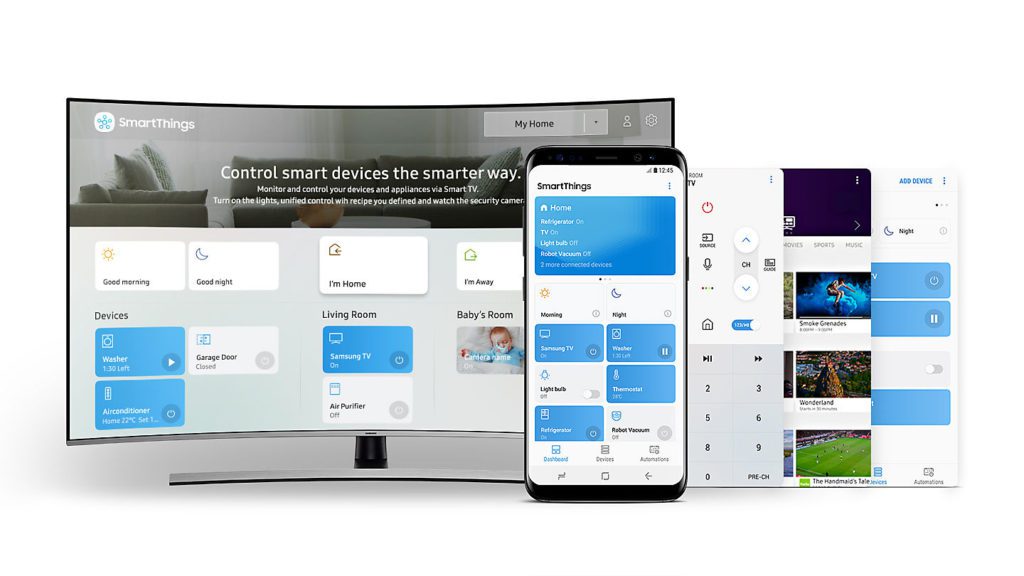 Results
A fun gadget to have for any Movie lover (as we are here at home) and a brilliant gadget for any Tech lover. From Design to the amount of connectivity and that you can do and watch, this TV from Samsung is a brilliant piece of Design and Tech. Everything on this TV is flawless. Works correctly, connect greatly with anything and the sound is great.
It literally does what it says in the box and more! From having your own Samsung Cloud where you can share your photos and videos with other Samsung gadgets, to play games on the tv, this is one of the Best, if not the best TV I have ever seen (and have).
From my point of view, this TV, the Samsung NU8500 55″ will definitely have a 5 out of 5 stars for quality, design and amazing and involvement capacity that a curved TV has.
See my Video Review on my Youtube Tech Series
See more of Samsung NU8500 in Samsung Website