Esse Skincare is a brand that believes in Organic, Vegan and Probiotic to benefit the skin.
Why Probiotic
Probiotics are live microorganisms intended to provide health benefits when consumed. Optimal skin condition depends on the probiotic microbes living on and in it. Without microbes, your skin can't perform its basic functions and the rate of skin ageing increases sharply.
Esse Skincare creates an environment on the skin that favours the growth of beneficial microbes. It uses prebiotics to selectively feed good microbes and includes LIVE probiotic microbes in two of the serums to make functional changes to the skin's microbiome. They don't believe in damaging the skin in pursuit of short-term results, their skincare optimises skin health to slow ageing in the long-term.
They're certified organic, vegan and cruelty free, the core of their foundation, while supporting fair trade and they are a carbon neutral company.
A bit about Esse Skincare
Esse means "To Be" in Latin, and the brand initially established itself in the nascent organic skincare market in South Africa.
In 2009, the company began its move into probiotic skincare. The founder, Trevor Steyn studied organic chemistry.
Early findings from the Human Microbiome Project started to shift the conventional view of skin and Esse began to see skin as an ecology of human and microbial cells and the process of incorporating this new view into the formulation of its products began.
The company actively researches the application of new probiotic species and delivery methods to combat ageing and optimise skin health.
You can read excellent articles about their research and probiotics on their website Blog.
My Skin right now
I never had any problems with my skin. No Acnes, no nothing. I always took care of my skin but with age, stress, a pregnancy, travelling a lot, changing countries several times, your skin starts to give up.
Right now, my dry skin started to be sensitive and a bit red, something that is genetic in my family. So it means I have to actually make even more on my skin.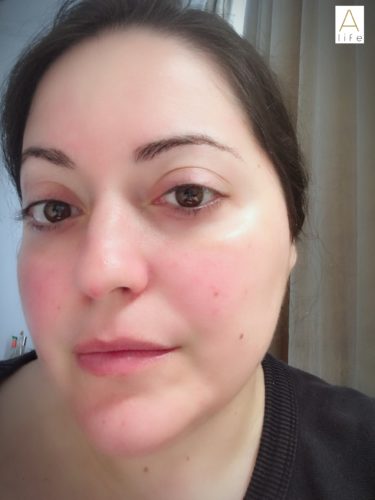 I never did a surgery (or had anything against it), but I do like my face, my features like it is (self-esteem too much??). That doesn't mean I shouldn't prepare for the golden years from now. Since I was 20 that I wear sunscreen protector and make a normal routine every day and night. This is the key or not having a single wrinkle. And I am not speaking or "laughing or happy" wrinkles (mouth, cheeks and eyes). And I do some exercise on my face muscles as well.
I decided to give it a go with Esse Skincare as soon as I heard about them and researched a bit and I do believe in Organic and probiotics, so why not?
Here is what I have been trying:
FOR ALL SKIN TYPES
The firming and lifting effects of this age-defying serum are enhanced with long-term use.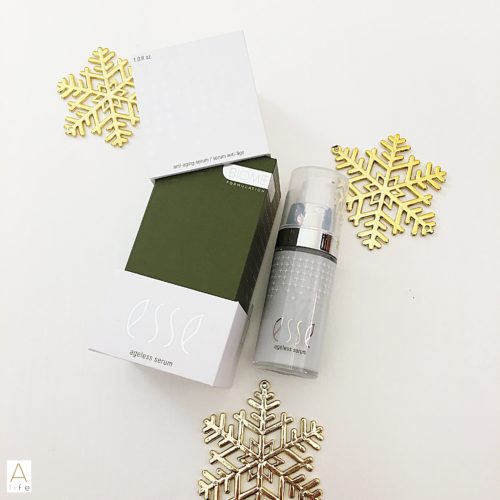 One of the best firming and anti-aging serums I have ever tried. It's not your "white" serum, is in fact in a brownish color as it is made with several plants, hence the color. Odourless, this serum makes the skin get firmer as soon as you apply it. Simply amazing the effect it has on my skin. Use this serum before your moisturiser.
FOR DRY / DEHYDRATED SKIN
This intensely calming moisturiser combines probiotic extracts and prebiotic nutrients to boost barrier function for sensitive skin.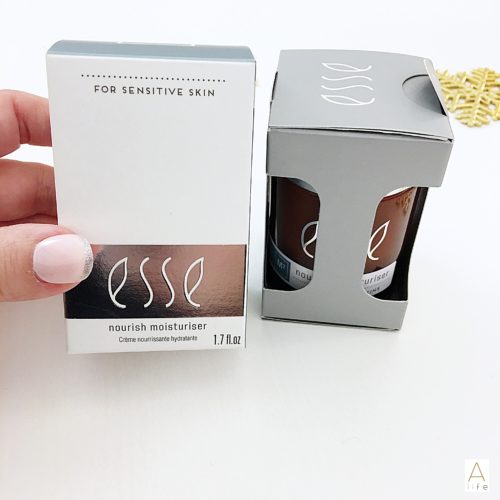 Rich but still not oily or greasy feeling when applied on the skin, this moisturiser feels amazing and my skin feels soft and hydrated. The package is great to look at.
I have been using it morning and night, and it calms my skin on those days that sometimes flare up and appear more sensitive. I think this will be great for the winter season, when my skin feels worse because of the cold, and it dehydrates. I am loving this cream and its texture. the only thing I would add to this type of moisturizer is a little spatula to take the cream out the container.
FOR MATURE / DRY SKIN
A mask to feed and comfort dry skin. Ideal for ageing, tired, stressed or dull skin.
I don't believe the number of people that said that they didn't use a mask on their skin routine. This is SUPER UBER important! A mask is a must-have in any skin routine.
A mask makes your skin de-stress, hydrates in a deeper tissue level, bring the toxins out and normalizes the skin tone as well and sending more nutrients on deeper levels. It's super important and yet many people don't use one.
This mask is absolutely amazing! A normal hydrating mask in Creme!! I have nothing against the trend of sheet masks, but don't fool yourself, those are just a "quickie", don't make it a normal thing. You can use those sheet masks but at least once or twice in a week use a cream mask.
Just apply between 5 to 10 minutes after cleaning your skin at night, turn some candles on and the spa music, chill, then wash with warm water to cold – either using sponges or a soft cloth – and apply the serum and moisturizer. Now, this is a good routine. If you're using an exfoliant, clean the face, exfoliate, use mask and continue the routine.
I have to Praise Esse for their products. They are an investment really worth it to my face. And to be honest, cheaper than a surgery. Prepare your skin for your older years because time won't stop… unless you use Esse.