While me and my little RJ being sick at home, I decided to make a movie marathon with one of our favourites. I have introduced RJ to the world of movies, but now he knows the difference between a tv show and a movie… specially if we are cuddling with popcorns on the sofa.
Our list was main Lego movies, with Batman and the Joker as well.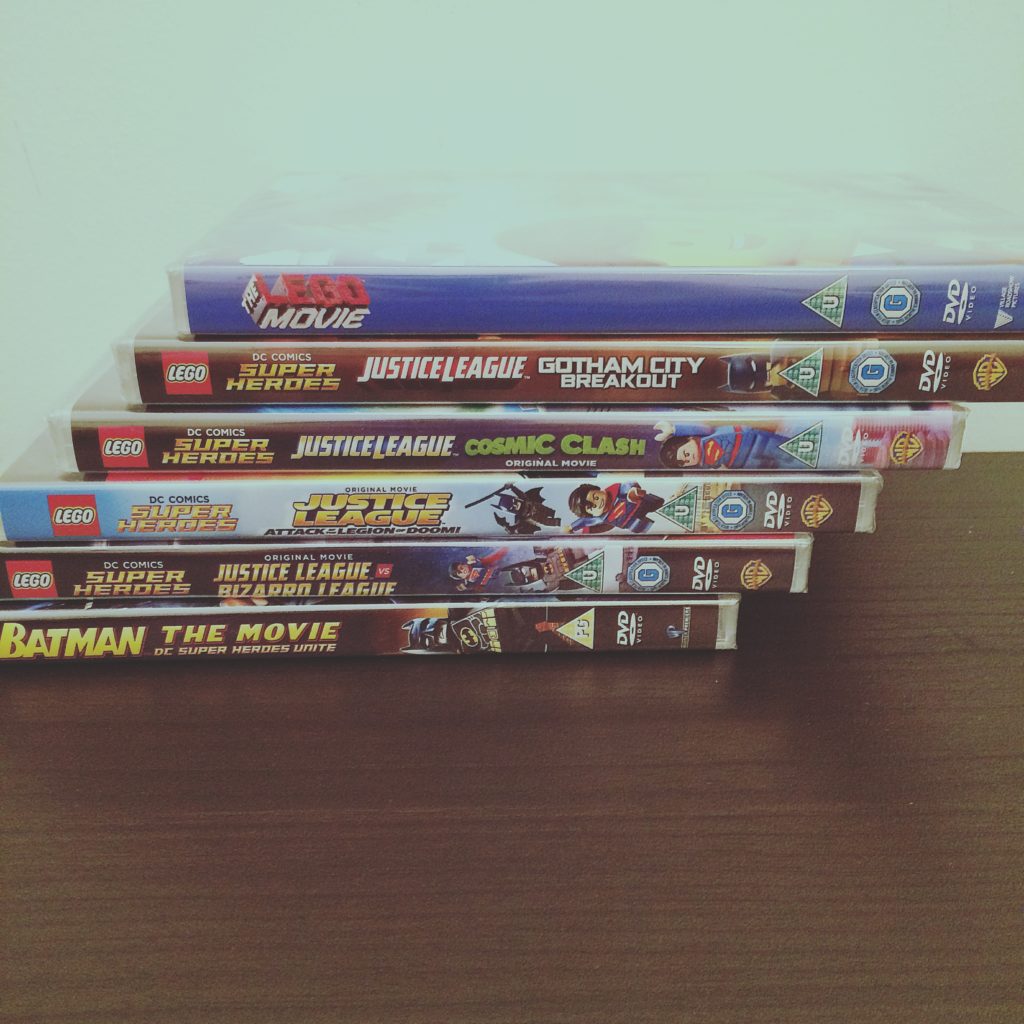 Make sure you read till the end and enter the Giveaway below!!
Batman The Movie – DC Super Heroes Unite
Feature-length animated adventure set in a Lego version of Gotham City.
When Lex Luthor (voice of Clancy Brown) struggles to gain public support during his presidential campaign he decides to team up with the Joker (Christopher Corey Smith), who can produce a special gas that will sway public opinion.
After Luthor helps the Joker escape from Arkham Asylum, the pair plan to defeat Batman (Troy Baker) and Superman (Travis Willingham) and bring down Gotham City.
The rest of the Justice League join forces with the two superheroes as they fight to save the city.
Justice League – Gotham City Breakout
Batman faces his greatest challenge yet: vacation! The caped crusader reluctantly lets Batgirl and Nightwing take him on a long-overdue vacation from crime fighting while Superman and the Justice League watch over Gotham City.
When Batgirl and Nightwing take Batman on a trip down memory lane – literally – to visit a key mentor from Batman's formative years, the Bat trio encounters old nemeses, and invaders from the center of the earth show Superman and the other Leaguers just how busy Batman is on a regular basis.
It's a brick-tastic battle on two fronts as Batman, Batgirl and Nightwing take on Bane and Deathstroke while the Justice League – with some help from a few Teen Titans – fends off an assault by many of Batman's infamous adversaries and ensures Gotham City's safety.
Justice League – Attack of The Legion of Doom
The Justice League are Earth's finest super heroes and protectors of humanity.
But in the mind of the Dark Knight, they are potentially the most dangerous people on the planet should any of them go rogue.
Over time, Batman has compiled top-secret contingency plans in the event he is forced to neutralize one of his fellow Justice League members such as Superman, Wonder Woman, Green Lantern, Cyborg, Martian Manhunter or the Flash.
When these files are stolen from the Batcave by the evil Vandal Savage, the Justice League faces its gravest challenge yet.
Weaknesses exposed and rocked by betrayal, the League must band together against Savage's Legion of Doom and its master plan of world destruction while Batman is left with one final decision that could ultimately leave him standing alone.
Justice League – Cosmic Clash Original Movie
Can Batman prevail against an unstoppable intergalactic machine with the power to bend time itself!? Until now, the Justice League has triumphed over every foe who has challenged them.
But all of those enemies had one thing in common: the were alive! This time, they face Brainiac a super-intelligent invulnerable machine whose mad quest endangers all life in the galaxy!
With the fate of the Earth and the Justice League at stake, can the World's Greatest Detective outsmart the most evil supercomputer in the galaxy?
Rick Morales directs this children's animation set in a LEGO version of the DC universe. The justice league must defend Earth from Brainiac (Phil LaMarr) – a super-computer machine that travels through space collecting planets. With his sights set firmly on Earth, the justice league are going to have their work cut out. And, to make matters worse, as well as being seemingly impenetrable, Brainiac also has the ability to bend time!
Justice League Vs Bizarro League
Feature-length animated adventure set in a Lego version of the DC universe.
When Superman (voice of Nolan North) decides he can no longer contain his evil mirror image Bizarro (also North) in Metropolis he decides to send him back to his home planet.
Once there the destructive clone forms his own rival group of superheroes to fight back.
But when Darkseid (Tony Todd) threatens Bizarro's planet and the entire galaxy Superman and the rest of the Justice League, including Batman (Troy Baker), Green Lantern (Diedrich Bader) and Wonder Woman (Kari Wahlgren), are forced to join forces with their polar opposites in the newly formed Bizarro League to defeat Darkseid and restore order to their universe.
The Lego Movie
An ordinary LEGO minifigure, mistakenly thought to be the extraordinary MasterBuilder, is recruited to join a quest to stop an evil LEGO tyrant from gluing the universe together.
Chris Pratt, Elizabeth Banks, Will Arnett and Morgan Freeman lend their voices to this CGI-animated comedy based on the line of toys made by Lego.
The wicked Lord Business (Will Ferrell) is determined to destroy the Lego universe and rebuild it using glue – which goes against the very nature of Lego. Mistaken as the 'Special', the only surviving Master Builder, the rather ordinary Emmet (Pratt) is selected to lead a group of figures on a mission to put a stop to Lord Business's evil plan.
Emmet is helped by wise wizard Vitruvius (Freeman), tough girl Wyldstyle (Banks) and DC superhero Batman (Arnett), but can he find something extraordinary within himself in order to save the world? The film also features the voices of Channing Tatum, Liam Neeson, Nick Offerman, Alison Brie and Jonah Hill.
Giveaway time!!
Would you love to surprise your little (big) one with a full list like this one?
1 lucky winner in the UK will get this full bundle.
To enter: Go to my Twitter today (@AleLifeOfficial) and Follow Me and retweet this Tweet ->

https://twitter.com/alelifeofficial/status/828548758111735808
This competition will start on the 6th of February and the winner will be announced on the 13th of February  .
Good Luck!