As you know, and have been following me for a some years, I LOVE to make my own christmas presents.
I think making something with love is the perfect gift. I don't believe in buying love  with money or gifts, but showing to a person that you care about them and making a pretty or yummy thing, is a way to show you have them in your heart (oh am I being too mushy? Hey it's Christmas!).
Once more I used Snapfish and decided to use some coupons they have (ha! I do love some good coupons and you do it to…admit it… life is not easy and every little help, helps!), and I made some presents that I do know that my family that are getting them are going to love them, and decided to give me and my house some gifts as well.
Snapfish have pretty new items they added to their extense catalog of things to be made, and let's start with one of the cutest one.
Christmas Tree ornament:
Common these are so cute and they will last an eternity! Imagine your tree filled with memories of your loved ones (pets included!). Made with a good acrylic and bring the ribbon as well, these will make a cute decor and bring a smile to those who will receive it. I made this one of Peter Rabbit (a classic name!) and made one with RJ in his 2nd Birthday as part of the memories of this year, but as you know I never put RJ face online, I will show you Peter. And my tree has always that retro look… every year i buy a new and different ornament, yes am I a bit Kitsch.
Personalized Magnets
That can be used as little frames as well! And Yes… Peter is here as well.
Year Photo Book
I wanted to do this for quite sometime. I have several hundreds of photos and which one of us really print them up? I decided to give myself this gift with our best moments, as family and always starring RJ, to remember this year.
You can personalize the background, choose which photos to place in the interior or choose the photos and snapfish automatic button will place them for you. As I do know how this works (this isn't rocket science) you can personalize everything and created themes if you want. The outside cover can be chosen as well, always depends on how much is your budget.
Wall Print
I wanted something for RJ bedroom, something that would let him feel loved (even more) and I decided to make one of these wall prints with some of our favourite photos as a family. You can personalize how you want and play with several photos if you like. RJ wall print has 6 photos in it with a cute background. By reason you will understand, I am not showing you the picture of what I did, but here are some ideas for a colourful children bedroom wall.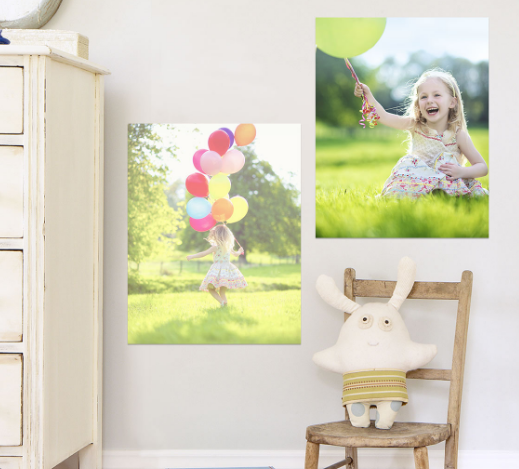 What do you think of some of my presents?
Did you do something like mine and have you ever used Snapfish? For some of these gifts to arrive in time for christmas, you have until the 18th of December to order and hurry up because they have some cool 30% off codes.
Let me know in a comment below.
Thank you to Snapfish.co.uk