It's usual to experience excitement and anticipation as winter draws to a close and spring approaches. The longer days, better weather, and vibrant blossoms all herald a new beginning and a fresh start.
An excellent method to improve your mood and infuse life into your living space is to use the idea of regeneration and development that spring represents in your home design. As a result, now is the ideal moment to remodel and update your home for spring, both inside and out.
One of the great ways to update your home for spring is to bring in fresh flowers and plants
Bringing in fresh flowers and plants is one of the easiest and most effective ways to decorate your house for spring. They offer a lot of advantages for your health and well-being. Fresh flowers can also give any place a touch of color and energy. Plants and flowers may help your house feel more luxurious and welcoming by enhancing the air quality and lowering tension and anxiety.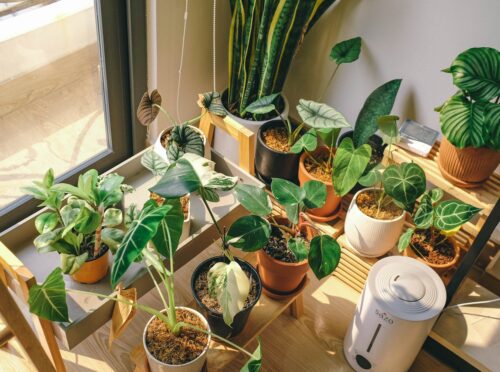 To create a striking and powerful effect in your room, think about introducing bigger and more statement-making plants. For example, you can include a towering fiddle leaf fig or a lush monstera. To make a varied and eye-catching display, you can mix and match various plants and flowers. Adding fresh flowers and plants to your house is a terrific way to improve the atmosphere and make it feel more opulent, whether you display them in classy vases or straightforward pots.
Paint a room a fresh color
Giving a room a new coat of paint is a terrific way to drastically change the look and feel of your house for spring. An area may be completely transformed and given a clean, bright, and welcoming feel with only a fresh coat of paint. Painting a room may greatly influence your home's overall appearance.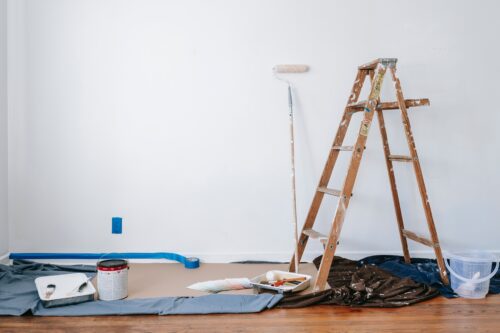 The room's purpose and intended use should be considered when choosing a paint color. For instance, if you're remodeling a home office or study, use a hue that encourages attention and concentration. The perfect colors for this are cool blue or green. Instead, if you're redecorating a living room or bedroom, go with a warm, hospitable hue.
Once you've painted the room, take the opportunity to maximize your storage space and use it to its full potential. Clear out the clutter and invest in storage options to keep your place practical and orderly. To help you optimize your storage space without losing beauty, think about introducing multipurpose furniture like a storage ottoman or a bed with built-in drawers.
Adding a new piece of artwork is an amazing method to update your home for spring
A fresh new piece of art is a great way to renovate your house for spring. This way, you can give the room a new spark of imagination and inspiration. Whether you're trying to create a serene and peaceful environment or a bright and colorful one, artwork may help establish the tone for a space. Also, it's a fantastic opportunity to display your sense of design and create a focal point in your house.
A new piece of art may help tie the area together and produce a coherent design if you're redecorating a bedroom. Consider the current color scheme and design style when choosing artwork for a bedroom. If your furniture and walls are neutral, purchase a piece of art with strong color to give the room a burst of interest and personality.
Update your bedding
After some necessary renovation, consider replacing your bedding. Establishing a snug and comfortable resting space that enables you to unwind and rejuvenate when the weather warms up is crucial. There are various methods to change your bedding for a new and energizing design, whether you want to establish a new color scheme or replace your bedding materials.
Think about the material's quality and durability while choosing new bedding. Invest in premium pillowcases and sheets of soft, breathable fabrics like cotton or linen. By doing this, you will likely have a restful night's sleep. Not to mention that your bedding will last for many years.
Rearrange your furniture
Rearranging your furniture is a quick yet effective technique to remodel your house for spring and give it a new look. This will make your area feel more open and welcoming. Furthermore, it will enhance the feeling of balance and flow.
Start by considering the room's purpose and how you want to utilize the space, as the professionals at A2B Moving and Storage advise. Evaluate where you spend most of your time. You should also consider how the furniture may be rearranged to make the most of that space. For example, if you spend a lot of time watching TV, you may want to rearrange your seating space. By doing this, you will create a snug and comfortable view.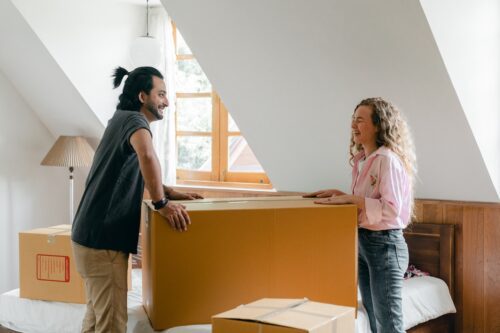 The room's traffic flow should be taken into account while rearranging your furnishings. Ensure that there is sufficient room for movement. You should also ensure that the furniture is placed in an intuitive and natural way. This will contribute to the space appearing harmonious and in balance.
Switch up your decorative pillows and throws
A quick and inexpensive way to update your home for spring is by switching up your decorative pillows and rugs. Throws and pillows are adaptable decor items that may drastically change the appearance and atmosphere of any space. They are ideal for providing a seasonal refresh. Most of all, they offer a simple way to add color, texture, and pattern splashes to your decor.
Consider replacing heavier, cozier materials with lighter, airier fabrics for a spring freshen. Choose pastel hues to give your room a feeling of freshness and lightness. Nevertheless, go for geometric designs if you want to go for a bolder and more fun style. You can also pick brilliant hues that evoke the vitality and energy of spring.
Update your home for spring and bring joy
Update your home for spring and infuse it with a sense of regeneration and rebirth using a variety of original ideas. As you can see, there are several ways to bring the joy of spring into your house. You can add fresh flowers and plants or rearrange your furniture and create an
outside refuge. It's crucial to concentrate on designing a room that is both useful and beautiful. You can design a room that reflects individuality by adding colors, texture, and unique accents.
Article by Sally Norton