2 Words – IMPRESSIVELY GOOD!
I never worked with Android before, at least not my own mobile or tablet.
Note: To take proper pictures of the Apps, the pictures needed to be darker, so you can see the quality of the colours. It is difficult to take true pictures of screens while on.
Here at home we've got quite a selection of Apple and Microsoft mobiles, gadgets, laptop or desktop computers, but never an android mobile, and I wanted to try one to make a comparison.
I've found this Amazon store called HAMSWAM (but they have another store called EasySMX) with this mobile brand called Cubot. Cubot is a chinese tech brand that works with Android software. Their designs are sophisticated and this mobile I got seemed very good by all the reviews that I decided to get it.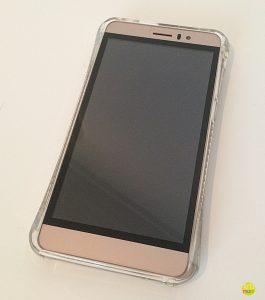 It costs £62.99 on sale (actual price cost is £129.99) but got a 62% off now on Amazon, which I thought quite amazing but at the same time (and for an Apple buyer) was too cheap to be true. But let's see how it goes.
The Amazon specs are the following:
Cubot Rainbow Mobile Phone Android 6.0 Operation System – 5.0 inch IPS Screen GSM/WCDMA No-Contract Smartphone Dual SIM Card Standby MT6580 Quad-Core CPU 16GROM 1G RAM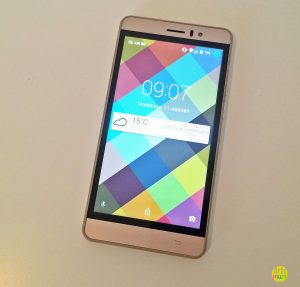 Specifications
• Colour Name: Rainbow Gold
• Band: GSM 850/900/1800/1900 MHz WCDMA 850/900/1200MHz
• SIM Card: dual micro SIM card
• Operation system: Android 6.0
• CPU: MT6580, quad-core, 1.3GHz
• ROM: 16G
• RAM: 1G
• Card extend: support up to 32GB TF card
• Display screen: 5.0inch IPS capacitive touch screen
• Screen resolution: 1280 x 720 pixels
• Data transfer: OTG/USB/HOTKNOT
• Mobile internet: WAP/Wi-Fi
• Camera: 5.0MP front camera, 13.0MP back camera
• Language: multi-language
• Bluetooth: Bluetooth 4.0
• Battery: 2200mAh lithium battery
• Dimensions: 142 x 72 x 8.8 mm
• Net weight: 165g
Seemed basic but good… and remember the price.
I was really, really sceptic about it. Seriously! With my mobile, I do everything I can do in a computer, I can connect all social medias, edit videos, write for the blog, presentations, movies, oh right…and calling. 🙂
First Impressions
Got a very nice box, and inside was the mobile, if I could compare the size, it would be like an Iphone 6 plus. Good size of screen, nice golden colour, brings a clear silicone case and the normal things: cable, wall charger and instructions manual.
The case that comes with the Cubot Rainbow is very interestingly designed – the corners are hollow so when you drop the phone with the case the phone's corner never actually touches the case, therefore won't get dented, a shock-proof design.
I picked up a sim card (it's dual sim)and plug in the battery on the back of the mobile; turn the mobile on to start playing with it.
Quick and great colours was the immediate thought I had. The Battery is durable as well, last at least 2 days without charging.
With some programs installed, mainly focused on Google (android right), everything functional and easy to work with.
You can create profiles for people using the mobile – for example: i got my profile, and my husband got his profile.
Each profile contains it's own individual downloaded programs are are non transferable – so if you buy an app of google store on your profile (let's call profile A), the other profile (profile B) won't have it, they would need to pay it again.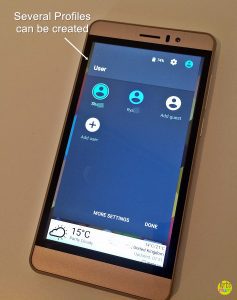 I installed Netflix and the Disney Channel App (mum here) to check the quality of the video. Excellent quality, colours and audio. For games is really good, runs quickly.
The cool thing is that I can put a 32Gb card on the Cubot Rainbow and download some movies to travel with my family!
"Hey Google" (the Android Siri) works great – I can say: hey google turn my lights on…and he is so well behaved to turn my LIFX lights on – great connectivity for a smart home.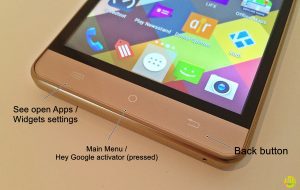 The rear camera got 13MP and the front camera is 6MP, works great and I am now testing filming (I will be making a Vlog with all the specs of the Cubot Rainbow in a couple of days).
Some Negative Points (not so negative)
Earphones – is an strange test but could mean something that can happen to you –  the old Iphone earphones (3/3S/4) don't work in the Cubot Rainbow. Then I tried the new Iphone earphones and they worked fine.
3G – unfortunately doesn't have the 4G
WiFi – tends to turn on and off sometimes – read about it, and people say it's normal.
Final thoughts
If we compare an Iphone or Samsung to a Cubot Rainbow… You would be surprised.
The fact that this Cubot Rainbow can do everything the other mobiles do for a 1/10 of the price is simply great.
Easy to work with, nice design and great quality – for an exceptional price – makes the Cubot Rainbow a very accessible mobile to everyone's pocket.
You can get a 10% off with this code on Amazon – SWPSE66T – which means the final price will be £56.69!
It is a bargain, and will make a lot of people happy!
What do you think? Do you own a Cubot Rainbow? What are your thoughts?
Ale x
My opinion is Honest and Unbiased
Thank you to HAMSWAM and EasySMX