What a superb box!
I am really happy about this box and actually amazed at how many things are inside.
Fresh, Practical and making the math, it's less than my weekly shopping! £3 per meal.
My box (you can see the video below) is a box with 4 recipes for 4 people, meaning we will have leftovers for other meals. It's a win-win box.
How Gousto works:
Register online on Gousto and choose a box for 2 or 4 people. Select the recipes you want and choose also when do you want to get your box delivered. Select Ok and there you go. Just wait for your box to arrive at the selected date. On the day, you will get a message telling you at what time your box will be delivered and that's it.
You can also choose the next boxes delivery: weekly, bi-weekly, a fortnight or monthly. You can also pause boxes. Imagine that a month you're on vacation and you're not going to be at home. Select in which month you can get the box or either pause indefinitely. Easy!
Always remember that YOU are in charge. Your time, your recipes your money. And to be honest is a well spent money!
Recipes:
you have a selection of recipes for everyone!
Vegan or Meat Eater, Fish, seafood, Vegetables are always welcomed and well sourced. From 10 minute meals to a more elaborated recipe (still easy to follow, don't worry to go Big!), all easy to follow with the recipe cards inside. best of all is that you can collect those recipes and put them in a folio. Your very own collection of good recipes.
Freshness is delivered and no frozen food. All fresh and one of the things I love: Organization on Fleek!
Each recipe is curated and all the ingredients for the specific recipe are inside. Condiments, seeds, everything.
The only thing is not inside is Olive oil or other oils, butters or salt and pepper. We already have those at home!
Me and the Cooking:
As you noticed, I am the one in charge of cooking here at home (Hubby do likes to cook as well…still I am in charge of that part), and I do Love to cook, I don't mind at all. It's one of the ways of releasing stress and get my imagination going on.
I have been cooking the recipes – which will be coming in the next videos, so stay tuned! – and they are so easy to follow and have all the ingredients measured and already prepped is so nice, easy and practical to make an elaborated recipe. Is like having a helper organizing everything. I feel like a chef!
I got the box and was amazed at it, as it was a surprise to see all the things inside. Inside the Box, there is a place for the fresh produce and on the other side is all the meat and ingredients that need special cooling, in a bag that is biodegradable, in pure ice (not those cooling gels, bad for the environment) and everything fresh. The meat or fish can go directly to your fridge, as they come individually and hermetically wrapped, or can be frozen. The Gousto tip is if you freeze them, to be frozen before the end of the date (as we normally do if we buy on the market or supermarket).
When you're going to cook the recipe, just pick up your recipe card, read the whole recipe card first! Take out all the ingredients and condiments needed and put them on the counter and enjoy cooking fresh homemade food with all the quality of a restaurant. We have been loving having a restaurant menu and trying out new recipes that we would normally wouldn't do or using products (sauce or condiments) that we don't have or never used. It's having food and learning about new cultures and new flavours.
Promo Code
With My Code: ALEJANDRA you can get 50% OFF your 1st 2 boxes! A 2 for 1 box full of fresh and goodies!
Either go to Gousto website and enter my Code or go directly to this link and the code is already applied: https://gous.to/2MtOPkb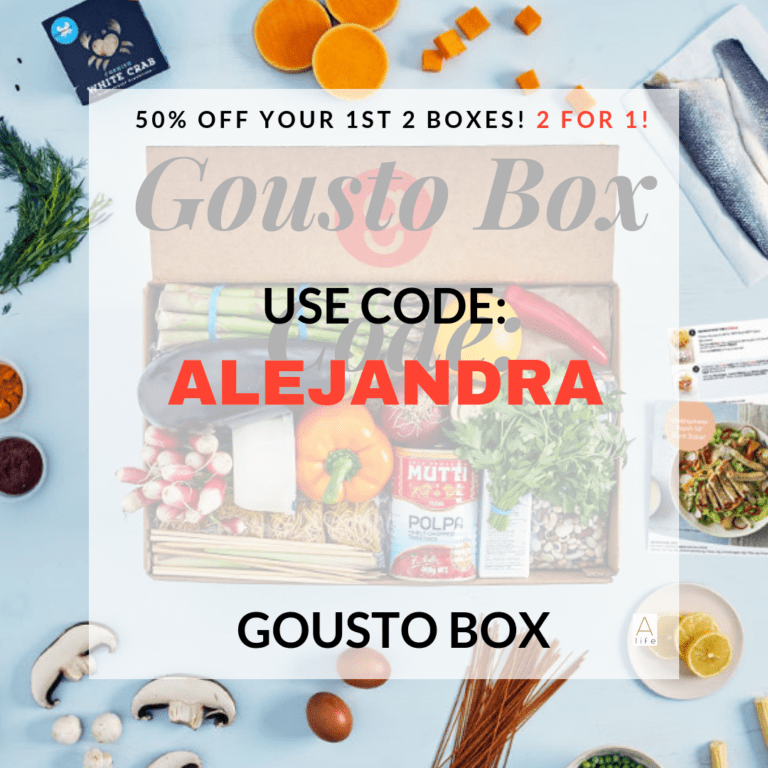 Watch the Video:
Let me see you cooking! Time to be a Chef!