A question as old as time – should you buy a house before or after having a baby? The answer is – there's no right one. According to many women, maybe the best option is to qualify for a mortgage before and move after having a baby. Looking for a house to buy is much easier if you're child-free.
Lenders can't discriminate against pregnant women or those who are considering having children soon. However, if you are currently on maternity or paternity leave, getting a mortgage can be tricky. So, our advice is to apply for a mortgage and buy a house before the baby comes. Also, before you start planning your move, don't forget to determine your moving budget. And don't forget to plan every single stage of the process carefully, because moving with a newborn is no easy feat.
The moving process itself is one of the most stressful things people handle during their lifetime, and it tends to kick them out of their comfort zone. When moving with a baby, the stress tends to multiply, so you ought to be mentally and physically prepared. This step-by-step guide might make things easier for you. So, find a comfortable spot, relax, take a deep breath and start reading.
Hire reliable, reputable movers
Moving with a newborn is not an easy endeavor. This is a challenging experience for older children and adults, let alone a baby who doesn't understand what is happening. So, If you choose to move with a newborn, the most important thing is to pick a reliable moving company.
Check their reputation by looking at their reviews on their official website. Furthermore, you could ask your family and friends for a recommendation, ask for advice on your social media, check your local newspaper and lastly – check the internet.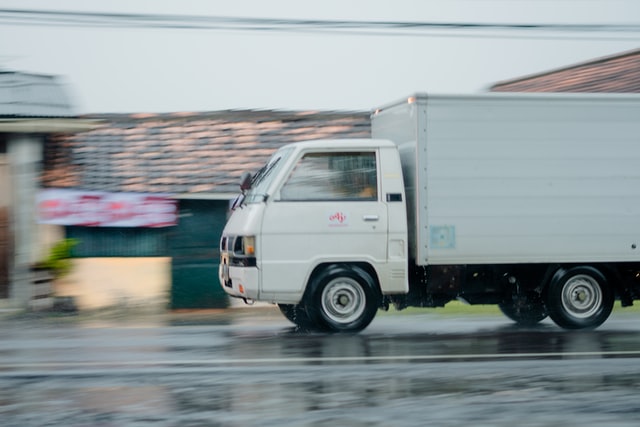 Ensure the company you're considering offers all the moving services you need, confirm the validity of all the documents you're signing, and ask all the essential questions. If any of the answers are even remotely vague, you should avoid them and consider hiring another moving company.
Get all necessary packing supplies
Failure to use enough moving supplies or using them incorrectly can result in damaged, ruined possessions while moving home.
Here's a quick checklist that will make things easier for you: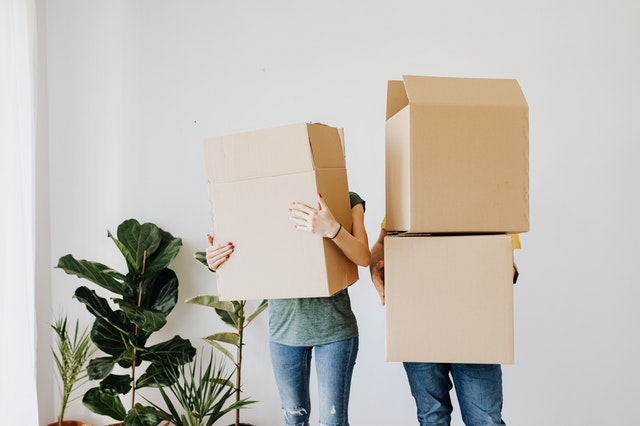 Packing supplies:
Cardboard boxes – Heavier items – small boxes, light bulky items – large boxes, medium-sized items – medium boxes. IMPORTANT: Don't leave empty space!
Bubble wrap – easy to use, suitable for fragile things: figurines, glasses, dishes.
Packing paper – cheaper and takes up less space than bubble wrap
Moving blankets or furniture pads – always provided by a professional moving company. Used for covering and protecting furniture.
Padded wrapping paper – prevents scratches on hard furniture like a desk, dresser, or table.
Stretch plastic wrap – prevents drawers from sliding open and keeps loose items contained.
Heavy-duty packaging tape with tape dispenser – tape down the middle where the flaps meet and also on the side of a box – to make sure you've got the extra support.
Permanent markers for labeling – label boxes FRAGILE and draw arrows to indicate the position a box needs to be placed.
Garbage bags – for your clothes, towels, linens, stuffed toys
Ziploc bags – small screws, brackets, batteries, and all those little items.

Mattress bags
Dish pack
Wardrobe boxes – suits, wedding dresses, and all your classy gowns.
Mattress bags
Dish pack
Wardrobe boxes – suits, wedding dresses, and all your classy gowns.
Moving day supplies:
Box cutters
Hand trucks for heavy items
Cleaning supplies and paper towels
Bungee cords
Bear in mind that if you opt for professional help, you won't have to worry about packing supplies. The consultants from Here & Now Movers, say that many of their clients who had to relocate with a newborn chose to hire professional packers to make the entire process easier for everyone.
Pack baby essentials
Pack all the items you might need during the moving process. Here's another checklist for packing baby essentials, just in case.
Diapers
Wet wipes
Clothing
Some sort of pack 'n play, high chair, or bouncy seat to contain them for short periods of time
Favorite stuffed animal
A few favorite toys
Breast pump and breastfeeding pillow
Formula, water, and/or food
Snacks
Cooler if needed for breastmilk and formula
Sippy cups
Bottles
Extra pacifiers
Blanket
Stroller and carrier
Bath items
Car seat
Extra bags for dirty diapers and messy clothes
Medications
First aid kit and thermometer
Important: Make sure you've packed plenty of extra bottles and snacks to have on hand at any time while on the move. Don't forget another crucial thing – at any moment you should know where important documents are.
The important documents you should find in an instant are: birth certificates, social security cards, credit card information, health and renters or homeowners' insurance, closing papers or rental lease agreement, and immunization records.
Once you finally get to your new home…
Unpacking
Unpack the baby's bedroom as soon as you get to your new home. If you do it on day one, your child might even barely notice you've moved because their space will look exactly as the one before – they'll have calm and consistent surroundings, and they could play or sleep while you continue to unpack.
Don't forget to get the potty unboxed as well. Also, store all the medicines, alcohol, cleaning products, and pet food way out of your baby's reach. Remove choking hazards such as packing materials and cords.
Baby proof your new home
Once you finally get to your destination, make sure to baby-proof your new home as soon as possible. The first thing we advise you to do is to crawl. Yes, you read it right! You should literally get down on your hands and knees, crawl through your new home and try to see the surroundings from your baby's perspective.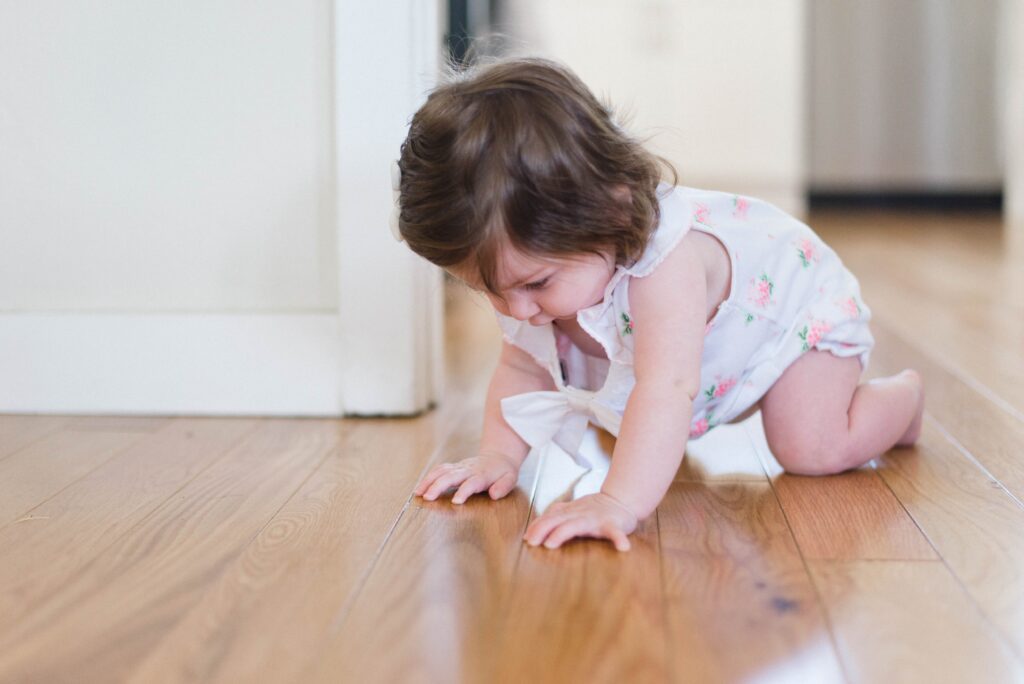 That way, you can see what might look interesting and be a potential danger or choking hazard. Test the alarms (smoke detectors and carbon monoxide alarms), install safety stair gates at the top of the stairs, use cordless window coverings and child-resistant locks on drawers containing things potentially dangerous for children. Also, cover electrical outlets, place around tight-fitting electrical outlet covers that baby's tiny fingers cannot pull out. If your baby is a bit older, give them time to adjust and try to create a relaxing environment.
New beginnings, new memories
It's an undeniable fact – the decision to buy a house before or after having a baby is totally up to you. It's easier to do everything before the baby arrives. It's a sure thing that you'll be saving for welcoming a new family member, but you can always plan and calculate your finances and buy a house on a budget.
Everybody knows it, and we aren't trying to deny it – moving is stressful. Moving with a newborn borders with insanity. However, it doesn't have to be too hard, especially with good organization. Just give your best and focus on the positive – new home, new beginnings and memories, new chapters – and you'll see that it can also be exciting.
One thing is for sure – you have to stay as positive as you can. Breathe in, breathe out. And, we cannot stress this enough, DON'T WORRY, YOU'VE GOT THIS!
Article by Sally Norton
Sally is a proud member of Alejandra's Life Family Team