Kraków is the second-largest city in Poland. Near the border of the Czech Republic, is known for its well-preserved medieval core and Jewish quarter. This Mini-Guide can be used for a Weekend Guide for Krakow.
With its old-world ambiance and charm, Krakow is one of the prettiest of Poland's main cities, having escaped the worst of WWII bombing. The former Polish capital's atmospheric Old Town and Kazimierz's streets in the Jewish district are crammed with exciting galleries, cafes, pubs, and restaurants.
Tip: Multi-day Krakow Tourist Cards offer museum entry and free bus and tram travel between sights such as Wawel Royal Castle, the striking 14th-century St. Mary's Basilica and the huge 10-acre Main Market Square.
Safety: Even though many websites suggest that is one of the safest cities in Europe, of course, is safe to travel to Poland as well as taking your family. Like any parent, I am concerned while traveling ANYWHERE in the world, as we live in a crazy but beautiful world, every precaution is needed and be safe. Pickpocketers are everywhere in any city in any country.
When traveling Anywhere, just make sure you research a bit about where you travel… and that's why I write the city guides and you are reading it.
Where to Stay:
Betmanowska Main Square Residence
Rynek Główny 44, Zip code: 31-017, city: Kraków
This beautiful hotel (or residence) is one of the most selective places we've stayed.
Great for families or for that romantic getaway, their decor is an absolute show stop.
These luxury apartments rental in the monumental Betmanowska tenement house from the turn of the 14th and 15th centuries.
De Luxe, Junior Suite and Suite apartments overlook the biggest and the beautiful main square in Europe – the Main Square in Kraków, and each apartment is different.
The windows of the rest of the apartments overlooking the outbuilding have been decorated with wonderful stained glass compositions created by Tadeusz Przybylski – an artist from Kraków.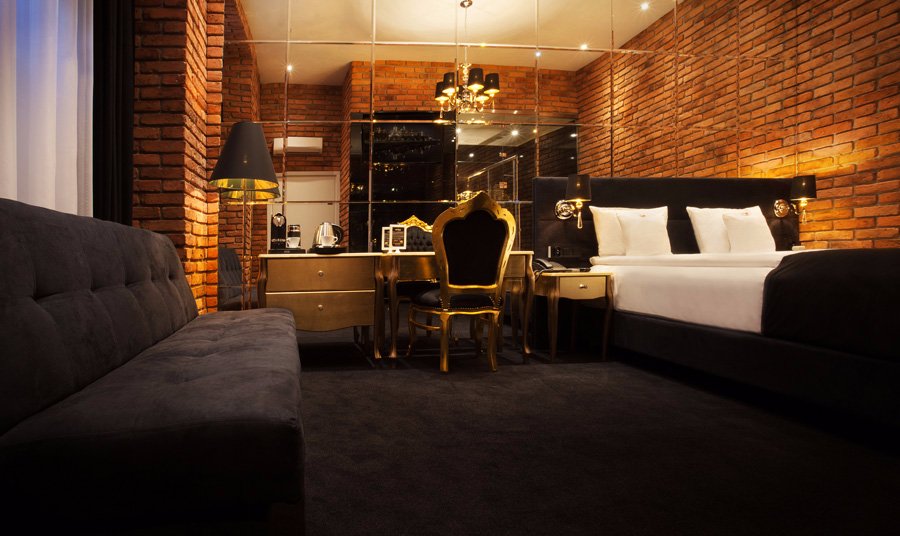 All apartments are equipped with double, comfortable beds, safe, air-conditioning, free WiFi and Tv's, a minibar with free alcohol-free drinks and supplement every day, and each room has a hydromassage shower cabin.
The apartments overlooking the Main Square are equipped with a fantastic, private, 2-person jacuzzi. Towels, bathrobes and high-quality cosmetics, are also included.
In each apartment, you will find a welcome chilled bottle of Italian Proseco in a bucket of ice and a plate of seasonal fruit.
For special needs or disabilities, the newly-renovated tenement house has been equipped with a glazed elevator.
I love this decor!
Book your stay at Betmanowska Main Square Residence
What To Visit
Wieliczka Salt Mine Tour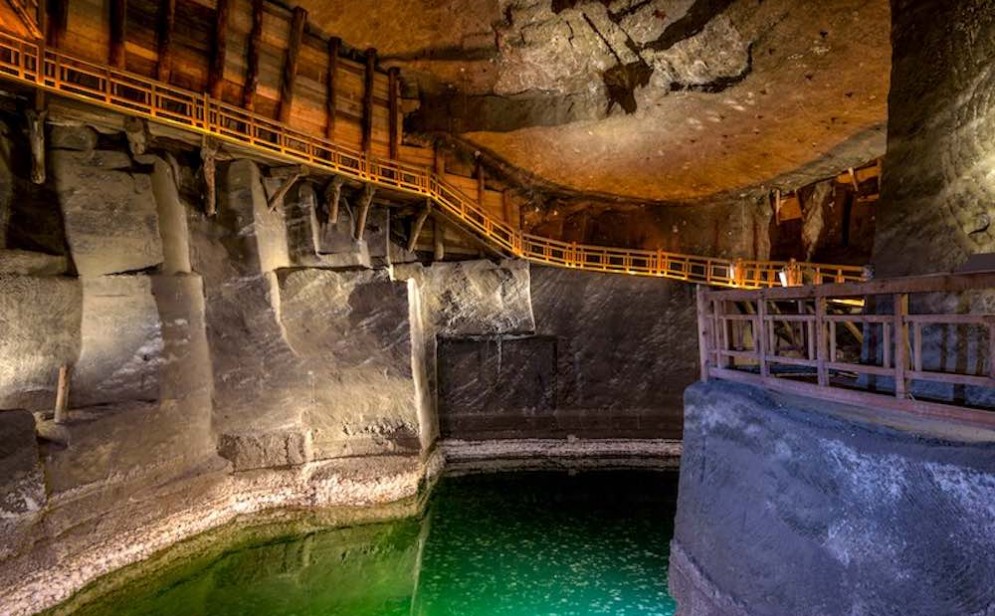 An amazing underground labyrinth, one of the most precious Polish monuments. UNESCO World Heritage you can't miss.
Take a deep breath in here, as this is not only something beautiful to see, but also therapeutic.
Wieliczka Salt Mine was opened in the 13th century, and is one of the world's oldest salt mines, located near Krakow. It reaches almost 327 meters below the ground and has over 287 kilometres. You will walk through 20 chambers taking an incredible journey for over 2 hours.
Besides admiring magnificent timber construction, lakes, chambers, and majestic corridors, your visit will also have a positive effect on your health.
Some tips for this visit:
Please mind that the tour begins with climbing down 380 steps and the regular tour does not include the lift that takes you down
Please wear comfortable shoes – the tour requires a lot of walking
The photography fee is 10 PLN that you can pay on-site
You will get a headset to hear the guide clearly throughout the entire tour in your language
The regular Salt Mine tour requires lots of walking and climbing stairs. If you have trouble walking you should consider taking the special route for physically challenged tourists
The temperature in Salt Mine is around 14 degrees, so take a jacket with you as it is chilly.
You can buy your tickets to visit Wieliczka salt mine online and even get picked up from your hotel to the mines. Easy!
Check their own video:
Main Market Square
The vast Main Market Square is the focus of the Old Town, and is Europe's largest medieval town square (200m by 200m).
It features the 16th-century Cloth Hall at the centre, a 15th-century Town Hall Tower and a striking bronze statue of Polish 19th-century romantic poet Adam Mickiewicz on the square's eastern side.
St Mary's Basilica
Plac Mariacki 5
This striking brick church, best known simply as St Mary's, is dominated by two towers of different heights.
The first church here was built in the 1220s and following its destruction during a Tatar raid, construction of the basilica began.
Tour the exquisite interior, with its remarkable carved wooden altarpiece, and in summer climb the tower (adult/concession 15/10zł) for excellent views. Don't miss the hourly hejnał (bugle call) from the taller tower.
Wawel Royal Castle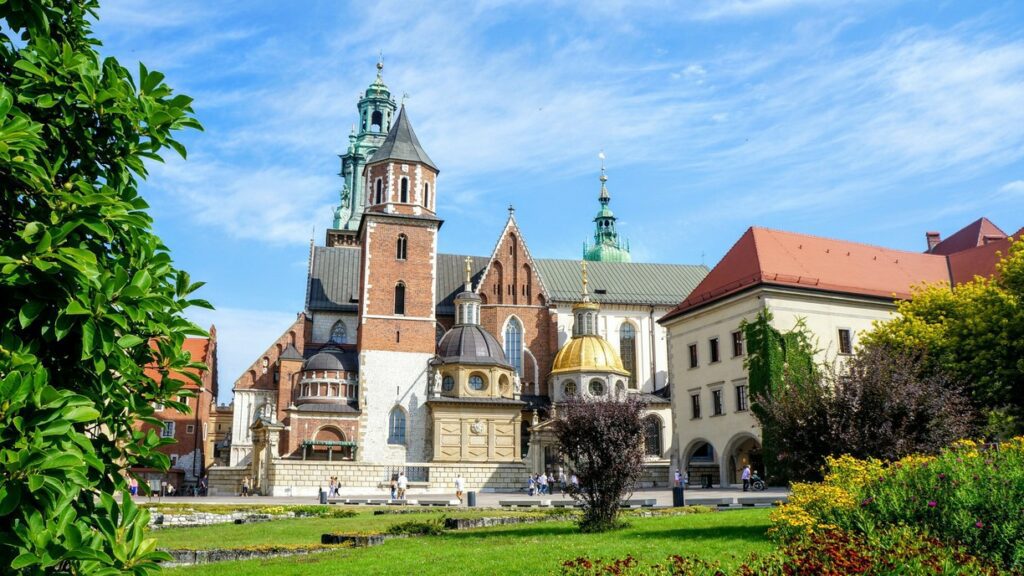 As the political and cultural heart of Poland through the 16th century, Wawel Royal Castle is a potent symbol of national identity.
It's now a museum containing five separate sections: Crown Treasury and Armoury, State Rooms, Royal Private Apartments, Lost Wawel and the Exhibition of Oriental Art.
Each requires a separate ticket. Of the five, the State Rooms and Royal Private Apartments are the most impressive, but to be honest, the best part is just wandering around the castle grounds – open 6am to dusk.
Schindler's Factory
ul Lipowa 4
Despite the name, this museum covers more than the story of Oskar Schindler, the Nazi German industrialist who famously saved the lives of members of his Jewish labour force during the Holocaust.
It also expands to include all aspects of the German occupation of Kraków from 1939 to 1945 through a series of well-organised, interactive exhibits.
Take a tram to Plac Bohaterów Getta, then follow ul Kącik east under the railway line to find the museum.
Czartoryski Museum
ul Św Jana 19
The Czartoryski boasts the city's richest art collection, including Leonardo Da Vinci's 15th-century masterpiece, Lady with an Ermine (1489–90).
Other exhibitions include Greek, Roman, Egyptian and Etruscan art as well as Turkish weaponry. The museum closed in 2010 for renovation and was set to reopen as a branch of the National Museum at the end of 2019. Until then, Lady with an Ermine is on display at the National Museum main branch.
Rynek Underground
Rynek Główny 1
This fascinating attraction beneath the market square consists of an underground route through medieval market stalls and other long-forgotten chambers.
The 'Middle Ages meets 21st century' experience is enhanced by holograms and audiovisual wizardry. Buy tickets at an office on the western side of the Cloth Hall (Sukiennice 21), where an electronic board shows tour times and tickets available. The entrance to the tunnels is on the northeastern end of the Cloth Hall.
Museum of Pharmacy
ul Floriańska 25
The name of this museum doesn't sound that exciting, but the Jagiellonian University Medical School's Museum of Pharmacy is one of the largest museums of its kind in Europe and arguably the best.
Accommodated in a beautiful historic townhouse worth the visit alone, it features a 22,000-piece collection, which includes old laboratory equipment, rare pharmaceutical instruments, heaps of glassware, stoneware, mortars, jars, barrels, medical books and documents.
Shopping
Schubert World of Amber
ul Grodzka 38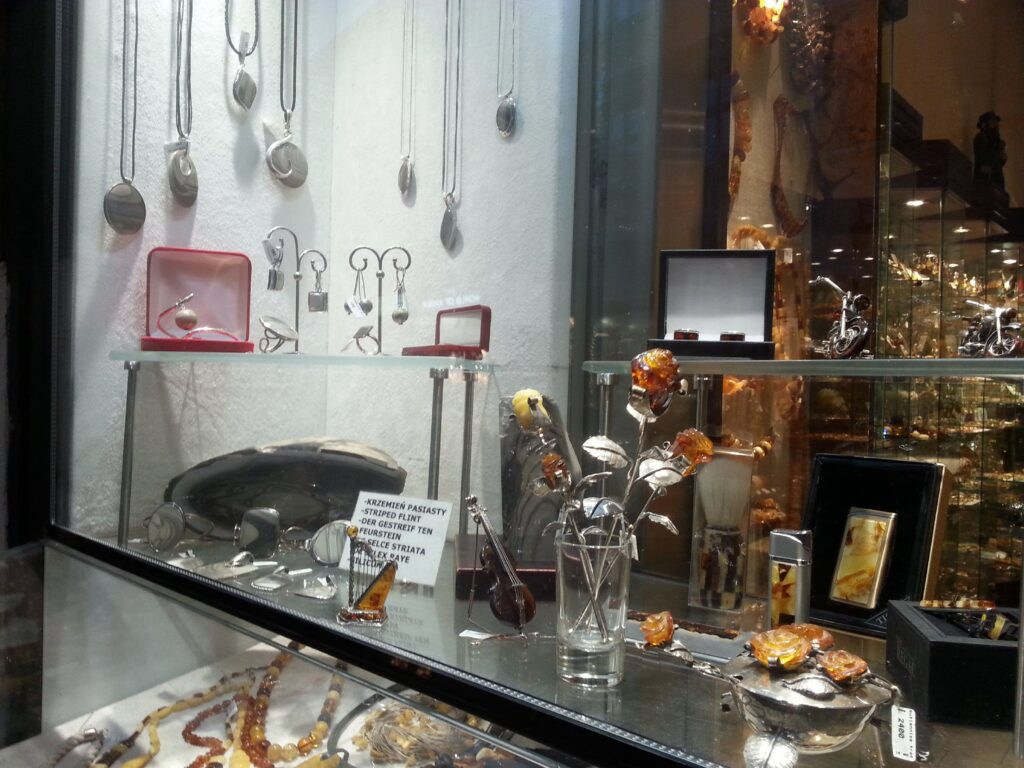 Poland is one of the countries in the world with more Amber mines. And as the name implies, this is more than a shop, it's a celebration of all things Amber.
Even if you're not in the market to buy, it's certainly worth a peek in to see the amazing selection of amber necklaces, earrings, brooches and pendants.
Kacper Ryx
Plac Mariacki 3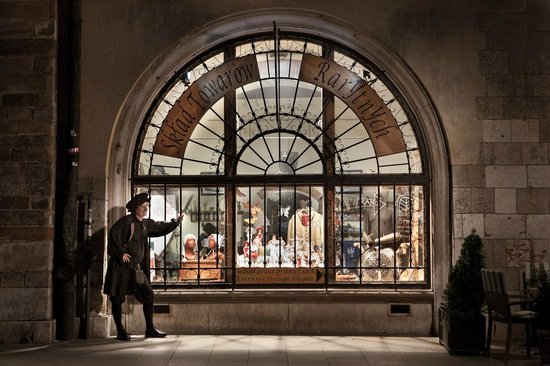 Shop here for all your gift and souvenir needs. High-quality carved woodworking, pottery, traditional shirts and dresses – just about anything you can think of to stick in the suitcase to take home.
Enter through the Hipolit House, a branch of the Kraków City History Museum that contains faithful recreations of townhouse interiors from the 17th to early 19th centuries, which is situated next door.
Boruni
ul Św Jana 4
One-stop shopping for amberphiles at this growing retail empire, with cases and cases of amber rings, necklaces, brooches and earrings, plus a 'museum' (free admission), where you can see how amber is cut, polished and set. Boruni includes a certificate of quality with each purchase. There's another branch and gallery at ul Grodzka 60.
Szpeje – Kazimierz
ul Józefa 9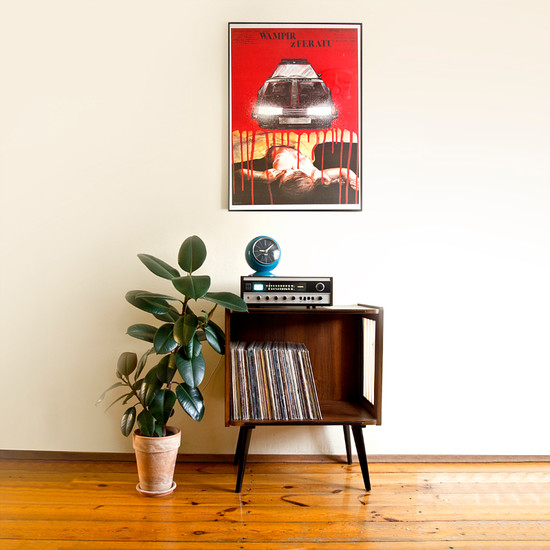 Eye-catching retro design shop, featuring mainly reproductions of furnishings, lighting, ceramics and wall art from the 1960s and '70s. There's also some excellent poster and postcard art that's suitable for taking home.
Krakowski Kredens
ul Pawia 5
Within the Galeria Krakowska shopping centre and not far from the train station, take a look inside the 'Kraków cupboard' to find jars of traditional soups, as well as loads of edible souvenirs, such as marinated mushrooms, herb honey, spicy mustard and gooseberry preserves, to take with you on the train ride home.
Where to Eat
Glonojad
Plac Matejki 2
Veggies be aware! This popular self-service cafeteria has a great view on to Plac Matejki, just north of the Barbican. The diverse menu has a variety of tempting vegetarian dishes including samosas, curries, potato pancakes, falafel, veggie lasagne and soups. The breakfast menu is served till noon.
Sąsiedzi
ul Miodowa 25
A perfect combination of excellent Polish and international mains and unfussy, relaxed service. Dine downstairs in an evocative cellar, or in the secluded garden. The quality of the cooking rivals the best in this part of the city.
If you've been hankering to try wild boar, goose leg confit or even horsemeat tenderloin, this is the place to give it a go. Reservations are recommended.
Produkty Benedyktyńskie
ul Krakowska 29
The Benedictine monks are nothing if not industrious. Here you can buy cheeses, wines, honey…all the goodies that are produced by the holy men up the river in Tyniec, as well as some products from monasteries further afield.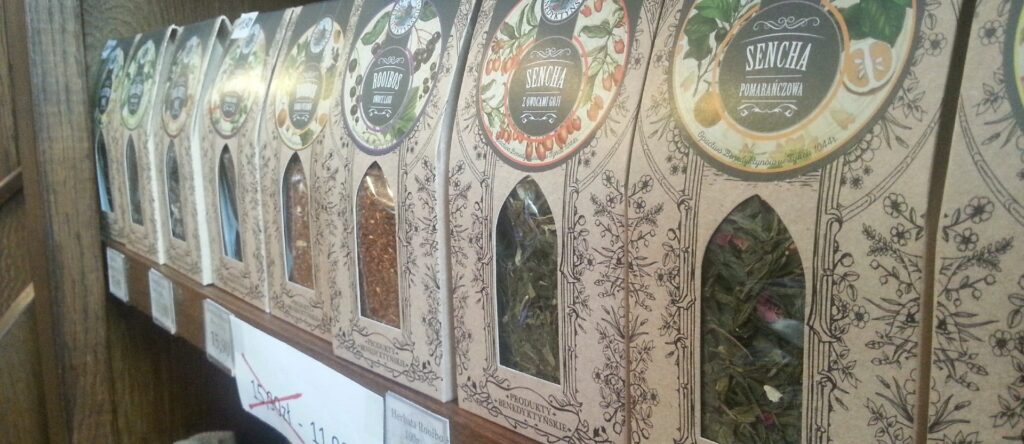 Wedel Pijalnia Czekolady
Rynek Główny 46
The name E Wedel means only one thing: chocolate. This is the place to buy a box of handmade pralines to take home to your friends… Or simply indulge yourself with your family! What a treat!
Miód Malina
ul Grodzka 40
The charmingly named Honey Raspberry serves high-quality Polish cooking in colourful surrounds. Grab a window seat and order the wild mushrooms in cream, and any of the duck or veal dishes.
There's a variety of beef steaks on the menu as well. The grilled sheep's-cheese appetizer, served with cranberry jelly, is a regional specialty. Reservations essential.
Krakow reminds me a lot about old towns in east Europe, such as Sopron in Hungary. Food is great and culture and Art is everywhere.
Really worth a visit and now you have cheaper flights for weekends with family or your special one.