I fell in love with Oxford the 1st time I went there, in the past September for the Premiere of the TV Show "A Discovery of Witches" which can be read here on the Blog, and where I met the writer Deb Harkness and the main character, the very known actress Teresa Palmer; while watching the premiere in the beautiful Ashmolean museum (and is actually one of the places where characters go in the book).
There was the premiere and also an exhibition called Spellbound in the museum, with the history of the UK witches and witchcraft and with a lot of superstitious and even showing how fear and manipulation and deceit lead to a murder of a lot of innocent people (another post for this please!).
I literally went back home that night Spellbound from the city and the museum. I needed to return there with my family and have a lovely weekend and see the city properly.
And I was right!
Oxford breathes Art, Culture, literature and history. The whole city is basically the Oxford University spread through out (constituted by 38 buildings, and much more places around the city for researches).
Of course, I came back with a lot of pictures, Books and videos – this article will have its video online.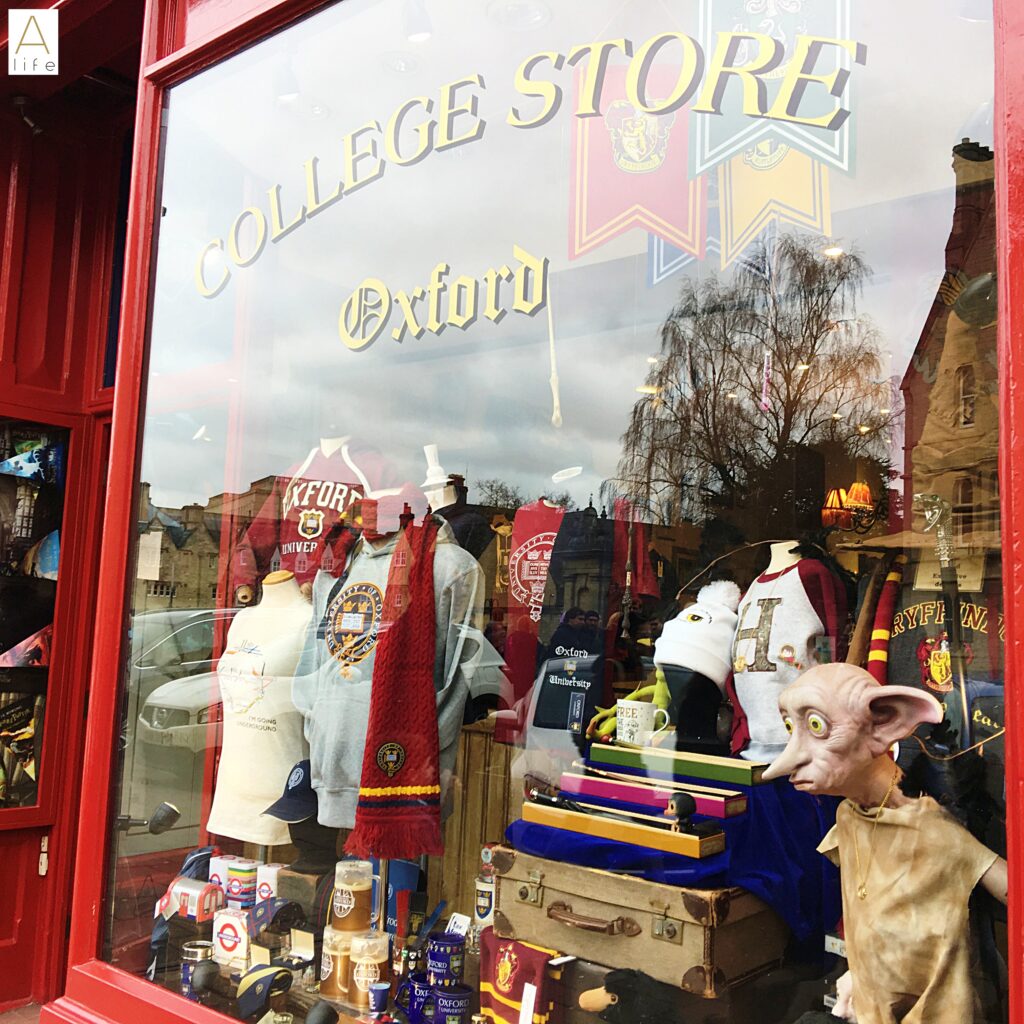 History
As the oldest university in the English-speaking world, Oxford is a unique and historic institution.
There is no clear date of foundation, but teaching existed at Oxford in some form in 1096 and developed rapidly from 1167, when Henry II banned English students from attending the University of Paris.
On the 14th Century, Oxford had achieved eminence above every other seat of learning, and won the praises of popes, kings and sages by virtue of its antiquity, curriculum, doctrine and privileges. In 1355, Edward III paid tribute to the University for its invaluable contribution to learning; he also commented on the services rendered to the state by distinguished Oxford graduates.
From its early days, Oxford was a centre for lively controversy, with scholars involved in religious and political disputes. John Wyclif, a 14th-century Master of Balliol, campaigned for a Bible in the vernacular, against the wishes of the papacy. In 1530, Henry VIII forced the University to accept his divorce from Catherine of Aragon, and during the Reformation in the 16th century, the Anglican churchmen Cranmer, Latimer and Ridley were tried for heresy and burnt at the stake in Oxford.
From 1878, academic halls were established for women and they were admitted to full membership of the University in 1920. Five all-male colleges first admitted women in 1974 and, since then, all colleges have changed their statutes to admit both women and men. St Hilda's College, which was originally for women only, was the last of Oxford's single sex colleges. It has admitted both men and women since 2008.
During the 20th and early 21st centuries, Oxford added to its humanistic core a major new research capacity in the natural and applied sciences, including medicine. In so doing, it has enhanced and strengthened its traditional role as an international focus for learning and a forum for intellectual debate.
How to Get there
Oxfordshire is well connected by road, rail, river and cycle routes which link the county with major cities including London, Birmingham and Cambridge.
We went there with our car, but is actually pretty difficult to park the car in the city centre, with 2 of the main car parks (Gloucester Car park SATNAV: OX1 2BN / or Worcester car Park SATNAV: OX1 2BQ ) being full on the weekends (unless you wait as we did) and a bit expensive, with 3 hours parking reaching out £10!
Cycling is the way to get around the city and you can rent bikes on the street with your mobile, either paying with the phone or with the proper bikes app. All instructions are on the bikes.
Via Bus, with Park and Ride or normal buses.
We went in our car, parked and then went around on foot, visiting everything since everything is near one another.
If needed, and I went there because I definitely needed to know more spots to visit and how to get there, I went to the Oxford Visitor Information Centre (15-16 Broad Street, OX1 3AS), near the Bodleian Library; It is worth visiting for free information, very nice people to help and to books tickets for whatever you want to see.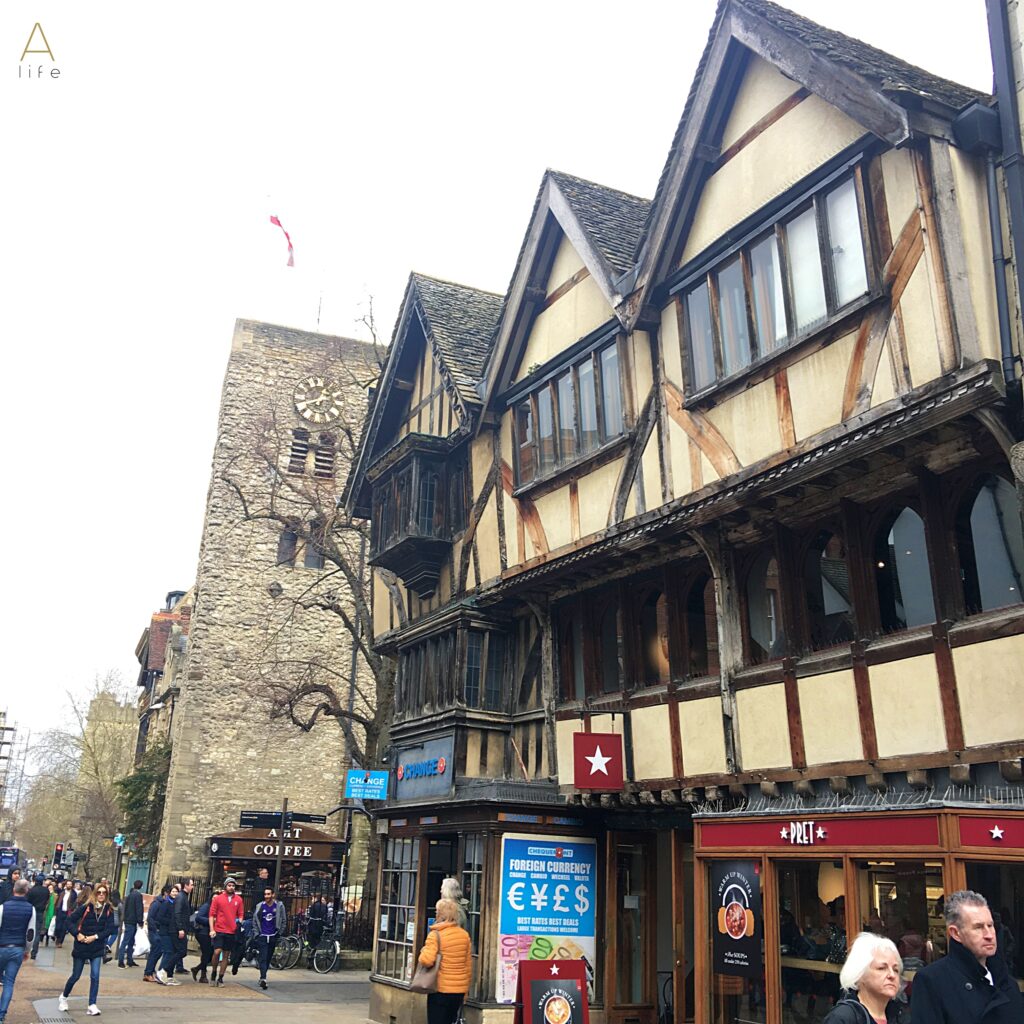 Places to Stay: Hotels
We actually stayed in 2 different hotels. One in the southern area called Abingdon, and one near the centre in the northern area.
Since we are doing Hotel reviews (articles and videos editing as I write), why not try 2 places?
Courtyard Oxford by Marriott
One of the best hotels I have stayed in. Brand new hotel with a more business, stylish and artistic theme but family friendly, it has all the comfort you can imagine and see.
The 170 welcoming guest rooms feature complimentary Wi-Fi, 55-inch TVs with Chromecast technology, rainfall showers, comfortable Hypnos beds, and Nespresso machines. Guests can also unwind in the state-of-the-art fitness centre.
The hotel's signature all-day dining restaurant, The Oxen Bar & Grill, presents seasonal British-inspired and international cuisine in a relaxed setting with its open pizza kitchen, all-weather alfresco dining terrace, and urban lounge bar.
The hotel also features a bar, an entertainment area and free parking.
Staff was really nice and professional, and thank you to the lady from the kitchen that gave homemade cookies to Richie (cookie monster)!
Rooms and excellent and the prices are really good for the quality of the hotel. (review in another article incoming)
You can find more about Courtyard Oxford by Marriot on their website: https://www.marriott.co.uk/hotels/travel/oxfcx-courtyard-oxford-south/
Jurys Inn Oxford
To be honest, after staying from a new hotel with those commodities, coming to Jurys Inn… was different.
A normal hotel, in nothing cheaper than Courtyard, actually it was more expensive, but for one night it wasn't bad, but wasn't brilliant.
The rooms are comfortable, breakfast was good and parking is free (there will be a review on this in another video and article), you have a Marco Pierre restaurant and a Costa coffee bar.
Negative point: No lifts. So make sure to refer that on your reservation, if you have any disability or need the lower ground bedrooms.
You can find more about Jurys Inn Oxford on their website: https://www.jurysinns.com/hotels/oxford
Places to Visit: Museums
Now here you have a bunch of things to visit! We focused mainly on the museums and other places that we find out along the way.
Ashmolean Museum
Where: Beaumont Street, OX1 2PH
One of my favourite museums! The famous Ashmolean Museum is the most important museum of art and archaeology in the heart of Britain, founded in 1683. It is the University of Oxford's museum of art and archaeology showcasing an extraordinary collection ranging from Egyptian mummies to contemporary art. The museum is conveniently located in the heart of Oxford and captivates its visitors with a variety of services including exhibitions, high standard research material, event venues as well as exquisite dining amenities (Roof Top restaurant).
The Ashmolean's collection is incredibly rich, representing most of the world's great civilisations, with objects dating from 8000 BC to the present day. Among its treasures are the world's greatest collection of Raphael drawings, the most important collection of Egyptian pre-Dynastic sculpture and ceramics outside Cairo, the only great Minoan collection in Britain, outstanding Anglo-Saxon treasures, and the foremost collection of modern Chinese painting in the Western world.
Opening Hours: Everyday from 10am to 5pm
Admission: Free
Bodleian Library
Where: Broad Street, OX1 3BG
A Must see magical and mystical place! The Bodleian Library is one of the worlds oldest libraries at the heart of Oxford's historic University. The Library opened in 1602 and has since been used as a working library belonging to the University of Oxford.
Discover the Divinity School, a masterpiece of English Gothic architecture and the oldest teaching and examination hall in the University. Or choose one of the guided tours of the reading rooms, including a visit to Duke Humfrey's famous library.
The Bodleian collection is being held in numerous libraries across Oxford with an impressive assembly of more than 12 million printed items as well as journals and special collection material such as manuscripts, classical papyri and maps.
Opening Hours: Monday – Friday 9am – 5pm, Saturday 9am – 4.30pm, Sunday 11am – 5pm
The Library is open all year round, except at Christmas, New Year and Easter, closed in certain days.
Tours
The Mini Tour allows you to view the most beautiful parts of the Bodleian Library in just 30 minutes.
The Standard Tour shows you the interior of the buildings that form the historic heart of the University.
The Extended tour – Upstairs, downstairs gives you the opportunity to visit both the Bodleian Library's wonderful historic rooms and the modern underground reading room.
The Extended tour – Explore the reading rooms is an exploration of the Bodleian Library's wonderful reading rooms where scholars have studied for centuries.
The Audio Tour allows you to follow the history of the Bodleian Library from its birth through to the present with a tour of the spectacular architecture.
The Divinity School gives you access to the Divinity School, this splendid medieval room is the oldest teaching hall and earliest examination hall of the University.
The History Trail is a leaflet where Thomas Bodley takes your family on a trail around the Bodleian Libraries and teach you about the history of this world famous location
Admission: See website for opening times and admission prices. Children aged 11 and over may join guided tours to Duke Humfrey's Library – Charges apply.
Note: Please make sure that by the entrance of the Bodleian, you see the Bridges of Sights (last photo from above): Built because the students were worried about their exams. 
Museum of Oxford
Where: St Aldate's, OX1 1BX
The museum was first opened in 1975 and is considered as the only museum committed to telling the story of Oxford and its people. The museum showcases original artefacts and treasures from Oxford and the surrounding area and provides information about the history of Oxford and the University of Oxford.
The Museum of Oxford's 'Explore Oxford' galleries presents the city's past and present in two very different spaces. Exploring the past, visitors can have a look around a Victorian Office and see how the city has developed over the past 3000 years.
We went to see the Micro Museum on the Town Hall, since the new museum is being built. The history of how Oxford grew from 1068 till the 21st century is amazing, with the maps, and also the history of a Jamaican family (with the original living room in the museum) and their thoughts, doubts and hopes. Worth to pick up the phone and hear the original family talking and explaining.
Opening Hours: Everyday from 10am to 5pm
Admission: Free
Museum of Natural History
Where: Parks Road, OX1 3PW
Oxford University Museum of Natural History was established in 1860 to draw together scientific studies from across the University of Oxford. Today, the award-winning museum continues to be a place of scientific research, collecting and fieldwork, and plays host to a programme of events, exhibitions and activities for the public and school students of all ages.
Richie had a lot of fun petting the real Bear fur and watching his favourite dinossaurs, he was a really happy boy that day.
Highlights in the collections include the world's first scientifically described dinosaur – Megalosaurus bucklandii – and the world-famous Oxford Dodo, the only soft tissue remains of the extinct Dodo, and I can tick one of my bucket lists things to see, the Dodo.
The building itself is as spectacular today as when it opened in 1860. As a striking example of Victorian neo-Gothic architecture, it's style was strongly influenced by the ideas of 19th-century art critic John Ruskin.
The Pitt Rivers Museum of anthropology and archaeology adjoins the Museum of Natural History building, so both places can be enjoyed in a single trip.
The Museum Café has a great location on the upper gallery allowing visitors to enjoy a tea or coffee while overlooking the dinosaurs. And the shop sells a wide selection of products, ranging from fossils and minerals, to children toys and jewellery.
Opening Hours: daily from 10am to 5pm
Admission: free
Pitt Rivers Museum
Where: Parks Road, OX1 3PW
The Pitt Rivers Museum is also known as The University of Oxford's museum of anthropology and world archaeology. The museum was founded in 1884 following a gift to the university from general Pitt Rivers, it retains its unique atmosphere with dense displays of artefacts, many in the original wooden display cabinets.
The amount of collections from tiny pieces to the huge boats and North American Indian Tottem is insane. A special feature of the Pitt Rivers Museum is the arrangement of the collection according to the following typologies: musical instruments, weapons, masks, textiles, jewelry, and tools. This famous arrangement allows visitors to see how different challenges were solved in different eras.
From the pre-historic, going through all the countries customs, to clothing and even a special section for witches, make sure you see the shrunken heads (from Equador), it is a museum to take some time off and visit several times, as everytime you enter or look, there will be a piece you haven't seen previously. Also they have some cool events during evenings, in which you have a torch and they turn the lights off, a type of scavenger hunt, very colo museum!
The museum is located to the east of the Oxford University Museum of Natural History and is only accessible via the Oxford University Museum building.
Opening Hours: Tuesday to Sunday 10.00 – 16.30 (and bank holiday Mondays) / Monday 12.00 – 16.30.
Admission: free
Oxford Castle & Prison
Where: 44-46 Oxford Castle, New Road, OX1 1AY
Unmissable! One of the best tours I went, the guide was amazing, his knowledge and how he explained, even the tone of his voice was like watching a documentary on tv. Thanks, Tour guide! Oh and watch out with the ghosts! I should have asked loudly about what happened to one of the guides.
In the photo above where Richie is staring at the St George tower, that tower ceiling is 1000 years old! very true. So it was nice to see the difference between a 1000 year old and a 4 year old.
Also, you will go to the "catacombs" (see photo of my hand in a pillar) where some of the pillars are 900 years old, and yes I did touch it because you can… carefully and without damaging.
The castle in Oxford has been brought to life at Oxford Castle & Prison. Visitors can enjoy a guided tour and meet past inhabitants of Oxford Castle and discover their true stories as you:
Climb the Saxon St George's Tower, Oxford's oldest building, and enjoy its stunning 360° view
Descend deep underground into the dark atmosphere of the 900-year-old Crypt
Explore the austere confines of the 18th-century Debtors' Tower and Prison D-Wing
Scale the Mound of the 11th-century motte-and-bailey castle
Tours with one of the experienced costumed guides leave up to every 20 minutes from the admissions area in the Gift Shop.
After your tour, you will be inducted into Prison D-Wing and the wider castle site where you will be able to explore at your own leisure.
This was a really cool place to visit with my family. The history of the building through the ages is unbelievable and I actually had to buy the book of the building. not everything in its history is a fairy tale, with some gruesome things along the way, nothing scary… the only thing scary is how humans think and what they do, from putting inocents in jail, including 7 years old fro robbing a piece of bread, to hanging people.
And make sure you give a peek at their shop, I did and bought a bunch of things!
Note: I think there are some biased Hufflepuffs and Slytherins ruling the shop!
Opening Times: Daily
Open daily 10:00 – 17:00.
Last tour 16:20 pre-booking recommended
Closed Christmas Day only.
Admission:
Adult – £10.95
Child (5 – 15yrs) £7.75
Senior/Student – £9.25
Under 5s – Free
Family ticket for 2 adults and 2 children – £35.00
Buy Tickets online: http://www.oxfordcastleunlocked.co.uk/
Christ Church
Where: Christ Church, OX1 1DP
Christ Church is located in the heart of the city centre and is one of the colleges belonging to the University of Oxford. It is also home to the legendary Christ Church Cathedral, which was built in the 12th century. Today, Christ Church is a visitor favourite, well-known for its impressive architecture, entertaining evening choirs and the War Memorial Garden. Christ Church is also a popular film location with famous examples such as Harry Potter.
Gardens
The War Memorial Garden was established in honour of the Great War dead of Christ Church. The garden landscape is divided in the south garden and the northeast garden. The south garden, also known as the Rose Garden changes its seasonal bedding twice a year. The Circle Garden is surrounded by a lavender border and embedded with a variation of Wisteria, magnolia, Photinia, Viburnaum and Abelia.
The Meadow offers a beautiful setting for outdoor activities directly in the city centre of Oxford. Enjoy a pleasant walk on the large Broad Walk en route to the Botanic Garden, take in a variety of wildlife or watch the rowing boats passing by on the river. Choose from: Broad Walk, New Walk, Deans Ham and Cherwell Path
Cathedral Garden was featured in Alice in Wonderland. The garden shows the famous entrance to Wonderland and the tree that the Cheshire Cat sat in.
Pocock Garden is primarily planted with Pocock trees and incorporates parts of the old city wall.
Masters Garden is a recreational space for students and is only semi-public.
Cloister Garden was redesigned in 2008 with new stone carving. The new design incorporates a fountain representing peace and an olive tree.
Christ Church has been a site of religious worship since the seventh century. The present cathedral was built in the twelfth century, and contains the shrine and tomb of St Frideswide, Oxford's patron saint.
Opening hours:
Open Monday – Saturday 10.00 -16.15
Sundays 14.00 – 16.15
Last entry 16.15
Closed Christmas Day.
Admission:
Please visit their website to buy tickets in advance: http://www.chch.ox.ac.uk/
Places to Visit: Nature and Shops
Botanic Garden
Where: Rose Lane, OX1 4AZ
Oxford Botanic Garden is the UK's oldest botanic garden, founded in 1621. Situated in the heart of Oxford, this historic garden is an oasis of green in the city centre. Indeed it is one of the most compact yet diverse collections of plants in the world.
Take a stroll among the family beds in the formal walled garden; see exotic, tropical and carnivorous plants in the glasshouses; enjoy the lush herbaceous borders of the informal lower garden.
Visitors are very welcome to bring a picnic with them and there are many benches to use. There is a pop-up café during the summer months that sells hot and cold drinks and snacks by the riverside.
Opening Hours: Daily (please check the website)
Admission:
Adult: £5.45
Adult + Gift Aid: £6.00
Children under 16: Free*
*must be accompanied by a paying family member
University Parks
Where: University Parks, Parks Road, OX1 3QB
Oxford University Parks is a large parkland area northeast of Oxford city centre. The University Parks consist of about 70 acres (30 hectares) of parkland on the bank of the River Cherwell, together with a 4 acre (1.5 hectares) spur of land running towards the south.
University Parks is a parkland for sports and recreational purposes since 1864. Today, University Parks has a wide range of sports facilities available, allowing visitors to participate in cricket, lacrosse, tennis, football or rugby. Harry Potter fans also have the special opportunity to play Quidditch.
Additionally, the parkland features beautiful plants and trees. You can enjoy a pleasant walk by following the cycle path over the river Cherwell at the rollers, turning left at the second cattle grid and re-crossing the Cherwell at Rainbow Bridge to return to the University parks (see the Lunchtime Walkers' routes).
Other interesting places in the park are the Cricket Pavilion, the giant sequoias, which was planted in 1888, the High Bridge and the Genetic Garden.
A perfect place for a picnic, to stroll around, feed the ducks at the pond or play ball games as the mood takes you. But tree climbing is not advised – as the trees are mainly rare specimens from all over the globe in need of respect and protection.
Opening Hours: Daily from 7:45am
Admission: Free
Oxford River Cruises
Where: 1 Folly Bridge, OX1 4JU
Oxford River Cruises provides a range of luxury boat trips, sightseeing tours and unique picnic cruises in the heart of the historic city of Oxford.
Their vessels provide a comfortable and intimate setting for an unforgettable river experience and one of the most memorable things to do during your visit to Oxford.
Public Cruises can be booked online at www.oxfordrivercruises.com or over the phone.
Private Hire and Group Bookings are welcomed. Oxford River Cruises private hire vessels are the perfect venue aboard which to celebrate birthdays, anniversaries, company achievements and all manner of special occasions. Information on pricing and suggested itineraries can be found at www.oxfordrivercruises.com. Please email or telephone to discuss bespoke itineraries and to make a booking.
Cruises depart from No.1 Folly Bridge, Oxford's unique riverside restaurant where boat passengers can enjoy excellent food and drinks before or after their cruise.
Private Boat Hire
Boat hire fleet
All inclusive packages
Wedding receptions
Water taxi & transportation
Oxford hen party cruises
School and educational trips
Opening Hours:
Oxford River Cruises offers a number of cruises for which members of the public can purchase individual tickets.
Public Cruises run daily from April 1st to October 31st. Group bookings and Private Hire are available year round. The cruises operate on a pre-booked basis. These cruises are very popular so early booking is recommended. Please check their website for cruise timings, availability and online booking.
Admission:
River cruises available from £9.00 per person.
Westgate Oxford
Where: Westgate, OX1 1RQ
Relaxing and buzzing, intellectual and hedonistic, stylish and comforting, Westgate Oxford will deliver a game-changing experience set to reinvent the city of Oxford as the ultimate retail and lifestyle destination.
With 800 000 sq. ft. of prestigious global brands, inventive and eclectic restaurants and cafes, a five-screen boutique cinema and sophisticated rooftop bars and dining, Westgate Oxford will excite and delight.
Expect bold and daring architecture meets innovative design and technology. Arresting rooftop views of the Oxford city skyline create an exceptional, inspirational destination like no other.
Opening Hours:
Monday – Friday 10am – 8pm
Saturday 9am – 8pm
Sunday 11am – 5pm
Alice's Shop
Admission: Free
St Phillips Books Shop
A quiet little shop full of vintage and valuable books: I've found a second edition of John Keats book of poems signed by him!
Even if you are not buying anything, go and see for yourself with care and peruse those lovely books!
The Oxford Covered Market
Where: The Covered Market, OX1 3DY
The Market was officially opened in 1774 and has a unique and wonderful atmosphere. It provides its visitors with the wonderful aromas of fresh fruit, coffee, and fresh baking and to a feast of sights and sounds.
In 1772 the original Market committee accepted an estimate for nine hundred and sixteen pounds and ten shillings for the building of twenty butchers' shops. John Gwynn, the architect for Magdalen Bridge drew up the plans and designed the High Street frontage. Twenty more shops soon followed and from this, the market grew into the delight it is now. 
The Covered Market is home to numerous traders selling a captivating variety of goods. Fresh fruit, vegetables, bread and cakes, meats, cheeses, fine foods, flowers, leather goods, shoes, watches and jewelry, clothing, gifts, hats and so much more are on offer – the mix is electrifying.
When taking a break from browsing the goods there's a mouth-watering choice of places to eat and drink to choose from. Whatever you are tempted with – a ciabatta, a cappuccino or a cake – you will always find something to satisfy in Oxford's Covered Market.
Opening details:
Monday 09.00 – 17.30
Tuesday 09.00 – 17.30
Wednesday 09.00 – 17.30
Thursday 09.00 – 17.30
Friday 09.00 – 17.30
Saturday 09.00 – 17.30
Sunday 10.00 – 16.00
Extended opening times over the Christmas shopping period.
Places to Eat
The Cherwell Boathouse
Where: Bardwell Road, OX2 6SR
What a nice surprise! This family restaurant has everything (review coming soon in another article).
Good Food, Nice staff and superb location and a fantastic view for River Cherwell. They have a tiny parking, but you can park on the main road for 3 hours free.
Family oriented or a Romantic meal, we loved this fine dining restaurant.
The food homemade was delicious and definitely, a must repeat place for us as well as worth visiting.
Gloucester Green Market
Where: Near the Gloucester car park (above)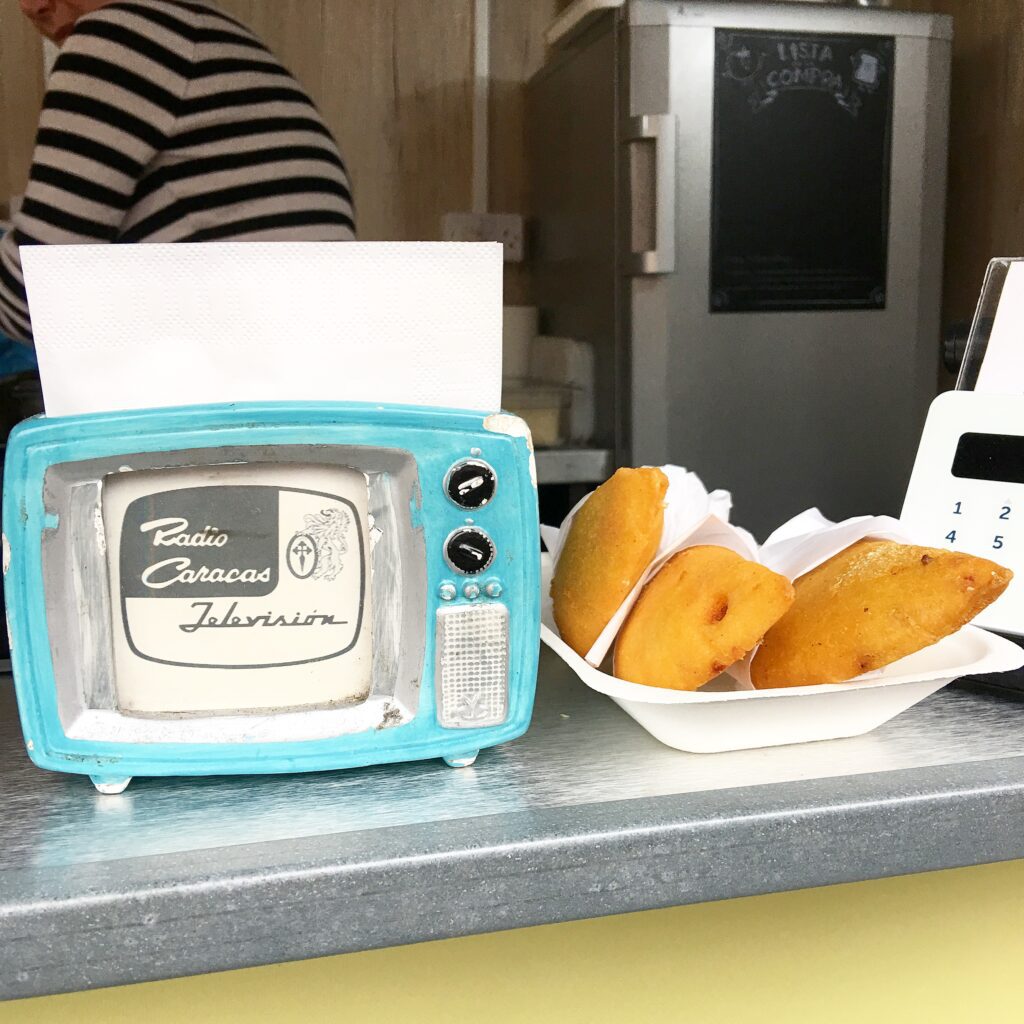 The Gloucester Green market is a traditional and vibrant open air market offering a range of general produce including fresh fruit and vegetables, flowers and plants, household goods, cheeses, pet food, frames, books, fabrics, DVDs, mobile phone accessories, haberdashery, bags, hats, watches and watch batteries, clothing, cakes,
Opening Times: 
Wednesdays and Thursdays from 9am to 4pm
Saturday from 10am to 5pm
I've met a Venezuelan and English couple with some yummy Arepas and food from my country from Pitiguey Arepas. The Empanadas and Tequenos were delicious!
You can find stall with food from all around the world (street food) and also buy clothing and much more.
Westgate Oxford
Where: Westgate, OX1 1RQ
All the known fast food restaurants inside, Sushi, Nando's and more, and the high street shops.
Our Thoughts:
We had a blast staying in Oxford and visiting these places. A quiet town full of students and culture all around. It's definitely one of my favourite places with wonderful memories.
If you know Oxford or live there, what is your favourite place? Maybe I haven't visited or seen it when we went there? But I can go next time.
Leave a comment below and share with us.
You can Print this article and take it with you on your Oxford Visit (Printer icon below)
(Please if you want to use my photos, send me an email and credit me online as I do with others photos).
Photos by Alejandra (marked with the logo), other photos without a logo are taken/sent from the marketing manager or the website of the place.