You might have noticed that tracksuits and co-ords are back, and also my beloved jumpsuits are a thing now.
You are right, you are also right in checking repetitive patterns that remind the Fendy or LV logo as well as checkered patterns for those more edgy.
I think that Fashion is a statement of your mood and of something you are doing, such as working in an office or working in a certain field of area or basically your mood for a rock concert or a night out with the girls.
Our fashion states our mood and who we are, and for that we need to be ok in our skin. If the trend is not good for you, your bank account or it actually doesn't fit your body type, then You do YOu… as I always say: don't follow the cattle around, be the Black sheep… you know the stylish one! *wink*
And here are my new picks for this March with an Edgy touch:
Printed Oversized Long Sleeve Shirt Dress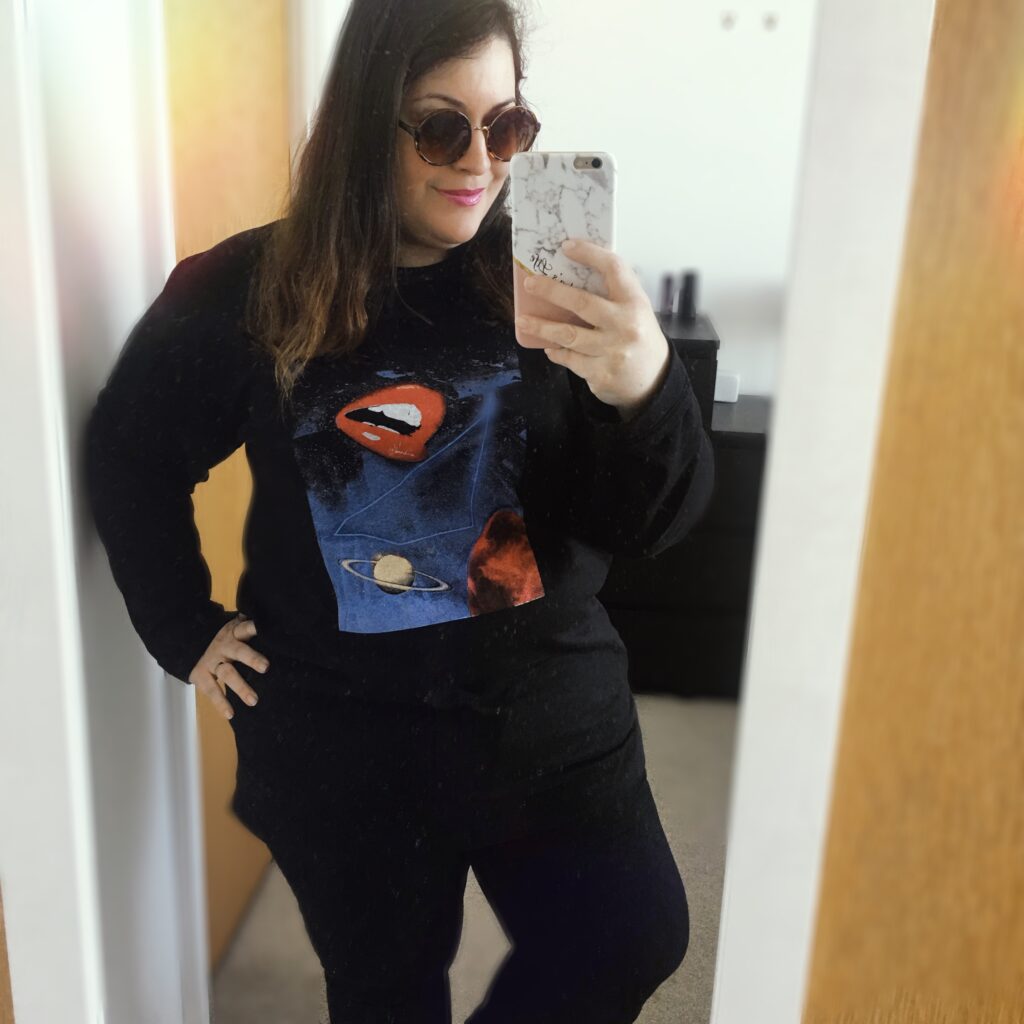 I called it a shirt/tunic. This Rihanna lips printed oversized shirt is perfect for that 90's look.
I can honestly see myself in the 90's wearing this shirt, with my black skinny jeans and my Doc Martens (in Burgundy) and a choker. And here I am wearing it. A simple shirt that just because it's oversized (I am wearing size XL) Can be paired up with a lot of different things.
Brown Cross Pattern Co-Ord 
Remember what I was telling you about repetitive logos? What about this Brown Cross Pattern Co-Ord!
It's gorgeous, comfortable and looks so good! These 2 pieces are already being a hit among bloggers as the next pick is.
Black Check Waist Tie Co-Ord
What about Black Check Waist Tie Co-ord in checkered black and white?
It's great to go to the Gym (as I am using it) or to go out with friends to that beach cafe. The pants have a tiny cord and the end of the legs are jogger style, very practical if you don't have long legs.
Khaki Long Sleeve Flare Jumpsuit
Best for last? Precisely! What a treat this Khaki Long Sleeve Flare Jumpsuit is!
The fabric is such a nice quality, well finished and the details are flattering. The front tie-up can be honestly used depending on the size of the stomach (and since the body is constantly changing depending on the time of the month, mood or what we eat) this is actually a nice touch to add to a jumpsuit, plus it gives it a bit of detail. the other detail is the back button. Smooth and in Army green, is simply a must have piece in any wardrobe.
What is your favourite?
Time to vote then!