Synopsis:
"He'd thought himself the hunter, that I was easy prey but what he hadn't bargained for, was contending with a woman who hadn't eaten a square meal in twenty-four hours. I get mean when I'm hungry."
Clarry Pennhaligan, low on ambition but high on energy, can't seem to come up with a proper grown-up plan to kick-start her life. Planning really isn't her thing. But then she happens upon her true vocation: Snooping.  Discovering other people's secrets and getting paid for it. What could possibly go wrong? Well……as it turns out, just about everything and soon Clarry finds herself in real danger. The Love Detective has a dark undertone with gritty themes that will keep the reader gripped to the edge of their seats until the very last page.
My 2 pence:
Clarry Pennhaligan is a 26 year old waitress who wants more from her life but isn't sure what that more is. With a self-described history of giving up on things and taking the easy way out Clarry is surprised to find herself deep in danger and intrigue when she agrees to help her best friend Laura find out if her new beau is pursuing Laura for the right reasons. What starts out as a few phone calls, stakeouts, and a small masquerade quickly takes Clarry deep into the criminal underworld where murder, fraud, and trafficking are the name of the game.
I really enjoyed Clarry as a protagonist. She was multifaceted and entertaining. I loved her sense of humour as well as her courage and compassion. However, she was also very impulsive and often did not think through a plan before throwing herself into situations. Needless to say, this led her into a number of sticky and quite dangerous situations. Clarry's relationships provided the author with an opportunity to give different perspectives on the story as well as some social commentary on the issues of today. Overall this book was a great mystery read that found the balance between keeping the reader guessing, while still giving enough clues that they felt they might have an idea of what was to come. This book is filled with action and danger as well as humour and fun.
About the Author: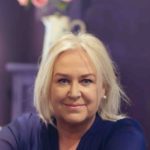 Angela Dyson ditched her London life and downsized her home to move to the sticks in Surrey, to follow her dream to become a professional author. She loves to write but to pay the bills (Angela soon discovered that utility companies, bank managers and landlords aren't known for their generosity and understanding natures,) she had to squeeze the writing in with working for a living.
Some of the jobs to which she only gave half her attention have included working for a recording studio and a record label, running a building maintenance company where pretty much the only upside was getting to boss a lot of men about all day, doing a bit of plus size modelling (strictly clothes on) and, for one memorable summer, making a living reading palms on a Greek Island.