Looking your best at your wedding is the goal of all future brides. With trends and fashion changing year round, it's always good to stay up-to-date.
One of the most important things to remember when shopping for your bridal essentials is your personal style. Although there are many trends to be mindful of, it's still advisable that you incorporate your personality to your bridal look.
Top 5 bridal trends for Summer 2019
– Gucci Stardust Icon Pendant Necklace
This Gucci 18K Diamond necklace will complete any wedding dress with ease. Although most brides don't like mixing golds with white, it has now become the trend of 2019. White and gold when done correctly will look simply stunning. This necklace will be the perfect accent of gold that your wedding dress will be longing for. It appears subtle in shine from afar, but when you take a closer look, you will see how detailed and intricate the necklace is as a whole.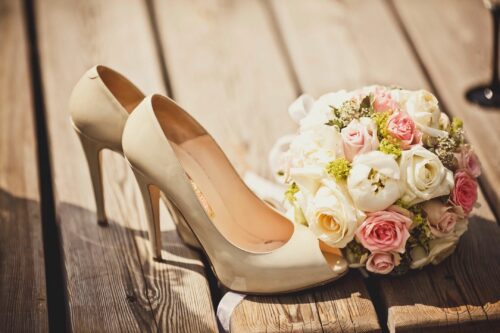 – Louis Vuitton Narrow Inclusion Bracelet
The RealReal, offers some of the best bridal accessory options for high-end brands like Louis Vuitton, Gucci, and so on. They also offer items that are very suitable for bridal trends whenever they arise. This bracelet also has subtle hints of gold but happens to also have a pearl white undertone. This is the perfect statement bracelet, as it also has designs of LV on it without looking over the top. Definitely a must have jewelry piece for any bride that wants to stand out at their wedding.
– Prada Brushed Leather Pumps
The perfect pair of shoes is always ideal; they should be comfortable, fashionable, and a wonderful add-on to your gown. The RealReal provides you the option to choose from all sorts of high-end brands making the decision process a lot easier than it was back then. These shoes specifically from Prada are not too high nor narrow in size which makes them the perfect bridal shoe to walk down the aisle in. The kitten-heel has definitely become a lot more popular and trendy in recent years.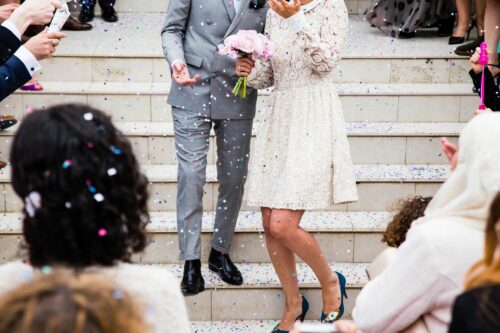 – Susanne Harward Ladder Short Trim Veil
The wedding veil is a bridal staple that will never go out of style. This veil however connects to the bottom half of the hair which creates a more elegant modern feel to the overall look. Susanne Harward is also a mastermind when it comes to bridal trends and has been known for creating simple yet unique designs that have remained fashionable for years on end. Veils are often overlooked by bridal shoppers because they look very old school but tradition doesn't have to be. There are various ways to modernize any old fashion trends to fit your personal style.
– Carolina Herrera Lace Jessica Gown
Carolina Herrera is another phenomenal designer that continuously creates gorgeous wedding gowns and accessories. One of her notable designs is the lace material. This particular design creates a very old classic bride look that is perfect for Victorian themed weddings. This gown specifically is also perfect if you do already have various accessories, as it's quite the simple design. With a veil or paired with a belt, you can completely change the aesthetic of this gown in an instant.
All of the bridal trends enlisted above may spark some creative ideas for your wedding. When it comes to your bridal look, never be scared to try something new. A decent amount of accessories and the perfect wedding gown will undoubtedly make you feel and look that the most beautiful bride in the world. So don't wait any longer to create your perfect bridal look with the help of The RealReal.