Even though the bathroom gets a bad reputation for being the hardest to clean, the kitchen is way harder to keep neat. Not only are there crumbs and bits of food everywhere, but there are grease, dirt, stains, and so on. In other words, cleaning a kitchen is no easy task, especially after cooking. One of the better ways to reduce the amount of cleaning is to organize your kitchen better. Designing a low-maintenance kitchen will help keep everything clean all the time. No longer will you have to scrub the counters for hours before you make any progress. With these design ideas, you can spend more time doing what you love, cooking!
One of the most important first steps is to find a balance between what is useful and what looks good. There are many tips and tricks to help you find the right aesthetics for your dream kitchen. The next big step is to decide what appliances and items you need or want to have in a kitchen. This will help you with an image of how big your kitchen should be and how much free space or storage space you need. It's always a good idea to think smart. If you have big pots and special tableware you rarely use, consider storing them in a pantry instead.
Alternatively, experts at elvmoving.com advise renting a storage unit and placing items you don't frequently use there. This way, the space in your kitchen can be utilized for something else. Also, if you decide to move, a part of the kitchen, the hardest room to pack and move, will already be ready for transport.
With this in mind, here are seven tips to help design your kitchen.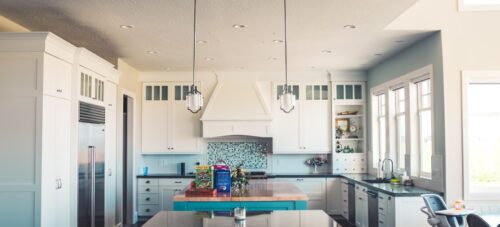 1. Good flooring will minimize the cleaning
Starting from the floor, your best option is to tile your kitchen. The larger the tiles are, the fewer grout lines they have. In other words, less cleaning. Of course, there are many more tile types you can use to enrich your kitchen floor. You can even request special tiles that are easy to clean and have stain-resistant properties. Hardwood is also a good idea if you'd prefer to extend the flooring type from the connected rooms. As with the tiles, if you choose wider planks, you'll reduce the number of grooves where crumbs like to gather.
2. Keep major light sources away from the stove
No one likes to cook in the dark. However, installing a light above the store is usually not good. On that matter, having anything above the store is bound to be covered in grime and grease. This can turn your dream kitchen into a cleaning nightmare every time you cook something. If
you don't have a built-in light in your exhaust hood, consider hanging the light a few feet away from the stove. For this, it's best to check where you need light the most. Having light above the sink is one of the most common solutions.
3. Designing a low-maintenance kitchen by choosing an under-mount sink
An under-mount sink is your best option. Not only does it sit below the countertop, but its sleek edges mean that no food or crumbs will be caught on the edge. It also gives your kitchen a seamless and perfect look.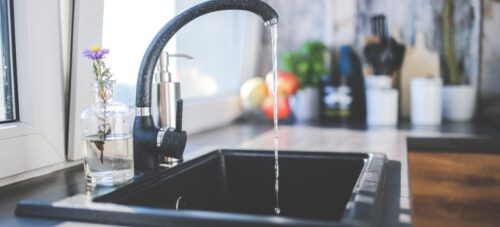 4. The correct countertop will reduce cleaning
Countertops are the essence of every kitchen. It's where most of the stuff is and where you do most of your cooking. Your appliances may also suffer from dirty or stained countertops. Nowadays, stain-resistant countertops are becoming more widespread than ever. Some of the best materials are quartz and stainless steel. Quartz is by far the most popular choice. The main reasons are that quartz is hard to stain and is pleasing to the eyes.
5. Choosing to put or remove the cabinets
Putting cabinets in your kitchen or not is probably one of the most challenging decisions. If you choose to include the cabinets in the design, there is a question of how many cabinets are enough. On the other hand, if you would like not to have cabinets, you would need to figure out where to store your items in the pantry. But then, you may have way too many things and would need cabinets. One advantage of keeping everything in the pantry is that it will be much easier to pack and relocate it quickly, especially if you don't have time to plan your packing process carefully.
If you choose to install cabinets, one of the modern designs is to make them flat. First of all, it makes cleaning a lot easier as you need to wipe them once in a while. And secondly, without knobs or pulls, they're less likely to get dirty in the first place. If a flat surface is not your style, glass doors are another popular option. They are easy on the eye and bring something other than a minimalist look to your kitchen. They are also easy to clean and organize as everything is always visible but protected behind glass.
6. Place a trash bin below or near your sink
This is one of the most efficient ways to keep your kitchen clean. Having a trash bin near the sink is a lifesaver when cooking. You can easily dispose of all the waste without worrying if it spills on the floor or somewhere else.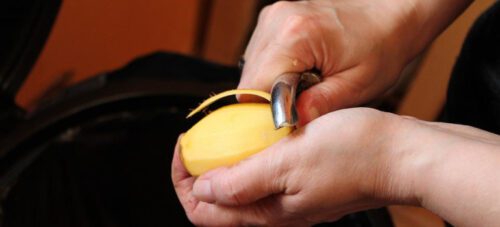 7. With the right faucet, you can save money
Even if you have a dishwasher, you probably use the faucet in your kitchen more than you can count. Because of this, it's one of the most common parts of the kitchen that get dirty. One of the solutions is wiping the faucet. However, over time this can become quite tedious. Not to mention that it's not a cost-effective or economical solution at all. Therefore, stainless steel or nickel will reduce the number of stains and dirt on your faucet.
And while cleaning the kitchen is the most common household task, it doesn't have to take much time. With these tips, you'll have plenty of ideas about designing a low-maintenance kitchen and making the cleaning process more manageable.
Article by Sally Norton
Sally is a member of our Alejandra's Life Family writers