Well I haven't done a list in ages!
Even though I write about a lot of things, there is a love that I cannot forget: my passion for reading. I read every single night, as it is my way of sleeping better and my "me" time, my calming time.
I will be updating this post as soon as I get new books, so it will be a "sticky post" for this summer.
Let's start shall we? And remember: If you want to give a suggestion in books either leave me a comment below with your book or send me an email.

Everest England: 29,000 feet in 12 Days
By Peter Owen Jones
Everest England is a unique hill-walking guide for ordinary people to embark on their very own Everest in the English countryside. Scaling the peaks of Mount Everest, the world's highest mountain, is the ultimate physical and mental challenge, but the minimum £25 000 cost and years of preparation leaves the expedition out of reach for most.
Established television personality, author, celebrity vicar and environmentalist Peter Owen Jones, guides the reader on a 12-day hike across the country with his hand-picked hill-climbs of various sizes which equate to the height of Mount Everest.
From Cornwall to Cumbria, the walks cover coastal terrain, ancient holy sites, peaks and mountains, are beautifully illustrated with hand drawn maps and told in a meditative, poetic and anecdotal style. Under Peter's expert spiritual guidance, the book advocates the healing power of walking alone, digital detoxing and reconnecting with nature. Each walk is accompanied by a set of easy to follow directions, key pieces of advice, and suggested length of time.
Ideal for nature-lovers looking for a new way to appreciate the countryside, Everest England is not simply about conquering 29000 feet but about the personal awakening and perspective that is gained from walking above the plains.
Day 1:  St Enodoc's Church and Brea Hill, Cornwall (203 feet)
Day 2: Bronn Wennilli (Hill of Swallows), Bodmin Moor, Cornwall (1,321 feet) and Yes Tor and High Willhays, Dartmoor, Devon (1,263 feet)
Day 3: Great Hangman and Holdstone Down, Devon (2,172 feet)
Day 4: Glastonbury Tor, Somerset (394 feet) and Cheddar Gorge to Beacon Batch, Somerset (2,461 feet)
Day 5: Crickley Hill, Gloucestershire (787 feet) and Cleeve Hill, Gloucestershire (935 feet)
Day 6: The Malvern Ridge, West Midlands (3,313 feet)
Day 7: Caer Caradoc (961 feet) and Pole Bank, Shropshire (1,754 feet)
Day 8: Kinder Scout, Peak District, Derbyshire (2,051 feet)
Day 9: Haworth to Hebden Bridge, West Yorkshire (1,142 feet)
Day 10: Hebden Bridge to Stoodley Pike (965 feet) and The Calf via Cautley Spout, West Yorkshire (2,018 feet)
Day 11: The Cheviot, Northumberland (2,093 feet) and Dungeon Ghyll to Pavey Ark, Cumbria (2,008 feet)
Day 12: Scafell Pike, Cumbria (3,245 feet)
Get your book on Amazon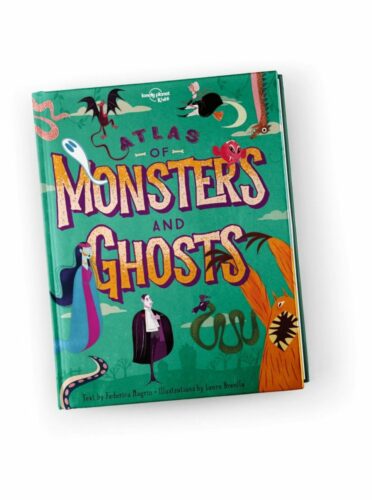 Atlas of Monsters and Ghosts from Lonely Planet Kids
Either for Kids or Grown-ups (guilty!), this is a super cool book for those intrepid adventurers with a hint of ghost hunters.
If you believe that all you need to fight an evil bloodthirsty fiend is garlic or holy water, think again. What you need is to keep a cool head and reach for your copy of Atlas of Monsters and Ghosts!
Have you heard of the headless man roaming Edinburgh Castle? Or the mysterious girl who asks for a ride to the cemetery and then disappears into the night? What about orcs, trolls, gremlins, krakens, bunyips and the Yara-Ma-Yha-Who?
Join famous monster hunter Van Helsing on a trip around the globe to find haunted castles, restless spirits, terrifying dragons, wicked witches, and more. Learn the defining characteristics of each beast, where it can be found and – most importantly – how to defeat it.
Organised by continent for easy monster-tracking, Lonely Planet Kids' Atlas of Monsters and Ghosts gives you the lowdown on the world's most famous ghosts and mythological creatures, each brought to life by Laura Brenlla's beautiful illustrations.
Get the book on Amazon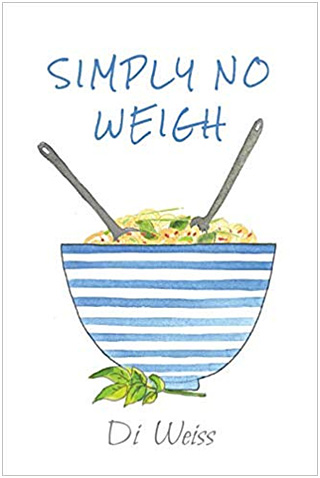 Simply No Weigh
by Di Weiss
Di Weiss's 'Simply No Weigh' puts exact measurements and pretension aside, to help busy people serve up a myriad of delicious dishes, all with a handful of this…and a few slices of that.
Inspired by the phone calls the author received from her children after they left home, Weiss decided to compile a delectable volume for those on the go. Delicious, quick and easy food IS possible – without a ready meal in sight!
From spiced pumpkin soup to Coq au Vin and chocolate biscuit cake, this book is packed with delicious and inspiring meals. What's more, the recipes are refreshingly flexible; giving the option to add, subtract and experiment―or just stick to the script.
Di wrote this book as an antidote to the feelings that so many people have that their lives are too busy to cook and that ready meals are the easiest option.
Get your Book at Amazon
Distant Signs
By Anne Richter, Translated By Douglas Irving
This year, it will be the 30th anniversary of the fall of Berlin Wall.
Distant Signs is an intimate portrait of two families spanning three generations amidst turbulent political change, behind and beyond the Berlin Wall.
In the 1960s East Germany, Margret, a professor's daughter from the city, meets and marries Hans, from a small village in the Thuringian forest. The couple struggle to contend with their different backgrounds, and the emotional scars they bear from childhood in the aftermath of war.
As East German history gradually unravels, with collision of the personal and political, their two families' hidden truths are quietly revealed.
An exquisitely written novel with strongly etched characters that stay with you long after the book is finished and an authentic portrayal of family life behind the iron curtain based on personal experience of the author who is East German and was sixteen years old at the fall of the Berlin Wall.
Get your Book on Amazon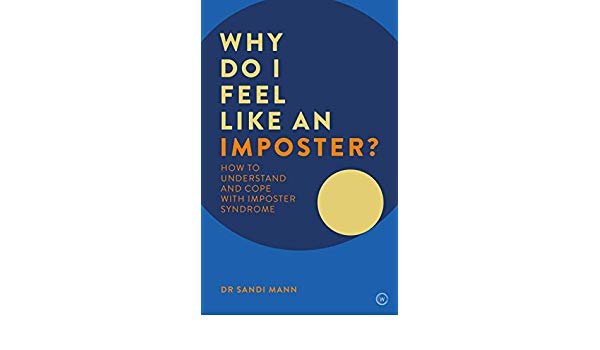 Why Do I Feel Like an Imposter?: How to Swap Self Doubt for Self Confidence
by Dr Sandi Mann
All of us, at one point or another, have questioned our capabilities and competence. Maybe you ve wondered how you got hired and, handed big job responsibilities? One recent article suggested that 70% of people will experience at least one episode of IS in their lives.
Imposter Syndrome (also known as imposter phenomenon, fraud syndrome, or the imposter experience) is a concept describing individuals who are marked by an inability to internalize their accomplishments and a persistent fear of being exposed as a 'fraud'. The term was coined in 1978 by clinical psychologists Pauline R. Clance and Suzanne A. Imes. Despite external evidence of their competence, those exhibiting the syndrome remain convinced that they are frauds and do not deserve the success they have achieved. Proof of success is dismissed as luck, timing, or as a result of deceiving others into thinking they are more intelligent and competent than they believe themselves to be.
This book presents an accessible and engaging examination of IS and how it effects us, not just at work, but as teenagers, parents and beyond. Using interactive quizzes to help you identify if you suffer and offering tips and tools to overcome your insecurities, psychologist Dr Sandi Mann will draw on her experience not only as an academic, but also as a practitioner, to present a comprehensive guide to understanding and overcoming IS.
Get your Book on Amazon
*****More Books To be added*******