For the ladies in your life…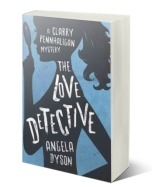 Angela Dyson – The Love Detective
£9.99. Matador. September 2018. Chick-lit thriller.
"He'd thought himself the hunter, that I was easy prey but what he hadn't bargained for, was contending with a woman who hadn't eaten a square meal in twenty-four hours. I get mean when I'm hungry."
Clarry Pennhaligan, low on ambition but high on energy, can't seem to come up with a proper grown-up plan to kick-start her life. Planning really isn't her thing. But then she happens upon her true vocation: Snooping.  Discovering other people's secrets and getting paid for it. What could possibly go wrong? Well……as it turns out, just about everything and soon Clarry finds herself in real danger.
Jessica Taylor-Bearman – A Girl Behind Dark Glasses
£12.99. Hashtag Press. July 2018. Memoir, teen, health.
Jessica Taylor-Bearman shares her inner-most thoughts and real-time emotions – adapted from her diary growing up as a teenager in South-East England – detailing the terrifying discovery that, aged 15, instead of partying, studying and socialising, she would rapidly become bed-ridden, ultimately unable to move, speak, eat…
Despite the odds, Jessica never gave up. Her dream was to become an author, to be able to marry, leave the hospital, and help others through the creation of her own charity. In July 2018, her first book, A Girl Behind Dark Glasses, will be published by Hashtag Press. Jessica has been a Pride of Britain nominee, her charity Share A Star touches lives every day, and she is the star of the Oscar-shortlisted, Sundance award-winning film UNREST by Jennifer Brea, a journalist and filmmaker from New York, who aims to raise awareness about Myalgic Encephalomyletis (M.E.).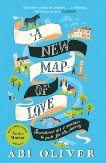 Abi Oliver – A New Map Of Love
£7.99. Pan Macmillan. January 2018 paperback. Adult fiction, Romance.
How can you pack for the journey of a lifetime? George Baxter has settled for a comfortable life, content as the years unfold predictably – until Win, his wife of twenty-six years, dies. With his loyal dog Monty by his side, George throws himself into his work as an antiques dealer. His business is at the heart of the village and all sorts pass through the doors, each person in search of their own little piece of history. When George meets local widow Sylvia Newsome, he imagines a different kind of future. But life has more revelations to offer him. Over the course of an English summer George uncovers some unexpected mysteries from his past, which could shape his tomorrows…
A New Map of Love by Abi Oliver, a bestselling author under a different name, is a life-affirming second novel about second chances at love.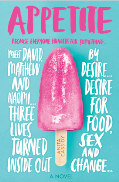 Anita Cassidy – Appetite
£8.99. RedDoor Publishing. January 2018. Fiction.
Appetite is, first and foremost, about love. It is about how people manage their relationships with food, and sex, and other people, and how to take that first step towards change, by becoming more self-aware. First written as a book about food and sex, Anita's story evolved into a book about love. Appetite challenges the dominant narrative that fat people are just 'lazy' or 'greedy' and questions the role of our society in contributing to the obesity crisis. It looks unflinchingly at the reality of sexual frustration and lack of communication in marriages and other relationships, and how damaging this can be.
Via its lead characters: David, Naomi and Matthew, Appetite holds a mirror up to society's fascination with food, particularly sugar, and how most of us use food, or drink, or TV, or the Internet, or other people, as a way of distracting ourselves from having to feel the sadness we have inside. It addresses the default setting of wanting to make others feel good right now – when they are hurting – even if it means hurting them even more in the long run. By challenging the reader to understand the hopes, fears and desires that drive us all beneath the surface, the story helps to connect us with each other.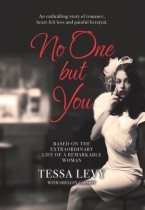 Tessa Levy – No One But You
£14.99. Filament Publishing. May 2018. Adult fiction, Romance.
Tessa Levy was born in the in the East End of London, as the youngest of six children in a Jewish family; Russian immigrants to England before the Second World War. Experiencing two life-changing traumas at a young age had a profound effect on Tessa. In 1939, escaping the hardships of war-torn London, her strict family upbringing, and seeking meaning in her life, she travels alone to America at the age of 17, grasping the opportunity of a life me and leaping into the unknown.
Her American cousins take Tessa under their wings while she struggles with the palpable cultural differences and finds a huge appreciation of the glamour of New York – proving a stark contrast to the badly bombed East End of London. But as the seasons pass, the young girl sheds her puppy fat and English reserve, to blossom into a stunning young woman with an infectious passion for life, and an interest in the world of beautiful antiques. Finding her identity in America, and making a success of the unknown, she falls head over heels in love for the first time, with an unsuitable, but wonderfully romantic, non-Jewish boy. She ultimately must leave him, putting the expectations of her family before her own emotions.
Returning to London after a life-changing 18 months from her London family, Tessa struggles to resettle into a working life in London – so far away from the excitement and glamour of her American life, where money was no problem. After several unsuitable relationships and many clashes with her over-protective brothers, at the age of 21, against her family's wishes, she makes her own decision to marry a Jewish boy. Later, with two daughters of her own, Tessa learns that life never gives you what you expect, but depends on self-sufficiency and resilience. The author, like her brothers in the fashion business and her husband in the nightclub business of Soho, makes a success of her antique business – a truly entrepreneurial woman in an era when business was dominated by men – specialising in Imari porcelain and creating an established presence in the Kensington Pavilion.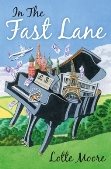 Lotte Moore – In The Fast Lane
£7.99. Hashtag Press. May 2018. Adult fiction, Family saga.
In The Fast Lane is a book for those of us trying – sometimes failing – to keep all the juggling balls in the air! This family saga offers a glimpse of modern life in the 'posh' part of London, revealing both the craziness and triviality of life 'in the fast lane'. Lotte Moore vividly weaves a complex web of family life between adult siblings Serena, Vivi and Jonty, and the matriarch – Beady. Serena runs a high-end interior design business for the West London elite, while husband Lang is entangled in corruption in his high-flying City job. Vivi is a therapist with serious doubts about her marriage to Theo, an internationally-renowned concert pianist. Only their brother, Jonty, seems to have found a happy balance – outside of the inner-city fast lane – as a forester in Oxfordshire, with his wife Cheryl running a riding school for the disabled. Their mother, Beady, finds an unexpected new role as the cornerstone of the family, particularly for her grown-up children, who depend on her both financially and emotionally when catastrophe strikes. In The Fast Lane, written by prolific 82-year-old author Lotte Moore is an emotional, moving portrait of the surprising benefits of suddenly being needed again in old age.
For the men in your life…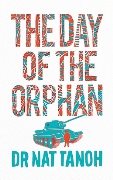 Dr Nat Tanoh – The Day of the Orphan
£10.99. Acorn Publishing. May 2018. Adult fiction.
The magnificent new coming-of-age novel by Dr Nat Tanoh that shines a light on what it's really like growing up in Africa. The Day of the Orphan tells the story of what unfolds when a chubby kid from a charmed background becomes the reluctant revolutionary his country so desperately needs. Can one happy-go-lucky schoolboy really stand up to a murderous regime? How long can he stay one step ahead of the Zombie soldiers that will do anything to stop him?
Childhoods can be snatched in an instant…especially when you live in a dictatorship.
President-For-Life-Until-Further-Notice Field Marshal Brewman knows he cannot hold on to power for much longer. Stirring up a civil war against the Muslims in the north certainly bought him a bit more time, but now too many mothers are demanding to know why they must lose their husbands and sons to a cause they don't believe in. Having built a nation on fear, he, himself is terrified. He has a whole army of personal bodyguards and military police are everywhere, keeping civilians afraid. But when he demands boys are conscripted, the schools and the youngsters turn against him. A boy named Saga becomes an unlikely revolutionary when he commits the serious crime of speaking up against the regime. It starts at a low-level – a club of school boys with grand ideas – but as the political situation ramps up, the school kids have to get their acts together and fast; they are wanted men now after all.
This powerful and emotive story touches on so many themes that are sadly a reality for many African nations – from human rights abuses to corrupt dictators – Dr Nat manages to both make you laugh and seriously consider the current state of affairs in African.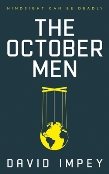 David Impey – The October Men
£12.99. Acorn Publishing. March 2018. Fiction, Conspiracy Thriller.
"Have you noticed how many documentaries nowadays on World War Two are in colour?"
Otto Parsons, a brilliant young Oxford physicist, is missing. 'The October Men' is a story of Otto's experiment in quantum physics – trying to create zero gravity without going into space – which yields spectacularly unexpected results: time travel. Professor Dan Sibley, ever more desperate to secure funding to keep the experiment running, allows their work to fall into the control of men with an utterly different agenda. Otto's disappearance is the first link in a chain of events, which tie together monumental historic moments including the sale of a lost van Gogh painting, the discovery of rare film footage of the attack on Pearl Harbor, the Wall Street Crash of 1929, the discovery of a hoard of rare art treasures in a French cave, and the murder of a financial advisor in the Cayman Islands.
The scientists initially try to fund the experiment by producing a historical TV series that uncovers the truth behind the Roswell Incident and the assassination of President Kennedy, among others. Inevitably, the show goes viral and attracts unwanted attention. As the project requires ever more funds, sponsorship is sought elsewhere, and control of the equipment quickly passes to a shadowy cabal of international criminals whose activities have global consequences, as they exploit the equipment to take advantage of the financial and art markets.
When the truth slips out, human existence itself comes under threat. Hindsight can be deadly…
For Parents…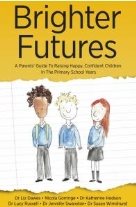 Everlief Child Psychology – Brighter Futures
£14.99. Free Association Books. April 2018. Parenting, Education, Mental health, Psychology.
Brighter Futures has been written by a team of clinical psychologists for parents and carers of children aged 4-11. It tackles many of the challenges that face a child of this age in the modern world. Maybe a child is struggling to live life to the full. Perhaps worries are holding them back? Maybe they are finding friendships tricky? What can a parent do if teachers raised concerns that something is getting in the way of a child being happy or fulfilling their potential at school?
A highly qualified team of UK-based clinical psychologists will guide parents through exactly what to do, from figuring out the roots of the problem, to making and reviewing a manageable plan of action. Each chapter follows the same approach and contains tried and tested strategies that are practical and focused on specific areas of concern. Parents are encouraged to consider changes which could make a big difference. This book considers the whole child and all the aspects which make up their world including environment, their routines, diet, exercise, brain development, their feelings and their views and helps parents and educators guide children to learn the essential skills of life.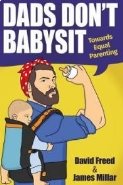 David Freed and James Millar – Dads Don't Babysit
£11.99. Free Association Books. September 2018 release. Parenting, Fatherhood, Gender equality, Politics.
Considering everything from hormones to Homer Simpson, from parental leave to the pay gap, Dads Don't Babysit asks why fathers are sometimes unwilling, but more often unable to share the pleasures of parenting.
More and more men want a bigger role in their family – bringing up baby, hanging out with their kids. Yet it's not happening. At home and in the office, from the breakfast cereal ad to the bedtime story, parents are subject to different pressures and expectations about what their role should be. Mums and dads are prevented from making a free and fair choice about how they share parenting.
It's time to put that right.
Using the latest research, personal insight, interviews, and some cartoons, two dads make the case for equal parenting. They show that more and more parents want to split bringing up the kids fairly; why this can be good for everyone involved; and why this is proving so difficult in practice.
They set out the biggest barriers to sharing parenting more equally, and offer real solutions for putting it right in an accessible, personal and light-hearted way that any parent or parent-to-be will relate to.
For Children & Teens…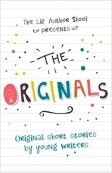 The Originals
£6.99. Hashtag Press. March 2018. Short Stories, Young Writers, Fiction.
The Originals is a powerful little book that packs a massive literary punch. Each story in this breath-taking collection is written by talented young writers aged between six and 21 years. These hugely talented authors entered The little BIG Book Competition run by The Lil' Author Skool in 2017. Judged by an independent panel, eight stories selected to be in this new anthology won and a further 16 were chosen as stand-out stories that merited publication. Hundreds of submissions were received from young writers from around the world, from England to Hong Kong, Ireland to Scotland, Belgium to the United States. Launching on #WorldBookDay – 1st March 2018 – #TheOriginals is set to be a huge success that showcases the astoundingly high quality of writing by today's children and teenagers – the next generation of authors are already showing what they're capable of and it's incredibly excited for the future of literature!

Stephanie Nimmo – Goodbye Daisy
£6.99. Hashtag Press. December 2018. Children, Family, Parenting, Picture book, Bereavement.
Goodbye Daisy is written in Daisy's honour to help others at an incredibly difficult time.
Stephanie Nimmo's daughter, Daisy, was born with a rare, life-limiting, genetic disease. She had lots of things going on medically but in-between hospital stays Daisy loved nothing more than going to school and spending time with her friends.
Sadly, when Daisy was only 10 her beloved Daddy died of cancer. Her teachers made a special book for us to read to her, helping Daisy to articulate her feelings about losing her Daddy. At the time Stephanie found that there were very few books that she could use which were aimed at helping Daisy communicate her feelings around her grief and loss.
A year later Daisy succumbed to sepsis and she joined her Daddy in the stars. Daisy had been the life and soul of her school and the staff and children were devastated.  Stephanie recalls visiting her friend whose daughter attended the school. She was really aware when she entered their home that the little girl was trying to make sense of it all – Stephanie was in the house, but where was Daisy? She, like Daisy, understood a lot of what was happening but she did not have the words to talk about how she felt.
As Stephanie spoke to the teachers and therapists who had worked with Daisy and her friends at school several things struck her; statistically children in special schools are more likely to lose a classmate than a child in a mainstream school; death and grief are not curriculum subjects; very few resources exist to help children, especially non-verbal or learning-disabled children understand and communicate their feelings around death and dying.
For the Foodies…

Iida van der Byl-Knoefel – A Kitchen Fairytale
£24.99. Hammersmith Books. October 2018. Food, Cookery, Recipes, Health.
Iida van der Byl-Knoefel was diagnosed with inflammatory arthritis at the age of 33. She was told that it was a chronic disease and that she would need to be on medication for the rest of her life; however, she was able to reverse the symptoms of the condition with a plant-based diet through the Paddison Program for Rheumatoid Arthritis and has been drug and pain free since August 2015.
Iida collected the recipes that helped her heal from the condition and the result is the cookbook 'A Kitchen Fairytale'. She inspires others to cook more plant-based through her social media channels, with a worldwide following.
A Kitchen Fairytale contains delicious oil-free recipes using fresh, plant-based, whole food ingredients without compromising flavour, texture and taste. The very fact that the recipes are free from any form of oil is essentially the crucial point, as this is the key element to reversing the author's auto immune disease. Traditionally rheumatoid arthritis (RA) sufferers have desperately resorted to taking medication and following a "vegan" diet. Unfortunately, a simple vegan diet has proven to be unsuccessful, simply because most recipes consists of some form of vegetable oil. Iida's aim is to engage with her readers and reach out to them by helping them understand why she uses the ingredients that she has chosen.
This is a must-have book for anyone who wants to take responsibility for their own health and enjoy plant-based meals that provide deliciously nutritious options for the whole family.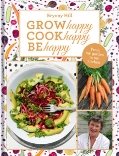 Bryony Hill – Grow Happy, Cook Happy, Be Happy
£20. RedDoor. June 2018. Food, Cookery, Recipes, Gardening.
A quintessentially British, home-grown, cookery and lifestyle book designed to inspire you to optimise your outdoor space, experiment with seasonal ingredients and relish cooking simple and delicious meals…
Is there anything quite so satisfying as growing your own produce in your own garden, allotment or window box, and then using it to make a delicious home-cooked meal for family and friends?
Grow Happy, Cook Happy, Be Happy is packed with practical gardening advice, cookery tips and mouth-wateringly easy-to-make recipes created to help you feel happy inside and out. Bryony Hill's unique, friendly, relaxed style and instinctive warmth, guides you on a seasonal journey from garden to kitchen
This colour illustrated, 256-page book is packed with Bryony's own stunning photographs of flowers, vegetables and wonderful wildlife found in her garden – all beautifully captured on her camera through the seasons. There are plenty of photographs taken within her kitchen also, of the home-grown ingredients and the deliciously simple, easy-to-follow dishes that can be adapted to your own individual tastes and needs, or for several hungry mouths.
The culmination of all those years spent in the garden and the kitchen is this beautiful new book that taps into our growing desire to become more self-sufficient, to eat within the seasons, and to enjoy real food.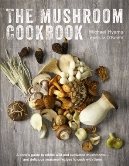 Michael Hyams and Liz O'Keefe – The Mushroom Cookbook
£15. Lorenz Books. March 2018. Food, Cookery, Recipes.
Michael Hyams is at the centre of the mushroom world, based in Covent Garden Market, sourcing them, providing them to markets and restaurants, and sampling the results at home, in cafés and in the dishes of Michelin-starred chefs. A chef de partie, recipe developer and food stylist, Liz O'Keefe works regularly with Michael and holds supper clubs.
The well-known "Mushroom Man's" guide to edible fungi, with a directory of wild and cultivated types and then tempting and original recipes to use them through the seasons, fully photographed throughout. What mushroom varieties you can buy when, through the year – find out about the local and imported mushrooms you will see in greengrocers, farmers markets, and supermarkets, then explore 50 original and mouth-watering ways to cook with them. Mushrooms are one of the most intriguing foods, and discoveries are still being made about their mysterious properties. Increasing number of varieties are available commercially and this inspiring new book explores the range of edible wild and cultivated mushrooms, and gives a fantastic collection of creative recipes to cook with them. A beautiful and informative portrait gallery of the different mushrooms offers culinary suggestions and ideas for making the most of each one. The delicious recipes are grouped seasonally, from Pulled Rabbit and Morel Ravioli or Chestnut Mushroom and Mousseron Tart to Kale and Shiitake Soup and a Gourmet Mushroom Burger.
For those looking for support…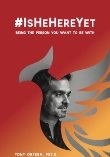 Dr Tony Ortega – #IsHeHereYet?
£9.99. Ortega Psychology LLC. April 2018. Dating, LGBT, Relationships, Self-Help.
Dr Tony Ortega is a first generation Cuban American gay man. He is a licensed clinical psychologist, life coach, and author who has been in practice since 1992, currently serving the LGBTQ population in his private practice located in Brooklyn, New York.
Dr Tony Ortega's debut book, #IsHeHereYet: Being the Person You Want to Be With is an extremely raw (and funny) look at the perceived epidemic of being single in our quest for love. It dismantles the notion that there is something that we need to do in order to bring in "The One." Instead, it challenges you to be "The One" and see what shows up then. Regardless of the outcome, the end result will be the best version of you possible.
This book is geared toward single and partnered people alike. Through personal and professional accounts of real life situations, as well as thought-expanding exercises and meditation tools, the reader will leave with a greater understanding and concept of themselves. They will be able to "date themselves" and create the space to naturally attract loving and authentic relationships.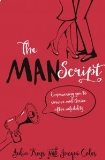 Julia Keys and Jaqueline Coles – The MANScript
£12.99. Hashtag Press. May 2018. Self-Help, Relationships, Divorce.
The MANScript is the ultimate guide to surviving and thriving infidelity by Julia Keys (wife of TV presenter Richard Keys) and her best friend Jacqueline Coles. There is a script to infidelity, it's repeated time and time again, and this book will help you identify that script…and more. This is NOT a man-bashing book, instead the aim is to help those who have been cheated on learn how to feel empowered rather than weakened by their experiences. Both Julia and Jacqueline have written this essential self-help book from their personal and professional experiences in counselling, nursing and psychotherapy.
The MANScript will help you navigate the tumultuous times to come out stronger and happier. It covers the entire infidelity spectrum; beginning with a guide to the key 'scripts' men use when engaged in an affair; providing advice on how to deal with the discovery of an affair; and culminates in advising women about how they can move on after an affair (either in the relationship or separated).
Following years of research, the authors have discovered that it's not just women who want to read this book! It helps men who use the script to understand their behaviour and why they use the typical scripts they tell themselves, as well as their wives, families, friends, colleagues and other women. The easy-to-read, often humorous, always on point book also provides a typical Reconciliation Script that can be used when the couple wish to remain together. Ultimately, this a powerful book that will empower, inspire and support women…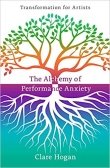 Clare Hogan – The Alchemy of Performance Anxiety
£12.99. Free Association Books. August 2018. Psychology, Performance, Drama, Artists, Anxiety, Mental health.
With mental health increasingly in the spotlight, this book offers a new perspective on anxiety. The focus of this book is on the application of psychological alchemical practice to address, explore and examine the nature and cause of anxiety in order to tackle and overcome it. It has never been more relevant to illustrate the reality that scientific, artistic and spiritual understanding, together with practical application, has the capacity to eliminate anxiety and gain personal control, liberation and fulfilment.
The first half of the book identifies the issues to be considered and the second half explains and illustrates the alchemical practices with which to approach them. While the book puts a slight emphasis on musical performance, it is made clear at the outset that performance concerns everyone and the contents, therefore, apply universally. Music is simply a very clear example.
The book is designed as a personal development book rather than a scholarly work and, although it is relevant to all ages (depending on timing), it was written with 18 – 30 year olds being the main inspiration through apparent and ever increasing necessity. It is a source book that can be dipped into anywhere or launch further investigation into any of the various disciplines and practices covered. Alchemy has the capacity to bind it all together and the alchemy of performance can become a way of life for anyone.
For the Adventurous…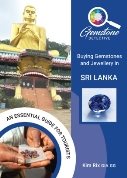 Kim Rix – The Gemstone Detective – Buying Gemstones & Jewellery in Sri Lanka
£12.99. Filament Publishing. October 2018. Travel, Jewellery, Reference Guide
Buying a fake can be a costly mistake!
This travel guide is for anyone considering a trip to the beautiful country of Sri Lanka in search of a special memory to treasure forever. Written by Kim Rix, a gemmologist (GIA) and professional photographer who has travelled to more than 50 countries, this unique book unveils how you can become a 'Gemstone Detective' on your next adventure.
If you are considering purchasing a gemstone or piece of jewellery, this book is essential reading on the plane over to Sri Lanka! It is a mine of expert advice, insider information and practical tips to help you better understand the gemstone and jewellery market. As well as offering country-specific background and up-to-the-minute advice, The Gemstone Detective series, is a 'how to' guide for anyone who wants to experience the fun, excitement and romance of buying unique and beautiful gems or jewellery in countries around the world renowned for their natural gemstones.
Kim Rix is dedicated to visiting each country in the 'Gemstone Detective' series to provide readers with the best advice and easy-to-follow steps to help travellers avoid the pitfalls, disappointments and scams of a bad buying decision.
For the Health Conscious…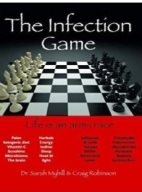 Dr Sarah Myhill and Craig Robinson – The Infection Game
£14.99. Hammersmith Books. October 2018. Health, Healthcare, Popular Medicine
It is generally believed that infection is a killer of the past. Right? Wrong! Research now shows that our big killers, from cancers and coronaries to dementia and diabetes are largely infection-driven. Indeed, it is difficult to find a pathology that does not have an infectious associate.
From 'gobs and guts' to 'genitals and gnats', this is a no-nonsense guide to how you can better prepare yourself for battle in the Infection Game of life. The fundamental premise behind the book is the adoption of a Paleo-Ketogenic Diet. Dr Sarah Myhill writes: "As I constantly reiterate, to the boredom of my friends and the irritation of my daughters, there is little point in progressing to other interventions until the PK diet is established."
Cheap and effective defences are within the grasp of all of us. We have all the weapons we need to win the arms race. This new book provides the intellectual imperatives and practical know-how to conquer the established, prevent the potential and postpone the inevitable. The Infection Game shows us how we can maximise our defences and martial our weapons so that we are ready to defeat the infectious organisms we encounter every day and in epidemic situations.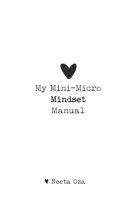 Neeta Oza – My Mini-Micro Mindset
£9.99. Hashtag Press. January 2019 (available on pre-order). Health, Fitness, Mind, Body, Spirit (MBS).
My Mini-Micro Mindset Manual is a must read A-Z guide for anyone who wants to know more about the power of mindset. Written as part of her own life journey, this powerful little book is packed with simple tips, ideas and supportive words, to potentially turn your life around. Neeta Oza is on a mission to show people that health and fitness is not something only available to those with buckets of money to throw around! This book is for anyone passionate about making a change to their life, their wellbeing and their health. Neeta works with many people who are fearful of health and fitness, meditation and mindfulness because they think it's not for them. It works as an introduction for those who are new to the concept of mindset, but also as a positive addition to the lives of anyone already embracing many of the tips and advice contained within. As Neeta explains, the book's messages continue to guide, inspire and help her on a daily basis.