What a wonderful day! I cannot explain how such a brilliant day this one was. Beside the excellent weather, the "almost alone" feeling in the park (it was a Monday, after a full park Sunday – They had a promotion in which the tickets cost £10 for the day, and they are planning more like these), it was a very fun day for us as a family.
What to do:
There's plenty at Drayton Manor to keep everyone happy this summer. Both the young and young at heart will be entertained in Europe's only Thomas Land™, which is celebrating its 10th anniversary this year and is home to more than 25 rides and attractions, such as the Troublesome Trucks Runaway Coaster, Jeremy Jets' Flying Academy and James and The Red Balloon.
In addition to these family-friendly rides, the park will also host live shows and entertainment from some of the little ones' much-loved Thomas & Friends characters.Thrill seekers can scream to their hearts' content as they experience a host of adrenaline-pumping rides such as the head-turning gyro swing Maelstrom, the 54-metre tower drop Apocalypse and Shockwave, one of only two stand-up coasters in Europe.
Visitors looking for a quick refresh from the occasional 'heat wave' experienced during our British summer can enjoy the white-knuckle Stormforce 10 water ride!If you're planning to extend your visit into a staycation at the onsite, four-star Drayton Manor Hotel, secure your evening's stay in a standard family room with a deposit of just £1 and help spread the cost this summer with the park's exclusive Stay & Play offer.
For families with younger children, the magical experience of Thomas Land doesn't have to end as Drayton Manor Hotel has 15 incredible Thomas & Friends themed rooms. Each child staying in a themed room also receives a complimentary Thomas & Friends goodie bag during their stay. For those without little ones, the hotel offers a well-deserved break in relaxing rooms with free Wi-Fi and an optional full English breakfast too.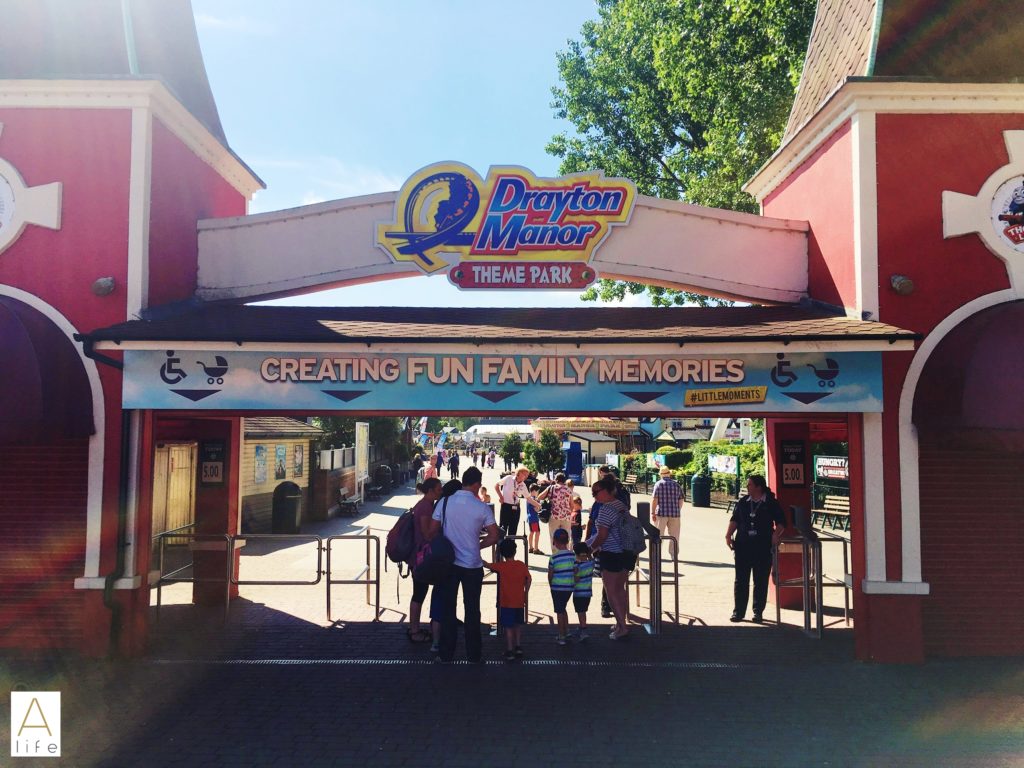 Our Day:
We arrived a little before the park arrived, parked the car (car park is free), got our tickets and there we had: Thomas Land in one side, The Zoo in another, and Grown-ups rides. Plenty of sites to have your picnics (like we did) but you have several restaurants and places to grab a bite and plenty of shade as well.
Everything was though at Drayton Manor for a great day.
Thomas Land was, of course, the place where we spent most of our day. Richie is 3 and can get on all the rides (he is tall for his age) and adults can go on the rides as well and revive the Thomas the Engine memories from childhood.
From Trains to cars, to aeroplanes and even Ballon rides, anything is possible, even meet the Fat controller!
And what about the zoo? Funny monkeys and best of all: Dinosaur park!
A 4D cinema with the funny Ice Age team and lots of water is part of a full day filled with memories.
As I told above, Drayton Manor website makes nice prices for a child and adult ticket or make sure you register with the site and they will send you updates on deals that they do, especially those £10 tickets for a day! It's a great deal, but as I spoke to one of the staff, on those days the park is absolutely full! The queues had a waiting time of 1 hour (in some, it was even more)… To be honest I prefer to pay a bit more and had a free day with no queues or pushings.
See the photos:
Drayton Manor Address:
Drayton Manor Park,
Near Tamworth,
Staffordshire
B78 3TW
GPS please add this: B78 3SA
Buy Drayton Manor tickets: https://www.draytonmanor.co.uk/
Drayton Manor got us hooked and we need to go there more times for sure!
It's a 5 star Family Day out from us!!