Dupes.
Love them or hate them, call them what you want, a copy or sometimes better than the supposedly original, they are on the market and certified by a regulatory entity so it means they are safe and no one is stealing anyones idea.
Many good products on the market are worth a lot, and our pockets will run dry, but I can speak for myself, My priority is definitely my family so I cannot spend as much as i did when single or without kids, so I have been looking out for the Dupes.
A Dupe is a short name for duplicate. A duplicate from a known available in the market product but in a cheaper version. Sometimes the cover can be similar to the expensive one or the formula or colour can be identical, but cheaper.
I bring you this months Dupe from some brands I have been looking for for quite some time, but being in another continent, it would be expensive in every sense, so I went to this website called Beauty Base, a Beauty Product website in the UK,  and they sell those brands that I wanted to try and are actually the dupes for others I wanted.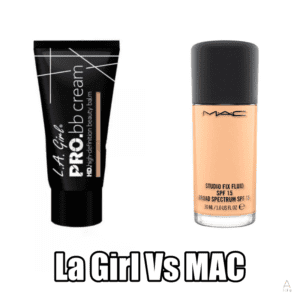 LA Girl Pro BB Cream Light/Medium
Dupe for Mac HD Studio Fix Fluid Liquid foundation
La girl HD Pro BB Cream an all-in-one skin beautifier! The  L.A. Girl's HD PRO series simplifies a basic skin and makeup regimen into a single tube and is indeed a powerful multitasker. HD PRO BB Cream primes, moisturises and enhances skin tone.
Like it's dupe, the coverage is buildable, so you need to adjust and add your concealer and build up how you want.
The smell is great and for the price is one of the best bb creams with a mate effect…by the way, I don't even know why it's called BB cream when it clearly covers like a foundation.
See more about the LA Girl Pro BB Cream Light/Medium
Milani Conceal + Perfect 2 in 1 Foundation 
Dupe for Clinique Beyond Perfecting Foundation
I didn't wanted to believe when Youtubers and bloggers where comparing these two.
I have worked for Clinique and I know for a fact how their formulas are so good and how they are in skin with or without problems.
The fact is that Milani created a pretty good foundation that wowed me. A third of the price with the same good results as Clinique. And I can say that when my skin is prone to eczema and sensitive. So it worked just right.
One tip I can give when buying this foundation is actually choosing a shade below on what you normally get, since they tend to be darker. For example I am very white but when I was ordering online, I bought "Natural" tone and is a bit dark for me, so the shade below would be best.
A great coverage that let's your skin breathe without being cakey or having a pound of tar in your skin. Super recommended.
See more about Milani Conceal + Perfect 2 in 1 Foundation 
Milani Rose Powder Blush – Blossom Time Rose
Dupe for Tarte Amazonian Clay Blush
This is such a pretty blush! I fell in love with it.
This pretty blush has a formula similar to the Amazonian clay Blush from Tarte Cosmetics and smells absolutely divine.
It reminds me Victorian times and those blushy cheeks from the ladies.
A wonderful formula with a highlight that is so lovely.
A perfect Add-on to any makeup junkie or beginner. Absolutely gorgeous in every way.
See more about Milani Rose Powder Blush – Blossom Time Rose
As you can see, you don't have to spend al the money now, these Dupes are from excellent quality and good brands as well.
Have you tried them? Let me know in a comment below.