We've entered the Festive Season! Hooray!!
And because BBC GoodFood Winter show is next month and it will be grand and I will be online again – don't forget to follow me on Facebook live – I've teamed up with Aldi to start making some new recipes.
Start preparing you Christmas recipe list with this Oh so easy Starter that will make your family and guests ask for more (and for the recipe!) – If you like me, love to cook, this recipe will become not only for Christmas but for any party or occasion. It's delicious and will be a hit!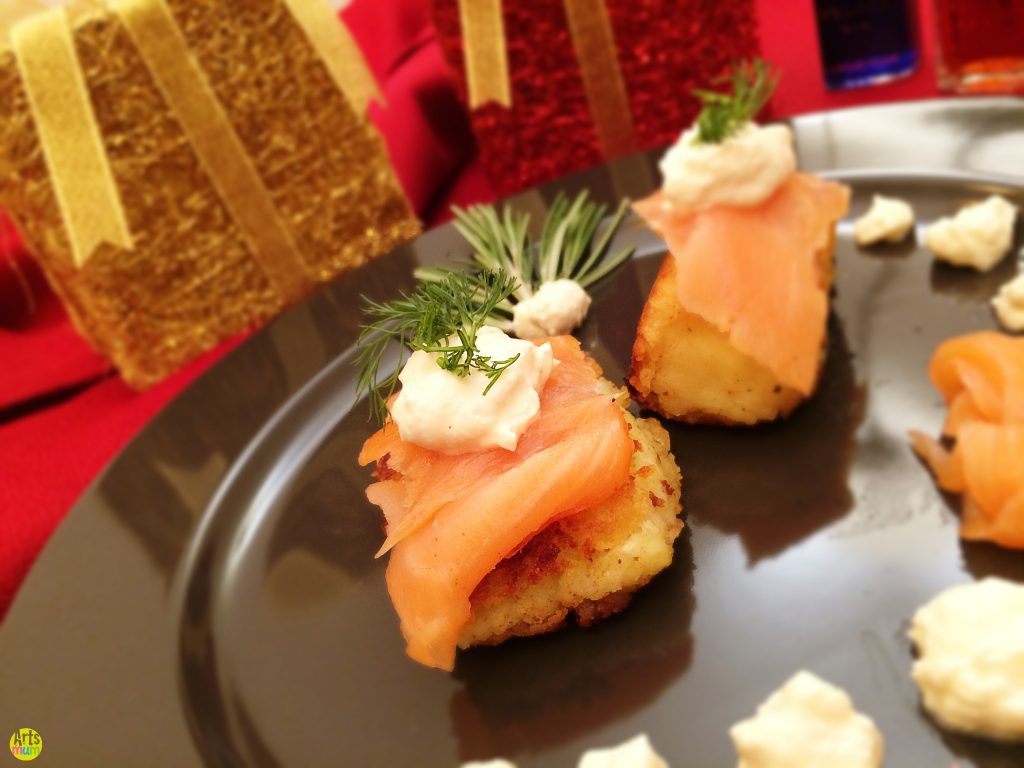 Starter:
Individual Potato Bites Topped with Gin & Tonic Infused Smoked Salmon and Horseradish cream
Makes 12 / Serves 4
Ingredients:
700g potatoes, peeled and chopped
1 tbsp crème fraiche
1 tsp creamed horseradish
2 spring onions, chopped
1 egg yolk
1 tbsp plain flour
Salt & pepper
1 tbsp olive oil
100g sliced Gin & Tonic smoked salmon
Few sprigs of dill to serve
Let's Cook:
Place the potatoes in a pan of water and cook for 12-15 minutes, until soft.
Meanwhile, mix together the crème fraiche and horseradish.
Drain the potatoes and place in a bowl with the chopped spring onion and egg yolk and mash until smooth. Stir in the flour and seasoning.
Shape into 12 little potato cakes and chill for 20 minutes.
Heat the olive oil in a frying pan and cook the potato cakes for 3-4 minutes on each side, until golden.
Serve the potato cakes topped with smoked salmon, a dollop of horseradish cream and a sprig of dill.

Pair with a Very chilled Veuve Monsigny Champagne Brut (or several)
So easy right!!
See the step by step video:
List of Ingredients – I got all my Ingredients from Aldi:
62510          S/S POTATOES- MARIS PIPER
65936          CREME FRAICHE 300ML
INGREDIENTS HORSERADISH TBC
56506 ONIONS- SPRING
42311           MEDIUM FREE RANGE EGGS 6
49599         PLAIN FLOUR 1.5KG
59872          TABLE SALT

64986         PEPPER
1700 EXTRA VIRGIN OLIVE OIL
5230 MOJITO/ GIN & TONIC SLICED SMOKED SALMON
67496          HERBS- CUT DILL/ROS
Thank you to Aldi UK for sponsoring this recipe.