One of the brands I did knew, the other i didn't.
And I went to the BBC Winter Good Food show and jut needed to buy more from HECK as they are soooo good!
Need an inspiration for lunch or diner meals for this Christmas holidays with the kids?
Well RJ, as a good Brit, loves his sausages. I try to buy the most organic or gluten free ones to give to him, and try to make dishes like bangers and Mash or Toad in the hole.
He is not fond of peas but I try to add some fruit after is meal.
Now…why HECK?
Heck is a little brand with a big potential in my point of view.
They have meat or vegetarian options, they make sausages, burgers or meatballs.
Here is what they say about them and I can confirm that:
Being small and independent means we can do things our way. Such as making our burgers, meatballs and sausages in small batches for better flavour, using the finest ingredients and pulling out all the stops to bring farmers' market quality to your supermarket shelf.

In addition to our meat range, we also offer veggie balls. Many of these are registered with the official Vegetarian Society and Vegan Society, just look out for the logos which you can find on individual products. If you already love our original ranges, why not try out our delicious meat-free range packed with delicious super-food veg.
The sausages are so good that i had to buy more when I went to the BBC good food show on NEC (good choices and excellent bundle price).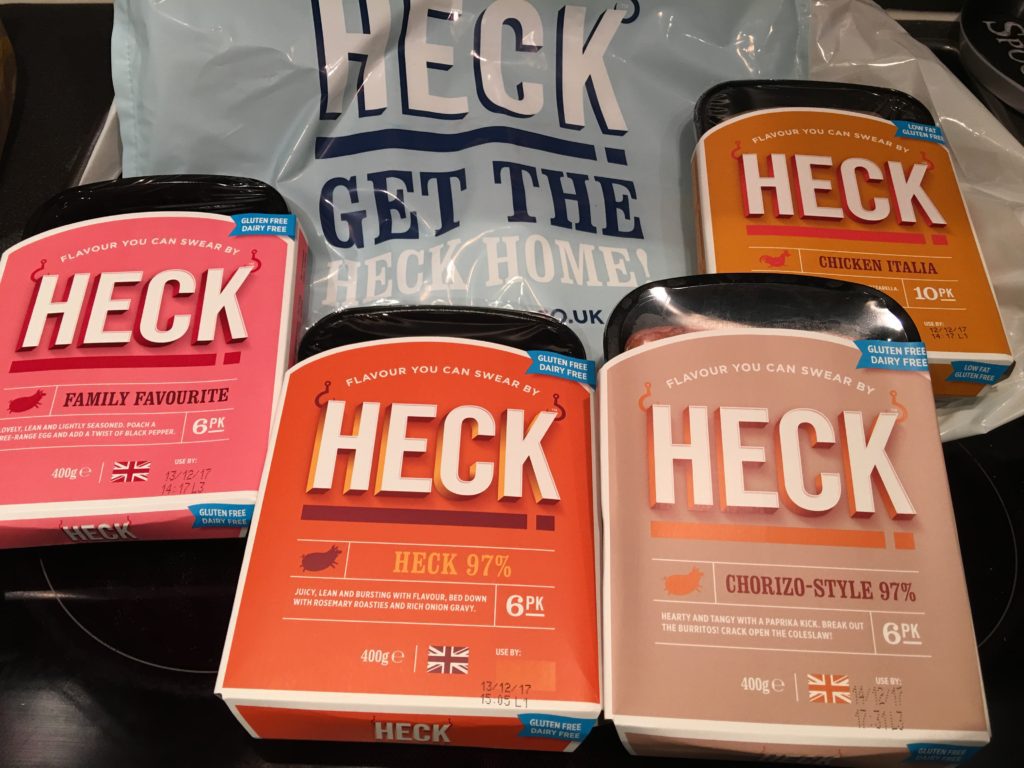 But sausages aren't always for practical meals. You can make a perfect roast with a sausage filling in Beef or Pork, or even meatloaf's homemade. I usually do homemade meatloaf's and freeze them and they will always be a meal to put in the oven in no time.
Or why not make a casserole with berlotti beans, vegetables and sausages cutted in pieces? excellent for this colder days.
The brand I didn't knew:
Square Pies
The little pies that are less than 200 calories per portion!
How great is that?
Beside of sausages, what is the Brit fond of as well? Pies! With or without gravy, depending if you're from the North, Pies is like a statement in the UK.
Square Pie has been making pies for more than 16 years, either in restaurants or take aways, and now they have the little square pies (available on Waitrose and Ocado) for anyone to try them.
You have flavours like:
Steak & ale,
Chestnut mushroom & borlotti bean,
Spinach, goats cheese & sweet potato in packs of 4 x 65g pies to enjoy as a snack, meal or pile them up to party.
See more of Square Pies:http://www.squarepie.com/proper-little-pies-waitrose/
Thinking of Christmas Party, why not try these 2, Heck and Square Pies to give you a little hand?
Promise you won't regret!
Have you tried them?