Either you have a little makeup or a big collection, there will be a time when you need to organize properly, by products and even by the date opened, so they won't spoil.
Here are some tips on organizing your makeup.
Types of  Organizers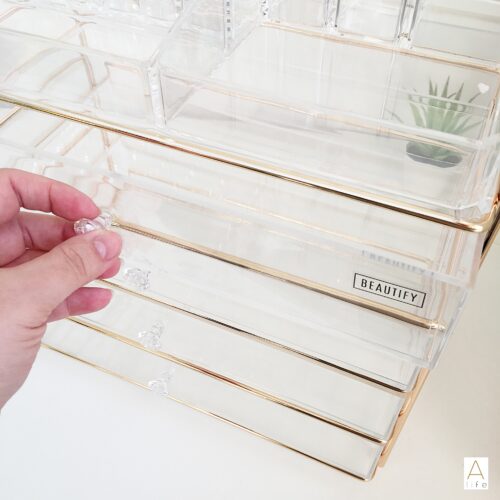 You now have load of designs, tiers and colours, for any pocket value and fitting in several places such as drawers or your vanity desk. You have several types of ideas to organize:
Drawer boxes: Commonly found at dollar/pound shops, in form of open boxes (with no lids), and you can pick the upper drawer and place the boxes so each box can be for an area (will explain below)
Acrylic or plastic organizers by tiers: the dream of every fashionista that likes to show off their products and have an instagrammable bedroom. Each tier serves a different area (below).
Boxes with lids: If you have more products that you don't use now, because you are using other products first, and have little space, why not store in boxes with lids, add a tag outside the box with names such as : samples, hair products, skincare, makeup, etc; and stack them (tag outside so you know what's in it) and place them in your wardrobe.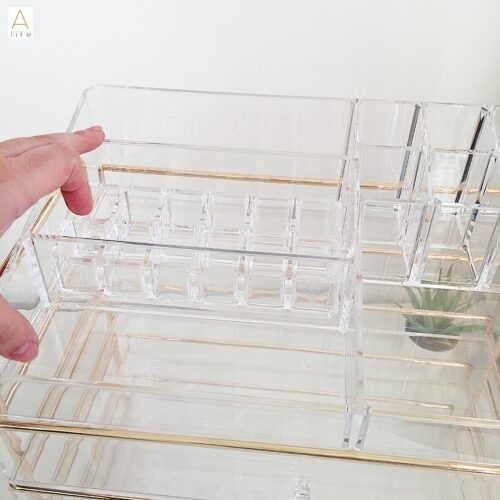 Organize by Areas or Products:
Personally, I prefer by areas. Each of my makeup organizer tiers is for an area, from Bottom to up, from the 1st thing you makeup (I start with face prep and face, then the rest), leaving the upper part for daily use:
Face: primers, bb creams, foundation, concealers, powder foundation, finish powders, contour kits, bronzers, highlighters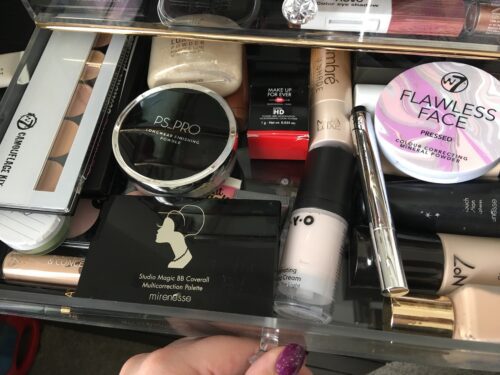 Eyes: Palettes, eyeshadows, mascaras, eyeliners, brows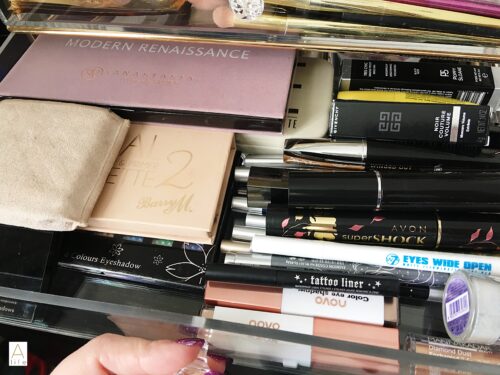 Cheeks and Big brushes: I am not fond of brushes in a cup or having the brushes out in the air, as dust can penetrate the brush and start their own micro cosmos in it (yuck!), so I prefer to add all the brushes in a drawer along with false lashes and it's glue and the cheek blushes…sponges and beauty blenders included!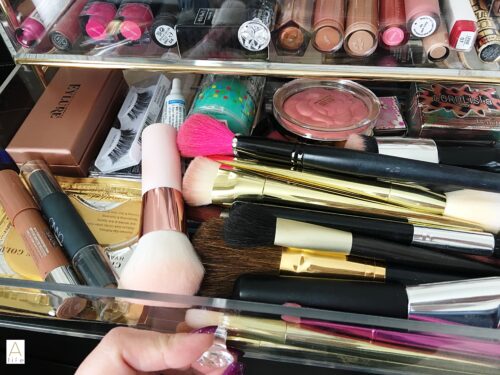 Lips: lips primer, lipstick, lipgloss, tints, shimmers, lip liners, balms, lip scrubs, etc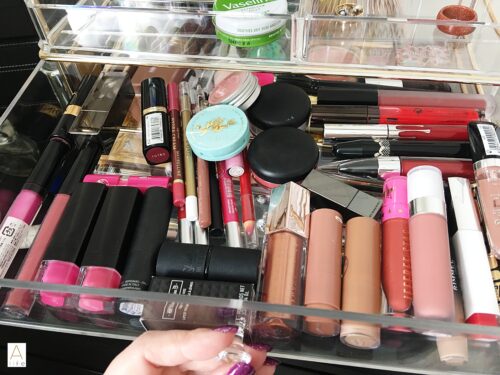 Upper level: eyeliners you use every day, lipsticks or lip balms for daily use, your normal every day products as creams and moisturizers, or oils.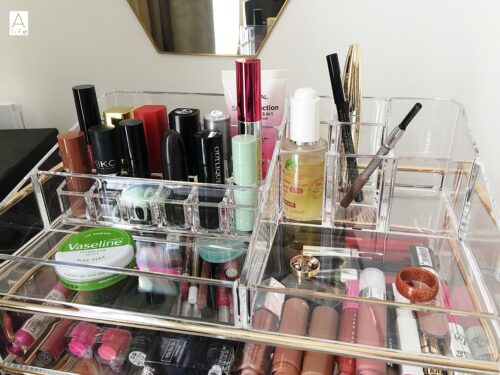 Also, I use my makeup organizer with the products I have opened and use them normally, as I tend to follow the expiry date religiously. Products have a normal 12 month life after opened (when the product is open it stays in contact with the air, pollution and many more such as dust). What it can happen is after getting our oil from our hands or face, or even that sponge that you don't wash in after 2 uses (yuck you!…. I use it and wash it off immediately…because I am OCD), those things lead to bacteria and therefore to skin rashes and skin problems. Think about this!
Complement your Bedroom…
…or your working space with organization. I opted out for the Beautify makeup organizer with 5 tiers in gold and acrylic, as my vanity/drawers are in a gold/rose gold and black decor, making it shiny and accessible.
And on my wardrobe has several large boxes with the products and spare products I get or buy.
My makeup organizer is the products I am using daily or at least weekly and are open, that way I know what I have to use as they are open.
My Beautify organizer has 5 tier display featuring 4 large removable drawers with crystallized handles, 4 open top sections, 12 lipstick holders and 4 open narrow sections. Is made from premium moulded acrylic, great to stand daily use. Clear design lets you see exactly what's inside, while the champagne frame adds a little luxury and bling to my vanity.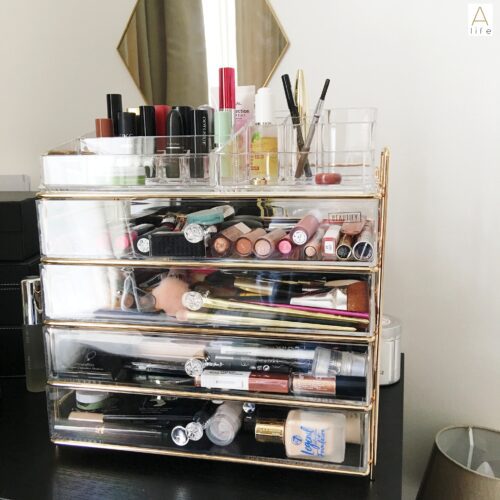 I got my Makeup organizer on Beautify online: https://www.beautify.co.uk/bt_en/5-tier-cosmetic-organiser
How do you organize your makeup?