Since we do appreciate the brands that work with us here at Alejandra's, and we do promote the entrepreneurship of startups or small businesses, the series "Brand worth to talk" is here!
We do support our community and their excellent delivered work and ideas, and all of them that work in their team.
While we understand that big brands and businesses are needed for selling, exporting/importing and buying, we are always looking out for new ideas and small business families that can grow with our helping in divulging their products and work.
That's the case of our first brand: Tot Knots of Brighton.

About Tot Knots of Brighton:
Tot Knots of Brighton is an accessories brand creating beautiful handmade headbands, hair ties & turbans for little and grown-up people. Specializing in Liberty prints and luxury fabrics, perfect for delicate skin.
Tot Knots was born out of a sunny holiday with Katie (owner), her mum Susan (chief designer and co-owner), and her two little girls – and the struggle to keep a hat on their heads.
They started to fashion headscarves in the style of 1940s Land girls – and found they loved them and so did everyone they've met – more importantly they kept them on – the concept is an oldie but a goodie – and the rest, as they say, is history.
From that moment on, Tot Knot collections have grown and now they create beautiful hair and beauty accessories for all ages. Using the very finest materials 100% pure silk, cotton and wools, for the softest, kindest and most breathable coverage possible.
Every piece is handcrafted and handmade to the highest standard. So, whether you are a fashion and beauty aficionado, recovering from hair loss or medical treatment, looking for a unique gift, or simply wanting a little bit of everyday luxury, they have all covered!
Not every head is the same, so every item can be customised for you, for the perfect and most comfortable fit possible.  Just get in touch and let them know.
Follow us on Instagram or Facebook for the latest launched collection.
My Tot Knots
Watching Katie and speaking with her, I noticed she has the same feeling and love about handmade and sewing. Using Liberty fabric, the smoothness and attention to detail, make Tot Knots products a delight to my eyes and my inner fashionista wanting to have all the models they have.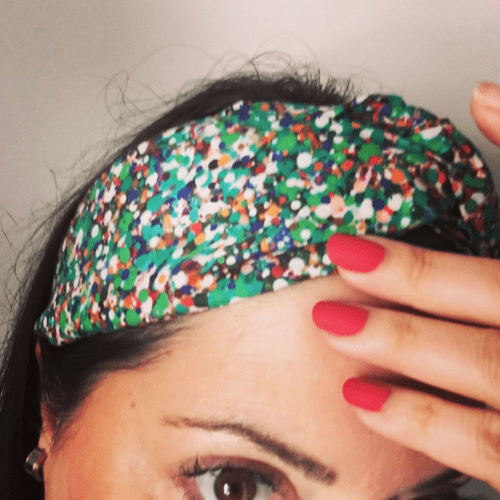 I have this beautiful Ladies Twisted Turban hairband and neck scarf, that can be used with any outfit and in several ways. But I am truly hoping that Summer comes along, and we can all be in the Beach to flaunt it. I am truly in love with the design and the print.
They have a piece for anyone, adults or kids, as well as different sizes. If you order something that is bigger, they can even help you to resize it, just get in touch with them and they will help you asap.
I do bet (And I am not Barbara Meaden* here) that this brand is worth to look out and that we will be seeing a lot from Katie and her team.
*Dragon's Den – program in the UK