Since we do appreciate the brands that work with us here at Alejandra's, and we do promote the entrepreneurship of startups or small businesses, the series "Brand worth to talk" is here!
We do support our community and their excellent delivered work and ideas, and all of them that work in their team.
While we understand that big brands and businesses are needed for selling, exporting/importing and buying, we are always looking out for new ideas and small business families that can grow with our helping in divulging their products and work.
That's the case of: Young Living
What is Young Living
Young Living Essential Oils, LC, based in Lehi, Utah, is the world leader in essential oils, offering the highest-quality oil-infused products available.
Young Living takes its industry leadership seriously, setting the standard with its proprietary Seed to Seal® quality commitment, which involves three critical pillars: Sourcing, Science, and Standards. These guiding principles help Young Living protect the planet and provide pure, authentic products that its members can feel confident about using and sharing with friends and family.
Young Living's products—which all come from corporate-owned farms, partner farms, and Seed to Seal-certified suppliers—not only support a healthy lifestyle but also provide opportunities for over 6 million global members to find a sense of purpose and whole-life wellness by aligning their work with their values and passions.
Mission
The D. Gary Young, Young Living Foundation is committed to empowering individuals to achieve their potential and defy limitations by providing wellness and education opportunities to underserved communities.
Vision
We envision a world where children are provided with the resources and opportunities necessary to become confident, self-reliant leaders who can take control of their own health, provide for their families, and positively change their community.
Since D. Gary Young started the Foundation in 2009, we've been focused on giving those who receive far too little attention the tools and resources they need to unlock possibilities. Our mission and vision serve as our compass for providing long-term solutions.
Clean beauty
The company is leading the clean beauty revolution by banning questionable ingredients, focusing on gentle, honest and effective ingredients. They have banned even more ingredients than the 1,328 prohibited by the European Union along with banning more than 2,500 ingredients and even some "natural ingredients" other clean makeup companies use.
Each of the Young Living Savvy Minerals  products are free from the following:
Talc
Bismuth
Parabens
Phthalates
Petrochemicals
Nanoparticles
Synthetic fragrance
Synthetic colorants
Cheap synthetic fillers
Product details, along with a few tips and tricks on the perfect contour, can be found at Young Living's website, www.youngliving.co.uk
The Savvy Minerals Range
If you're ready to get savvy about your beauty routine, you can't go past Young Living's new natural makeup line, Savvy Minerals by Young Living. This natural mineral-based makeup collection combines premium formulas with pure ingredients to embrace your natural beauty without sacrificing your skincare standards. With a variety of shades and colours, you can find the perfect products to help build your dream make-up collection.
Clean beauty is a term that cosmetic companies use to show that products don't contain certain unsafe or controversial ingredients such as parabens and talc. Driven by the boom in the wellness industry, consumers are demanding "clean" safe products without synthetic harmful ingredients
Ranging from foundations, lipsticks to eyeshadows, get the flawless look- from natural to dramatic – with flattering shades and buildable colour. There's even a poppy seed lip scrub that gives your lip gloss or lipstick a flawless finish. Select sheer, matte, or high-shine lip looks with Young Living's lipsticks and lip glosses. Top off with a rosy-cheeked and radiant vegan blush. Non-toxic and not tested on animals for a naturally derived, guilt-free indulgence.
The two shades of bronzers blends smoothly and warms your complexion for sun-kissed cheeks and radiant, natural glowing skin. Sweep these bronzers on with one of the brushes from the Essential Brush Set. These five high-quality brushes come in a stylish case for convenient storage and transportation.
To finish getting ready and out the door, Young Living's range of lipsticks and lip glosses will be sure to add a pop of colour that you're looking for. The lipstick is a weightless formula with a smooth application for a no-fuss lipstick that is perfect for everyday use. To add a bit of shine, the naturally derived lip gloss soothes and softens lips that gives you control over your shade for a sheer to medium coverage.
Me and Savvy Minerals
My dry skin and prone to redness loved the Savvy Minerals. I got excited since I saw Young Living actually talks about Bismuth while other brands don't speak about it.
The Eyeshadow palette smells wonderfully like lavender (a slight scent) and has the 4 basic colours anyone should have in their makeup bag. Whilst is not travel sized, I will definitely take this as soon as I start travelling. The brush that comes with the palette is excellent quality.
The lipglosses have a slight scent of spearmint, making the lips fresh and scented. The colours are Summer ready and I will recreate a lot of looks with them.
The piece of resistance? The lovely Brush Bag. Brings  5 basic brushes, soft and of excellent quality. Now I can travel with this bag without thinking if my brushes are damaged inside my bags.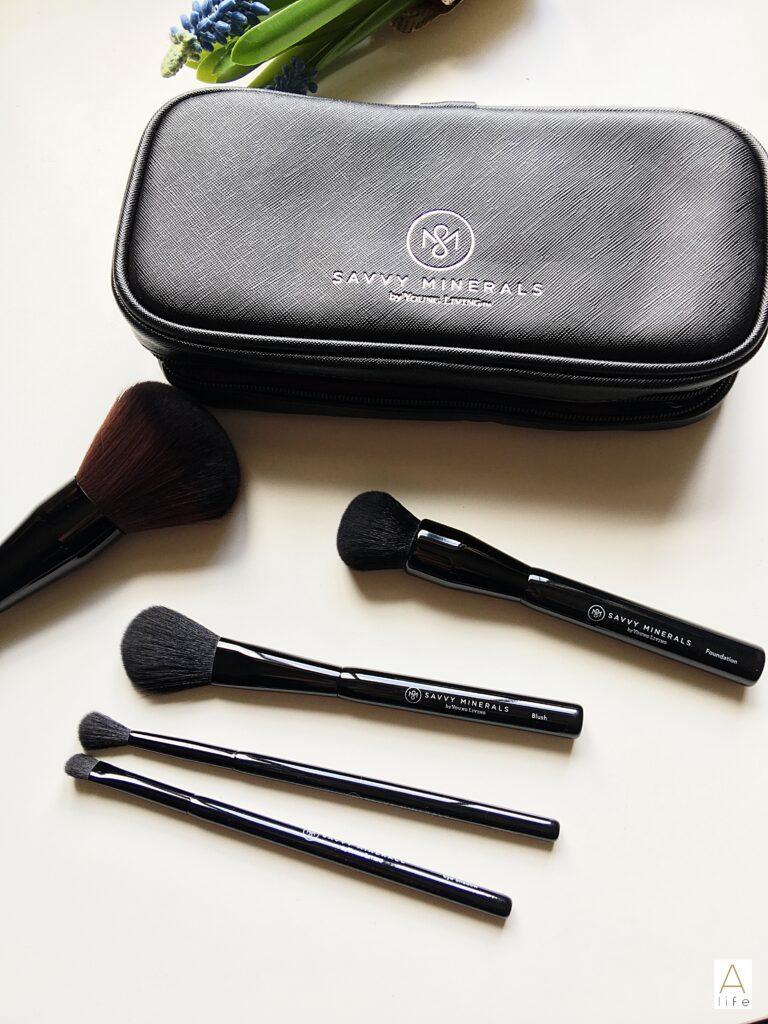 Young Living Started as an Essential Oil brand, they help others and make the best to farm, produce and deliver while helping the climate and our Earth.
The Savvy Minerals range will be a hit not only for those who want clean makeup (no nasties) and/or have skin allergies. Savvy Minerals is here to stay and be on the same podium as the normal brands of makeup… but cleaner.
Check Young Living full range online: YoungLiving.co.uk