Books
As a Bookworm family, we do love our books and nothing beats a book gift for us. Here are our ideas:
Pub Quiz Books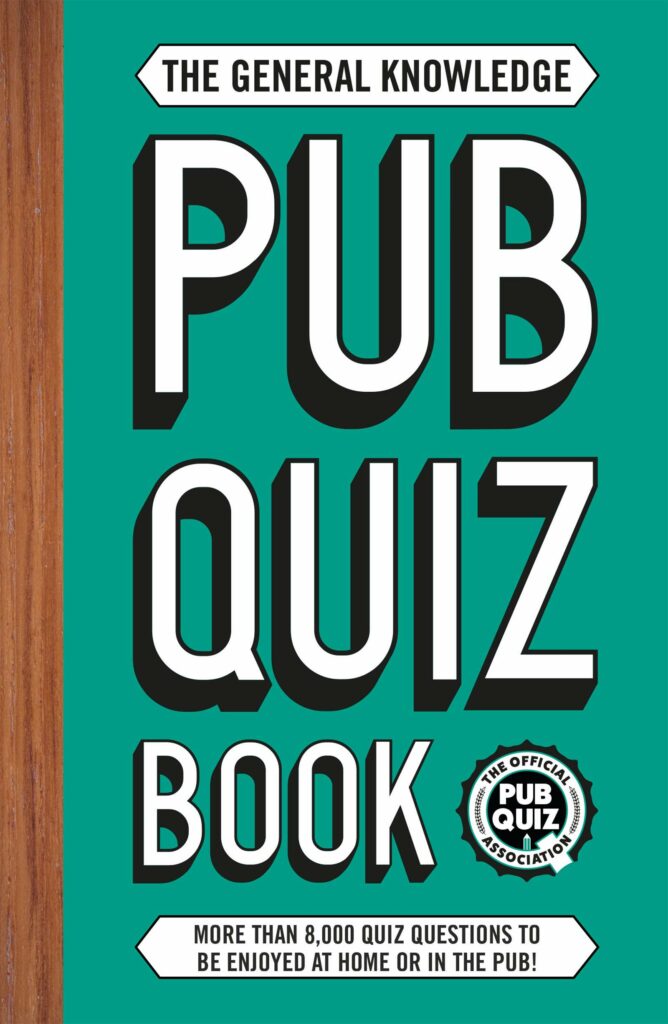 With over one million books sold to date, Pub Quiz Books from Carlton Books are a one-stop shop for quiz masters. Test your own wit or host your own pub quiz with thousands of questions at varying difficulty levels across a huge spectrum of categories, from famous faces to wonders of the world to popular music.
For the General Knowledge and Pot Luck books, classic themes include music, sport, geography, politics and entertainment, while specialist subjects include Gardening, The Olympics, DIY and JK Rowling. For The Pop Music book, musical subjects include genres (indie, hip hop, heavy metal), legendary artists (Elton John, Queen, Madonna) and decades.
All books feature pot luck quizzes with a mix of all subjects, to keep you on your toes, plus tips and advice on how to host your own quiz.
Dot Art Sticker Books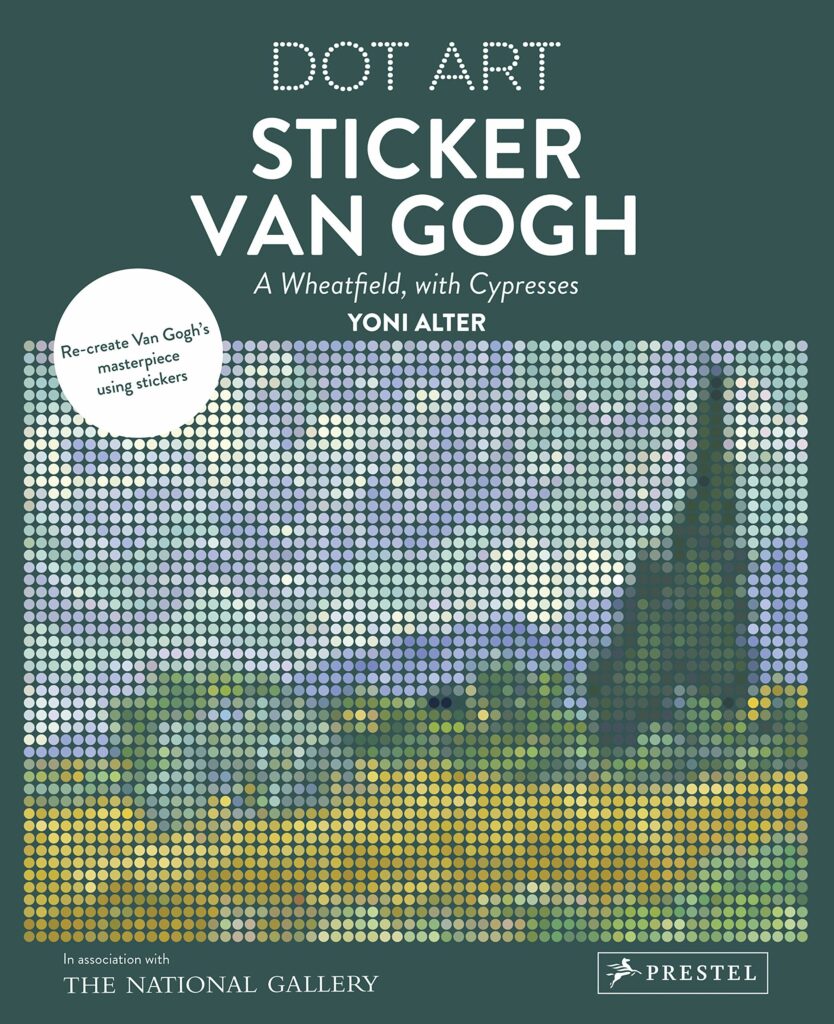 Published in association with The National Gallery, the Dot Art Sticker Books from Prestel Publishing allow adults and children to create works of art in stickers. Opening with a brief informative essay, the books contain thousands of coloured round stickers and a poster "canvas" of coloured outlines.
Readers simply need to match the stickers to the outlines found on the poster to recreate the painting. The finished poster will be its own original work of art. With a handy folder style flap that allows for easy storage and transportation of the artwork in progress, this activity book is perfect for hours of entertainment, relaxation or meditation, as well as for unwinding at the end of a busy day.
Gamers
Doctor Who Tardis Desk Tidy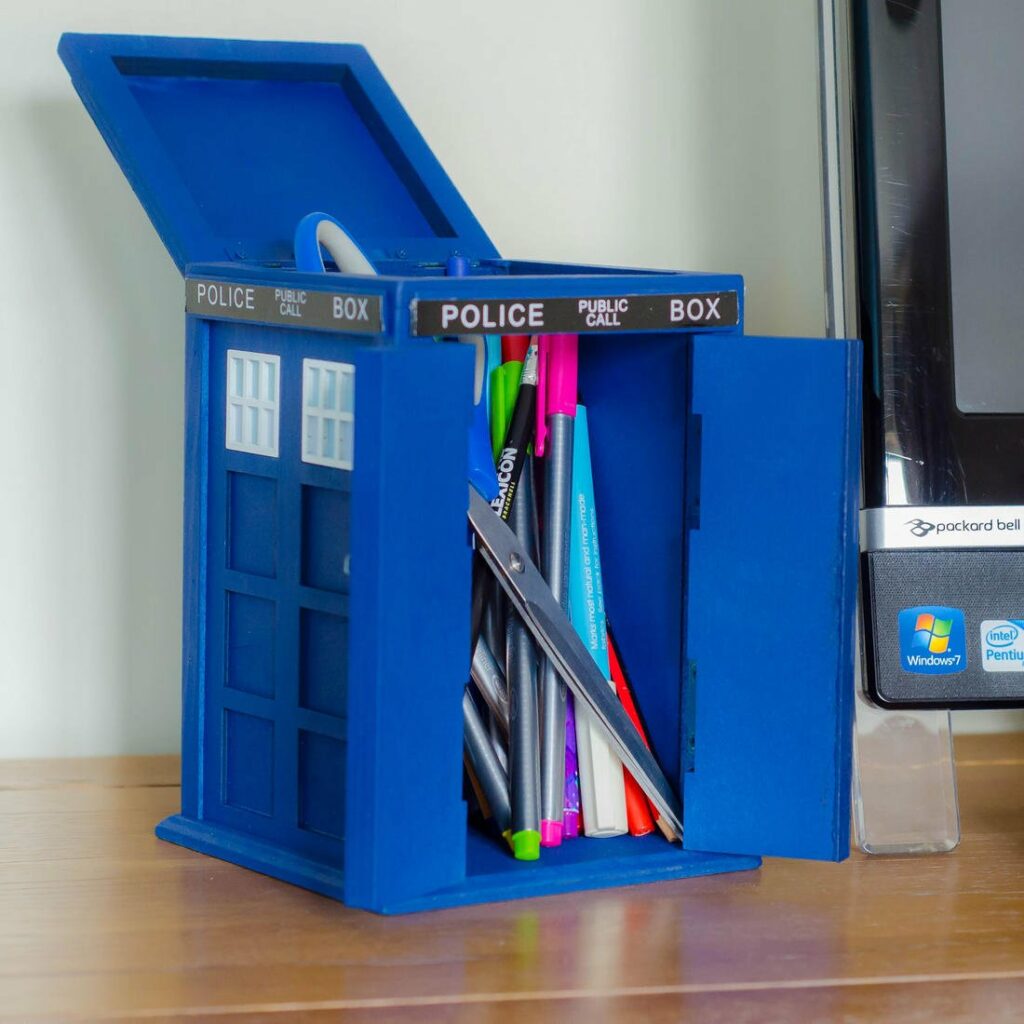 Transport your stationery into another dimension with the Doctor Who Tardis Desk Tidy. This eye-catching stationery holder is an official wooden replica of the Tardis, the Time Lord's iconic blue police box.
Constructed to the same exacting standards that The Doctor would expect, the wooden tidy is durable and detailed, with a hinged door and roof.
This is a must-have Whovian gift for Christmas, offering a fantastical way to store your pens and sonic screwdrivers. It might even be bigger on the inside too, but that would be telling!
The Amazing Mystery Box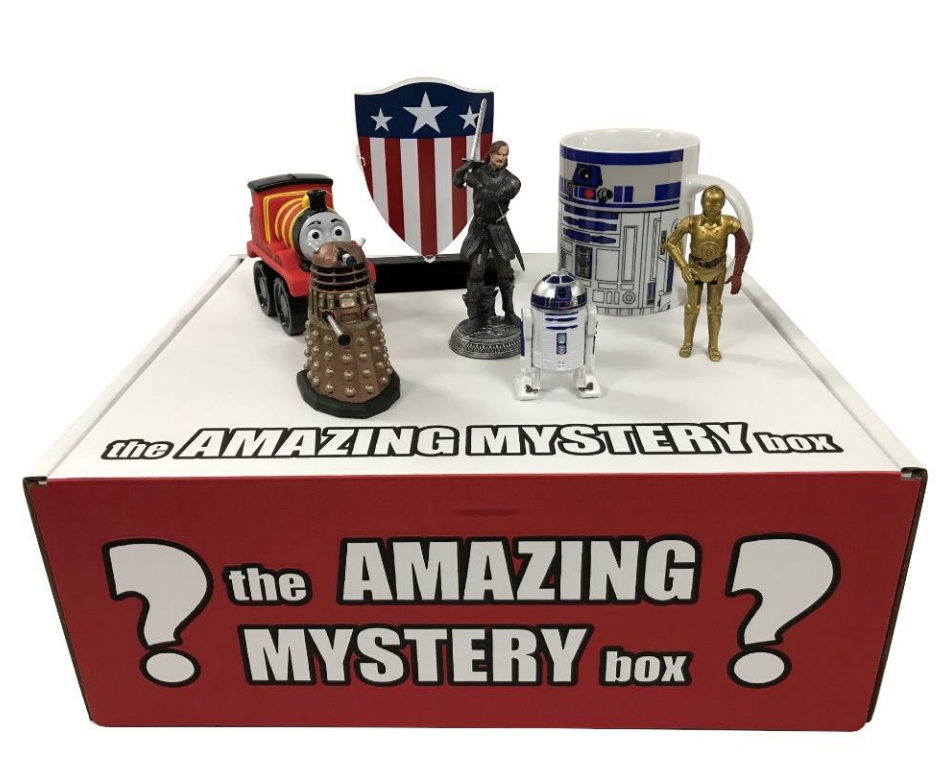 Surprise someone special this Christmas with a perfectly mysterious gift, The Amazing Mystery Box. Choose the theme of your box. Star Wars, Doctor Who, Game of Thrones, Marvel Comics, DC Comics, Thomas & Friends, Disney Princess are just some of the epic brands available for children, adults and collectors alike.
Each gift box of fully licensed merchandise offers AMAZING value for money, often including a t-shirt or other item of apparel related to the theme of the box, with size specified to order; two main items, such as an action figure, plush or backpack; and several novelties such as a mug, notebook or keyring.
One-off gift purchases and discounted subscriptions available. Go ahead, lift the lid on the gift hunt this Christmas and put a smile on the face of your loved ones! Richie got the Boys box with Thomas and the Minions for Christmas!
Get them on The Amazing Mystery Box
Cable Guy – Marvel "Iron Man"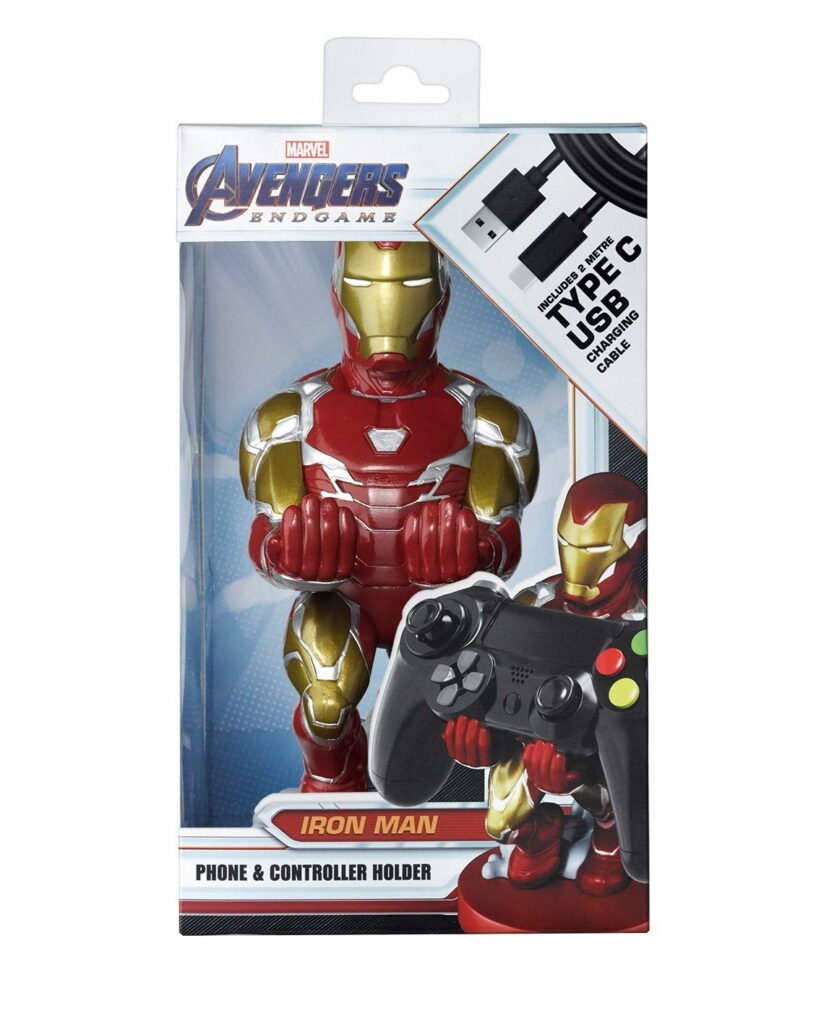 In the creation of officially licensed gaming gadgets and merchandise, a global gaming and entertainment specialist, innovating
merchandise solutions Exquisite Gaming bring to you the ground breaking Cable Guys!
For film and gaming fanatics out there, meet the marvellous Cable Guys, holding most gadgets, such as your smartphones and gaming controllers, they don't just look awesome at your gaming set up but they also power up your devices too.
Board Games
INTERACTION from Rudy Games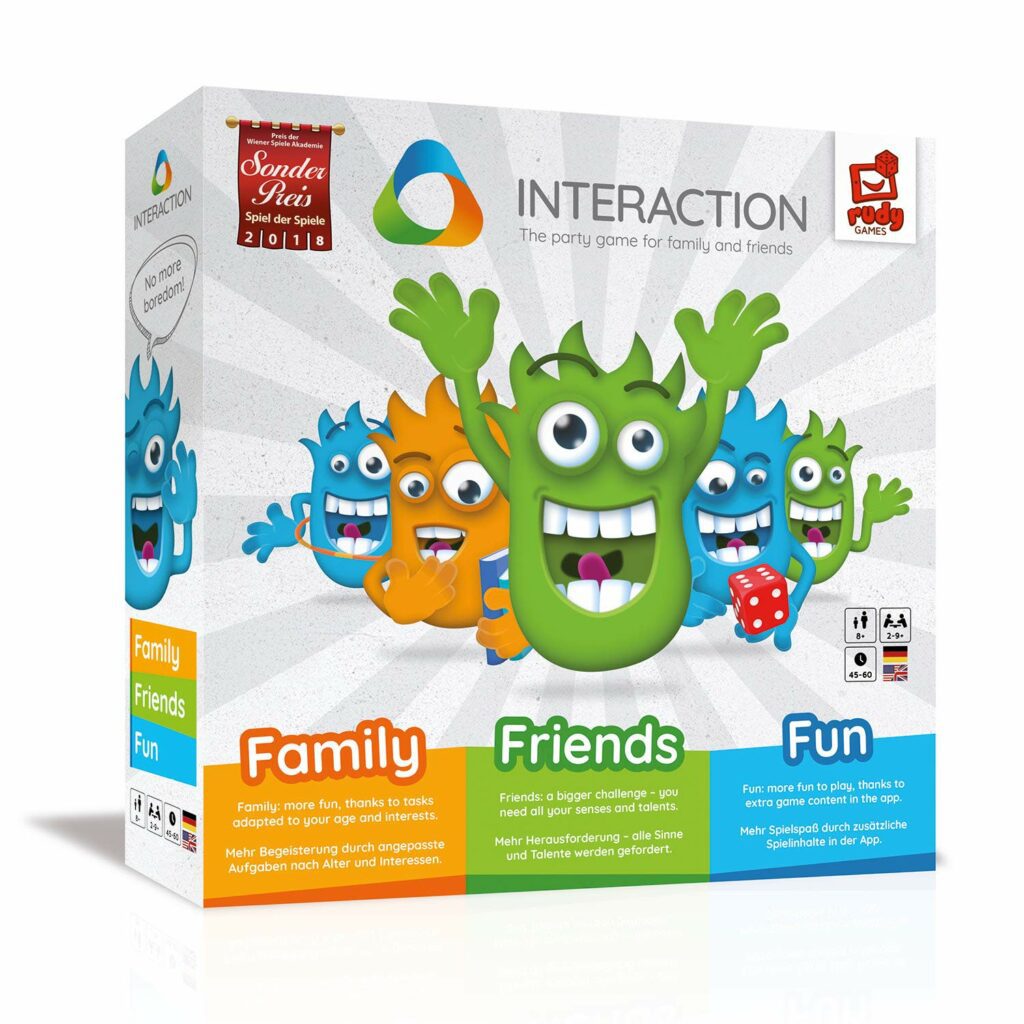 INTERACTION from Rudy Games is an interactive party game for family and friends. Whether Brainiac or athlete, old or young, all your senses and talents are put to the test. Only the best player in each category – knowledge, creativity, action, social and games – can reach the end of the board and be the lucky winner!
There's a huge variety of time-based app challenges like sketching Noah's Ark (creativity) or crawling round a player like a worm (action). The app adjusts the questions to the location and age of each player, so a child gets different tasks from a teenager, parent or grandparent.
Combining the social interaction of board games with the multimedia power of an app, it's guaranteed fun for everyone. Simply unpack & play – no need to read long instructions, the app introduces the game step by step. With free regular updates offering new tasks and mini-games, you will never get bored.
All you need is a smartphone or tablet (not included) and a free "Rudy Games" account.
5 Second Rule Junior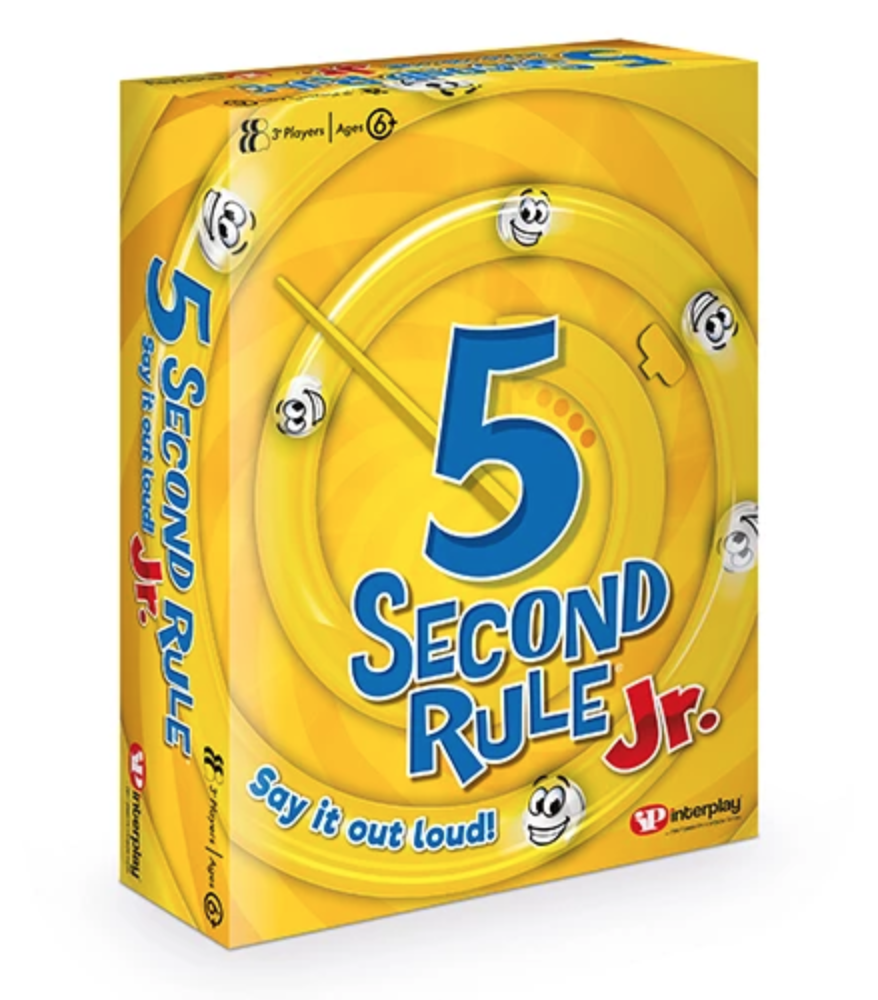 A junior version of the popular party game!
It seems like it would be easy to name three flavours of ice cream but can you do it under pressure?
You have to be quick, so just say whatever comes to mind and risk silly answers slipping out….because that would be funny, and we all like to laugh!
It's all in good fun with this fast-paced game where you have to just say it out loud!
Ultra Dash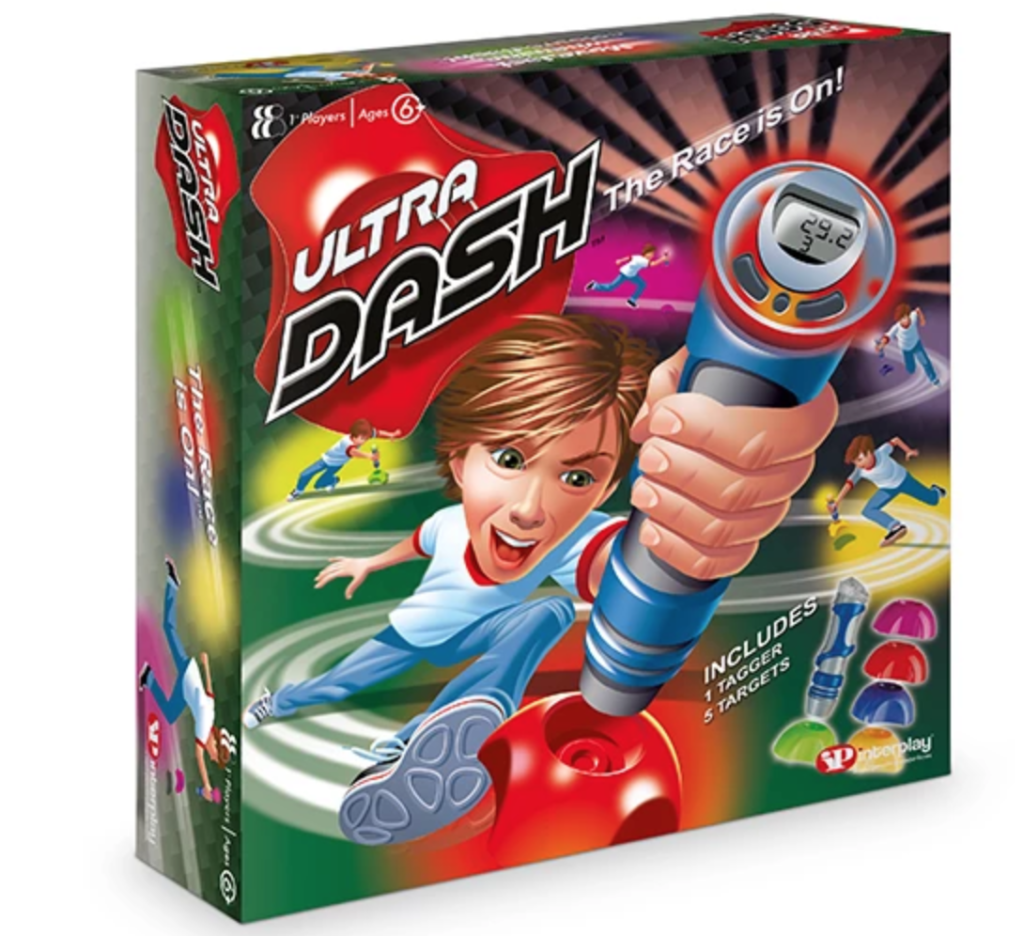 Move fast when the colours flash!™
Set out the targets to design your course, press the button on the tagger to choose your game, and then race to match the colour of the flashes with the targets!
There are 3 Game modes: Beat the Clock, Target Tally and Relay Race–it's a different game each time you play!
Play solo, head-to-head or team vs. team; for 1 or more players.
Toys
Hape E3025 Castle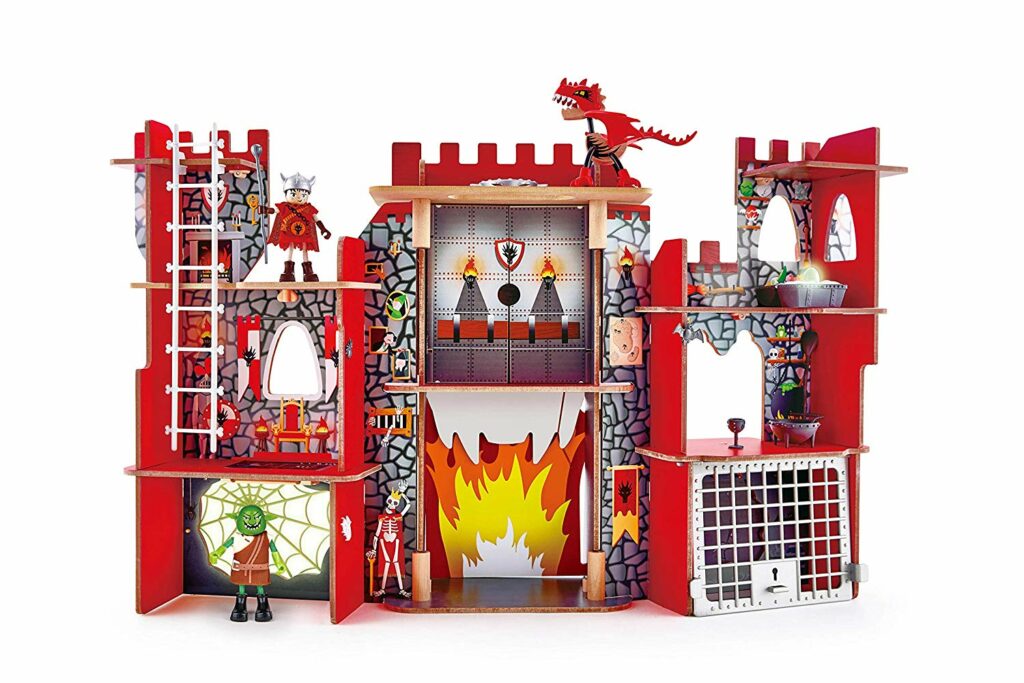 Hape E3025 Viking castle. Step into the world of Viking warriors, powerful Wizards, and Dungeons with this awesome multi-level castle.
It comes with two warriors, a Dragon, a magic cauldron and much more! Make sure you see at night how it shines. Not suitable for children under 3 years.
Hape E0023 Garden Friends Play Arch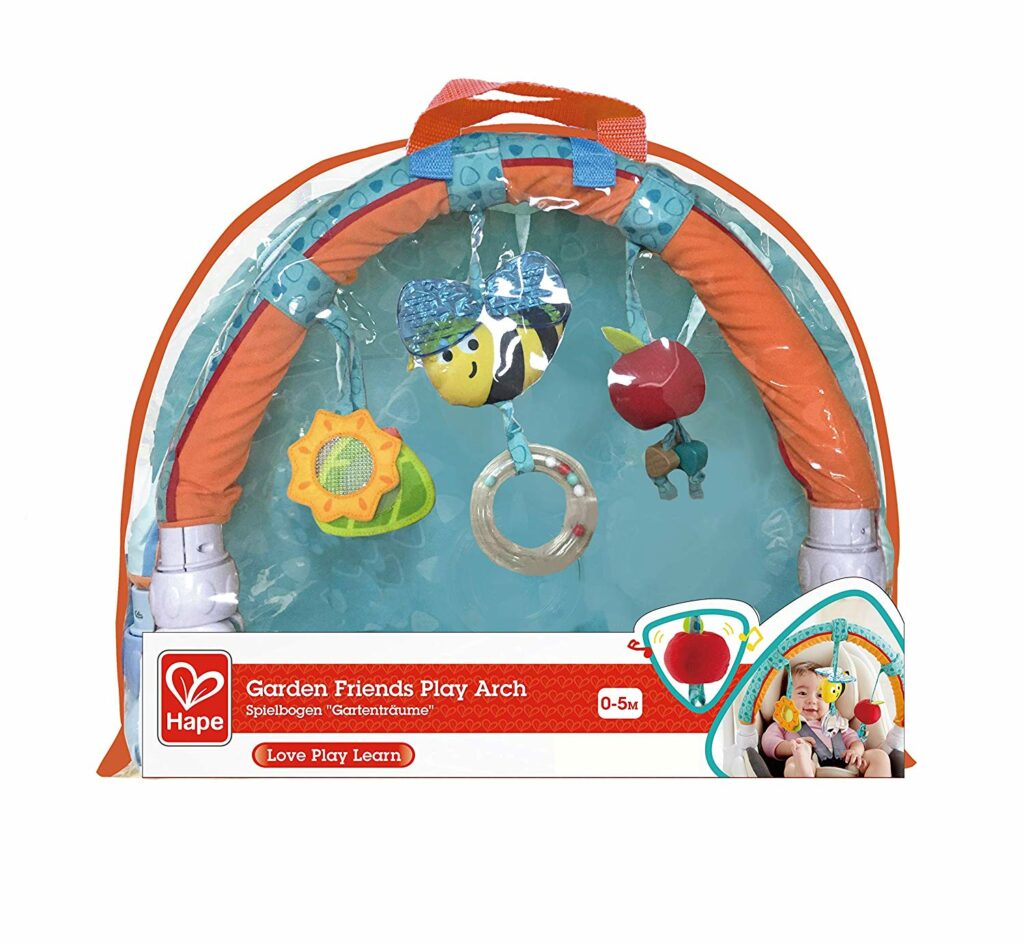 Hanging cheerfully over baby's crib, this play arch will keep your little one amused and happy.
Colourful dangling play pieces stimulate baby's vision, hearing, and sense of touch, helping to develop their brain and motor skills. Suitable for children from 0 years.
Hape HAP-E1404 Number Peg Puzzle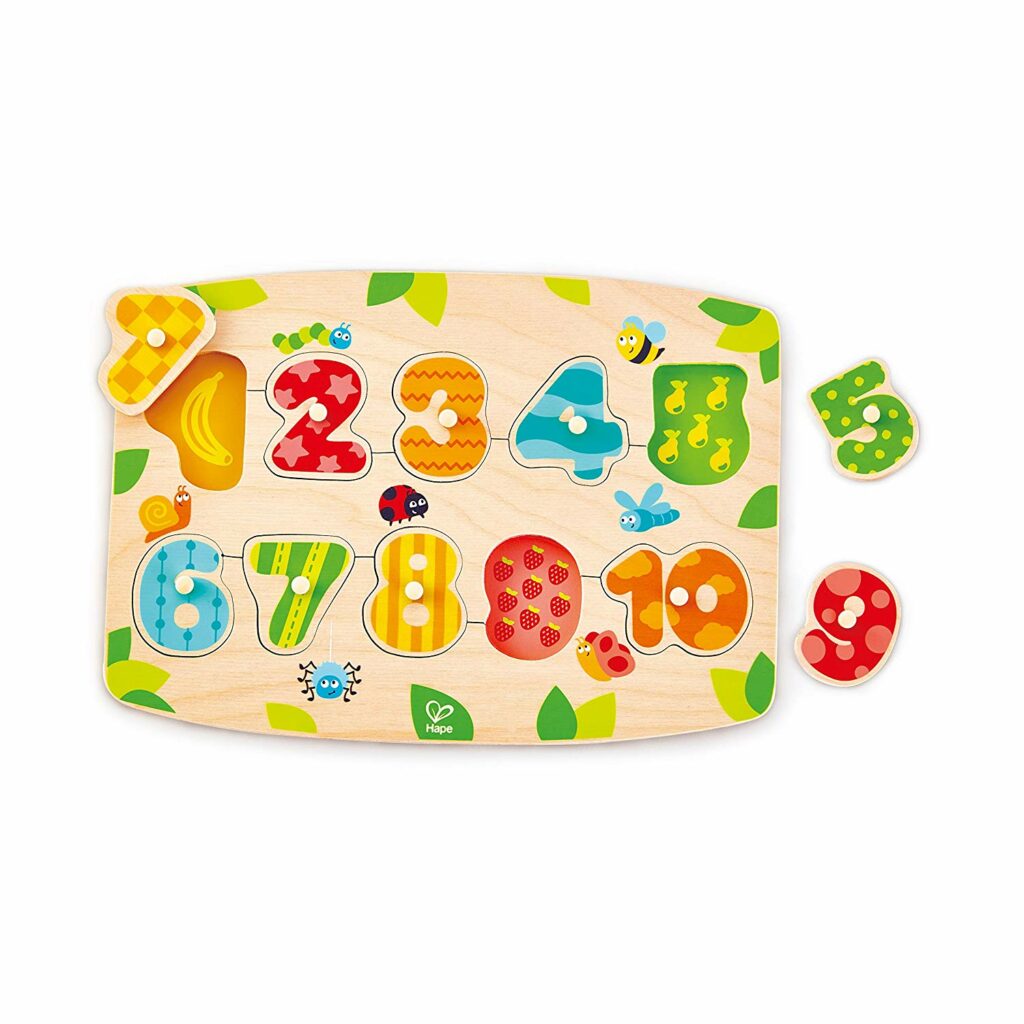 The classic children puzzle, learn the numbers by shape and by counting the fruits inside. Suitable for children from 3Y+.
Fairy Kitchen Garden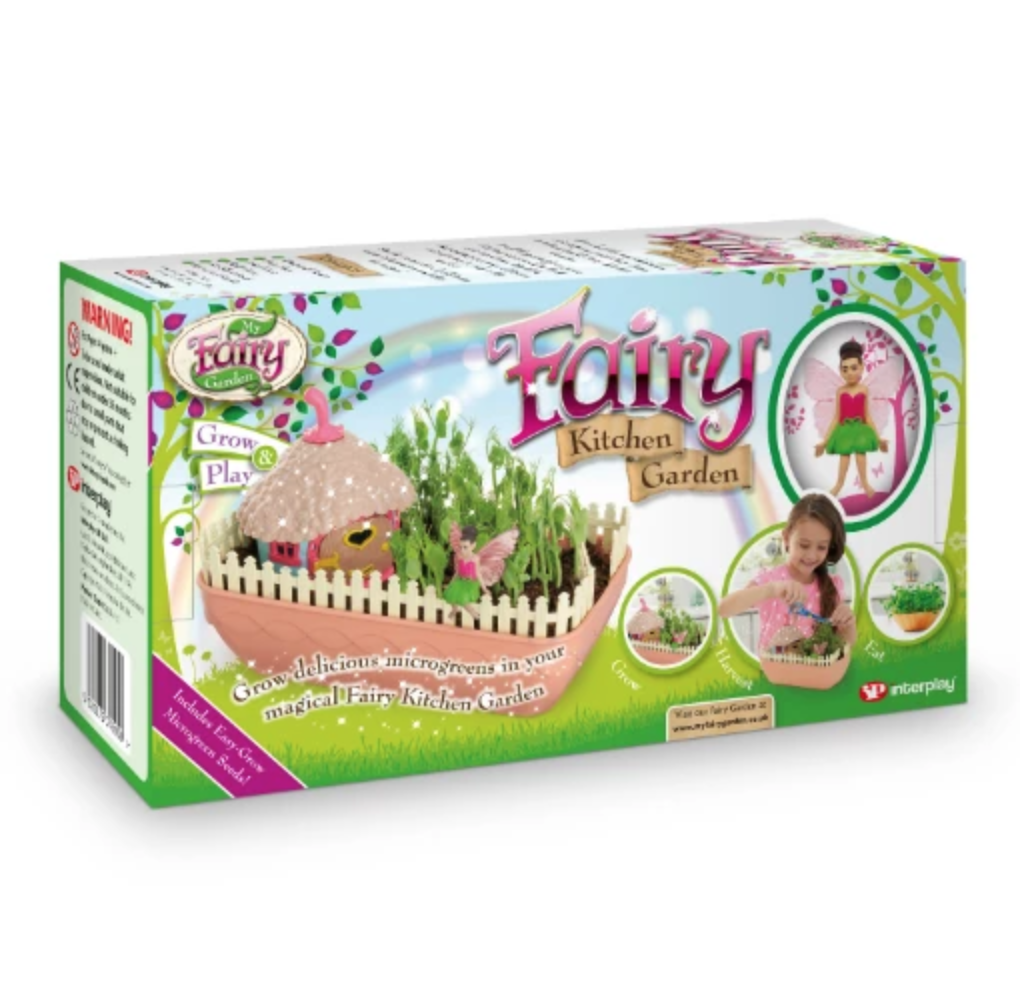 The new Fairy Kitchen Garden is home to fairy Fenn. She will help you grow delicious pea shoots you can really harvest and eat!
This adorable Fairy Kitchen Garden will fit perfectly on your kitchen windowsill or look cute anywhere.
Just like a real house and garden, the Fairy Kitchen Garden has a picket fence, a gate and a beautiful fairy house with removable roof for easy access.
Fairy Fenn has jointed legs to allow her to sit on the fence, kneel on the ground or just fly around!
Your Fairy Kitchen Garden comes with a pack of pea shoot seeds, which are easy to grow and delicious! See the instructions booklet for growing tips and ideas for recipes!