Beauty
Hair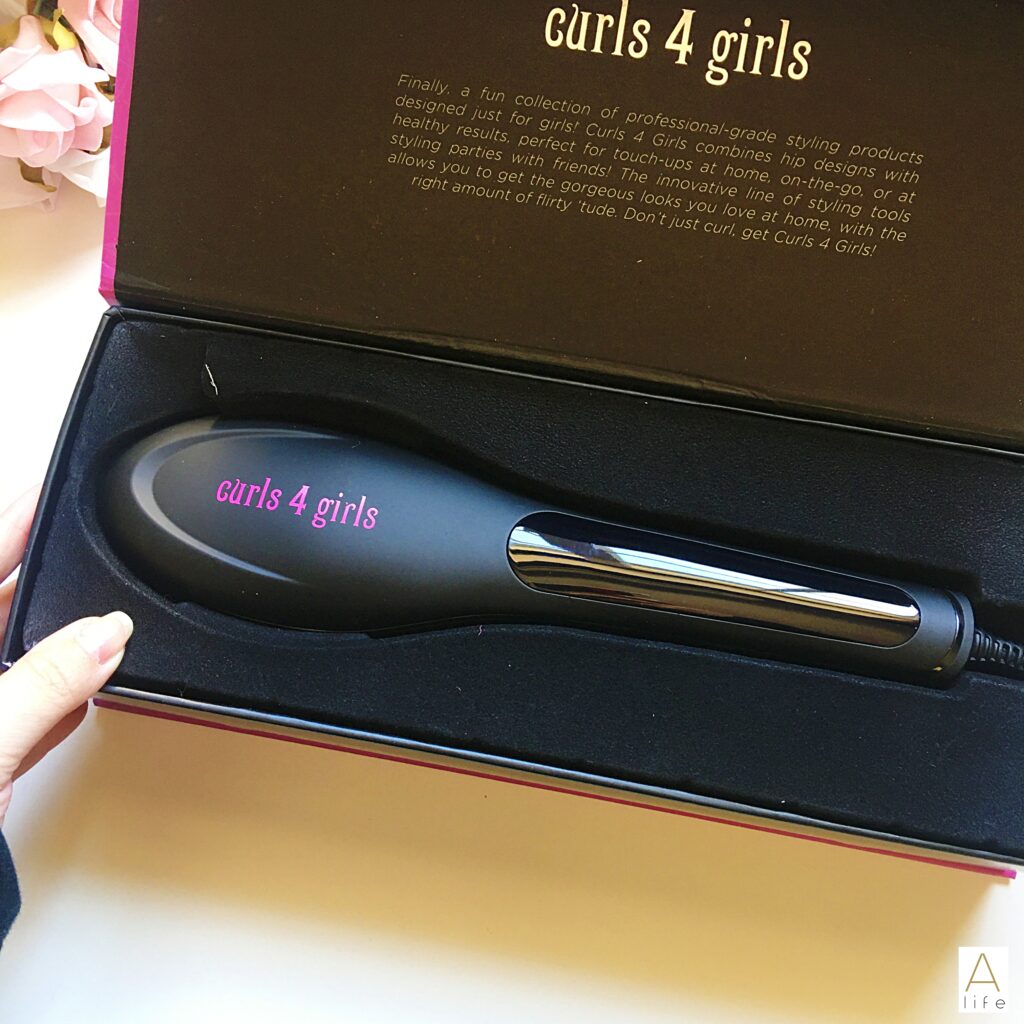 Curls 4 Girls Straightening Brush
TheC4G Kids Friendly Digital Straightening Brushmakes styling your hair faster and easier than ever before, with ceramic bristles that straighten as they brush, and digital heat control that you can adjust to the needs of your hair.
The C4G line can be used for kids and adults as well.
Get your Straightening Brush at Buzz Beauty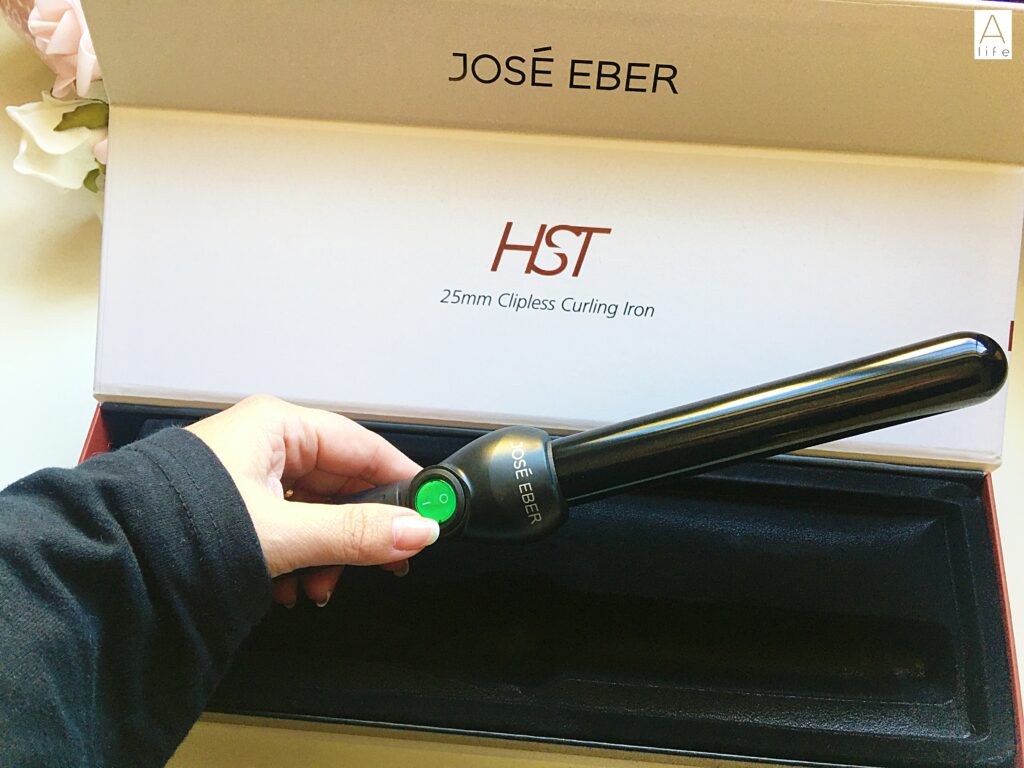 Jose Eber Clipless Curling Iron 25mm
The Jose Eber Clipless Curling Iron 25mm creates larger, bouncier long lasting curls and voluptuous waves that are smoother, shiner, and frizz-free. Create incredible volume and texture while reducing the amount of damage caused by traditional curling wands.
The innovative clipless design provides consistent and even heat for quicker styling without causing creased or crimped ends. Create a more natural look by curling hair from root to tip, reducing heat at hair's weakest point the tips and save your locks from unnecessary harm.
Get your Clipless Curling Iron at Buzz Beauty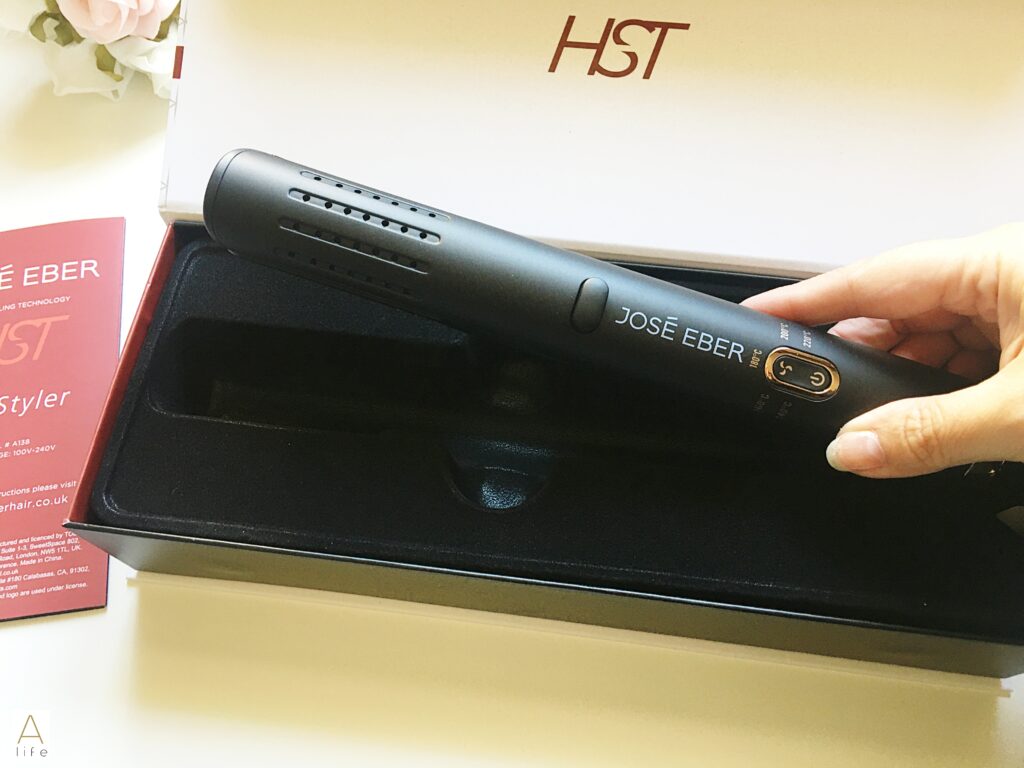 Jose Eber Air Styler
The revolutionary Jose Eber Air Styler utilizes a high-speed nano fan that propels cool air through the tool length expelling it through a grid around the tourmaline ceramic styling plates.
This cool air instantly sets the hair in the desires style of curls or waves.
The Air Styler's unique air cooling feature allows you to bring the barrel right up against the scalp with no fear of burning.
The Air Styler also straightens hair faster than most conventional flat irons.
Get your Air Styler at Buzz Beauty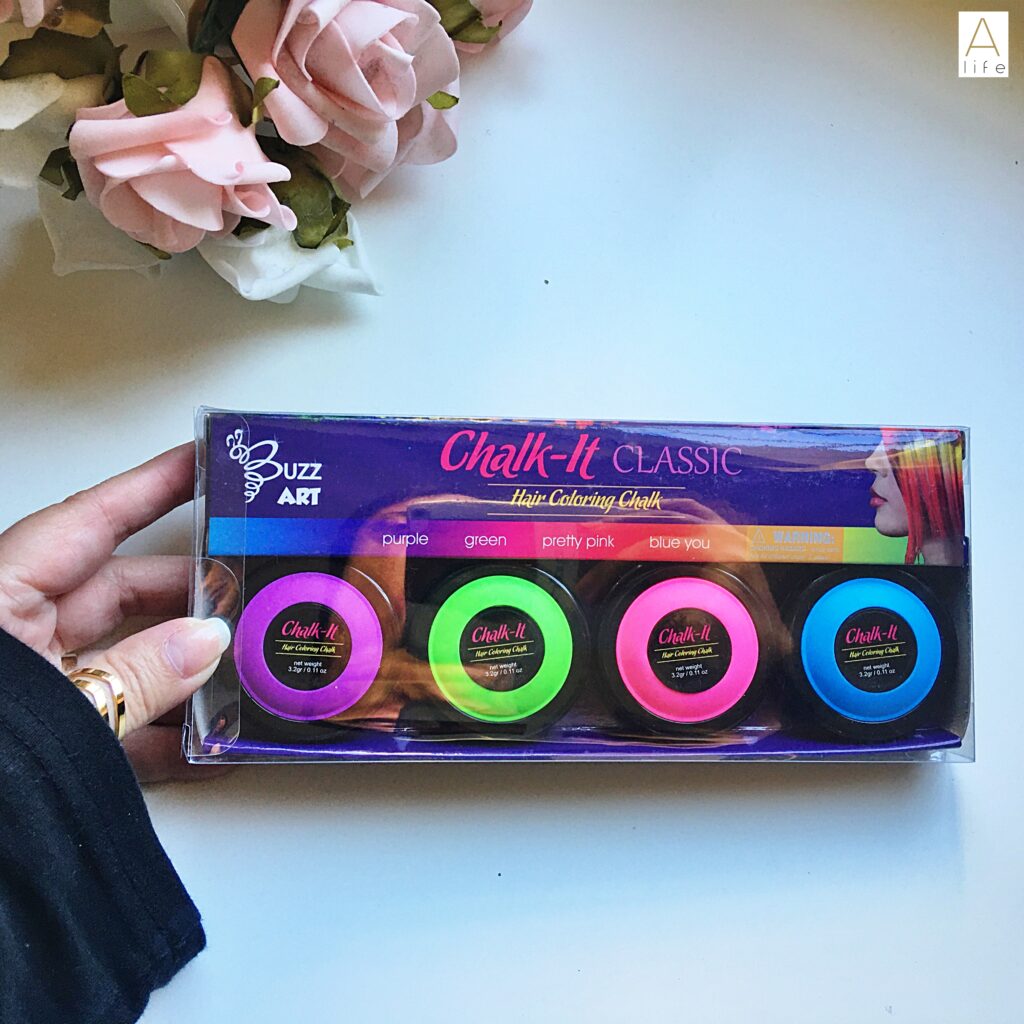 CHALK-IT (Hair Colouring Chalk) – Classic Version
A cool and exciting new product that allows you to colour your hair without damaging it.
The Chalk-it comes with 4 different colours and works for all hair types.
Once you want to remove the colour just wash it with water. It looks amazing, easy to use, not messy and done in seconds!!!
Available in 2 variations: Classic / Saloon
Get your hair chalk at Buzz Retail
Beauty for HIM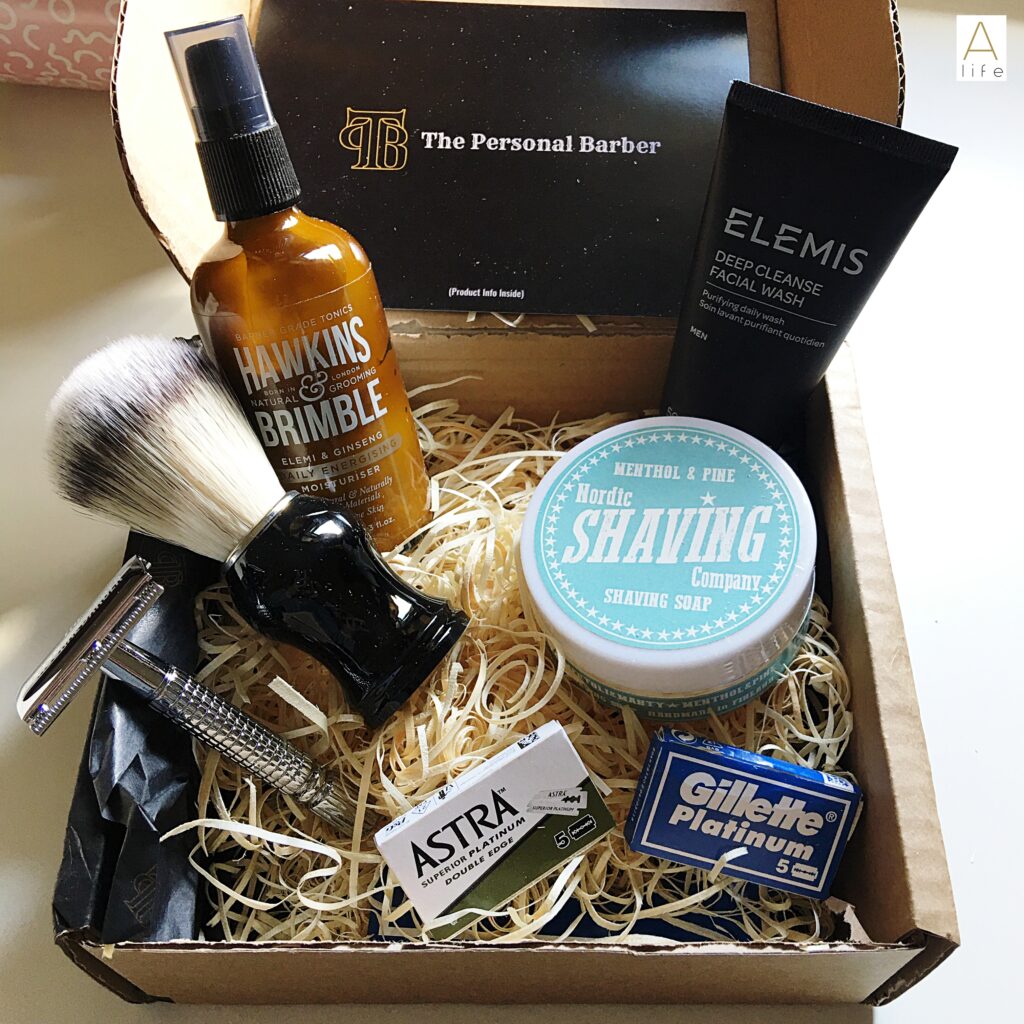 The Personal Barber
Who doesn't love a subscription box filled with secret goodies? Well, all at the HQ love them!
The Personal Barber is a subscription box (shipped every 6 weeks) filled with goodies for men shaving. Love new blades and luxury tools for the perfect shave and post-shave? This is for you or your beloved one.
The Personal Barber is not just "one more" subscription box, they make gift boxes or kit collections, and you choose your favourite box (even if it's just a one-off box… but believe it's so good that you will repeat it), without having the subscription. For example, our box is from the July-Aug, and even brings an Elemis Deep cleansing and a Hawking and Brimble moisturizer. Per box, you save at least £30 if you otherwise bought every single item on the shops.
Get your Personal Barber box online 
Nails

Buzz Nails
Three incredible nail art sets: Classic, Glow Sparkle, all consist 8 vibrant colours. Each colour comes with a brush and a micro pen. It is as easy as 1-2-3:
• Brush on the base layer
• Brush on Design layer
• Pen on design detail
Create fashionable and fun nail art designs in minutes.
Get your Buzz Nails at Buzz Retail
Body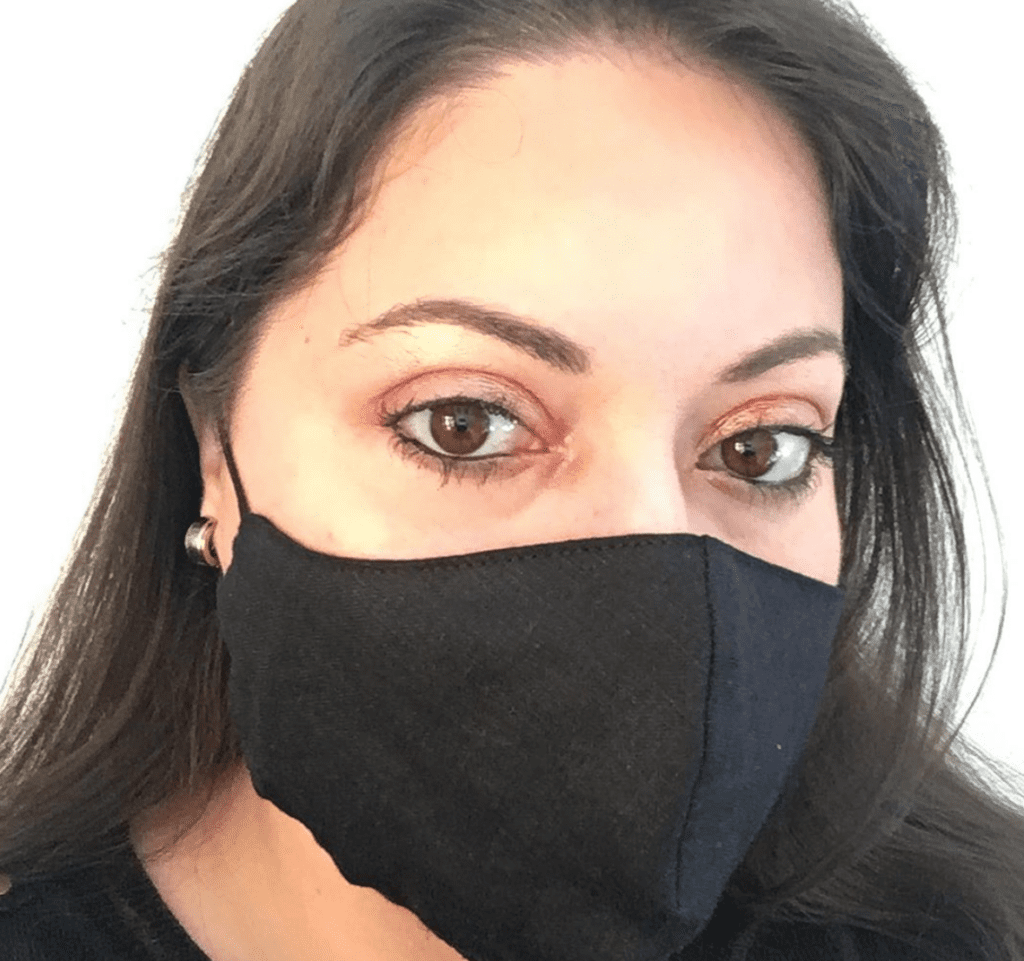 Natural Linen & Cotton Face Mask by Boostology+
The new everyday piece we all need right? This very soft (the inside) face mas by Boostology+ is made from natural linen and cotton, is reusable and washable, has 3 layers of fabric, a filter pocket, adjustable ear straps and is handmade in the UK.
I am wearing mine daily and want to get one for my little one as they are very soft. Check my other products for Home Decor from Boostology+.
Get your new face mask from Boostology+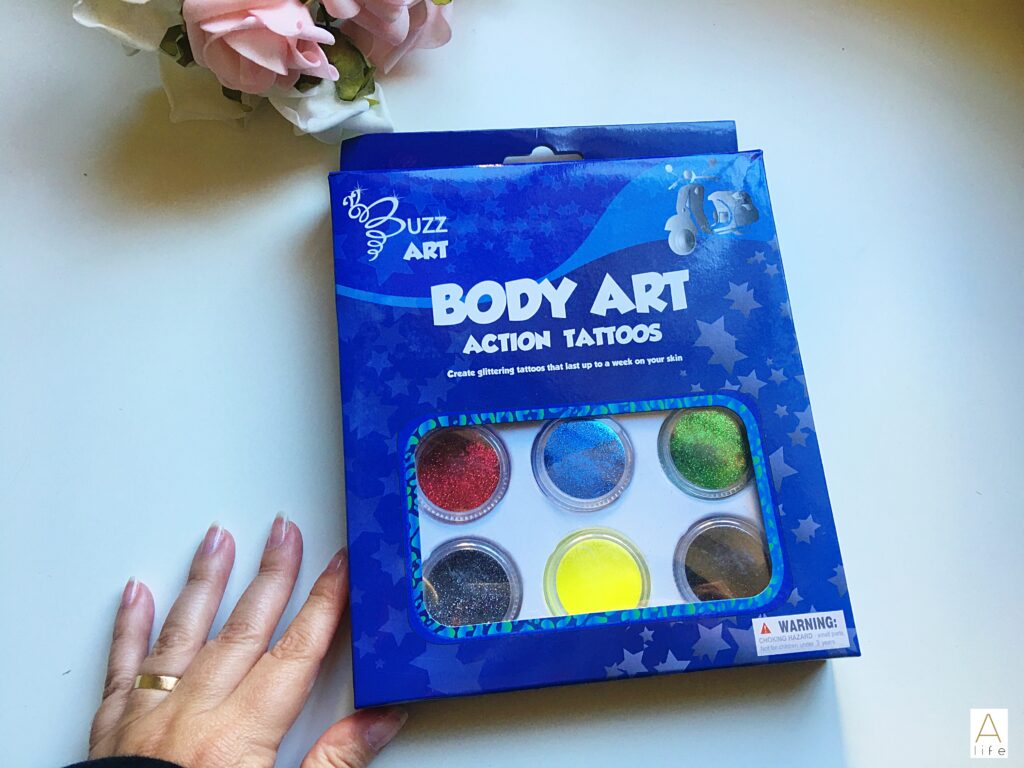 Body Art Tattoos
Create glittering tattoos that last up to a week on your skin but can easily be removed with water. It is the easiest and safest way to decorate your body with eye-catching designs and sparkling glitter colours. Each set consists of 25 cool designs and 6 excellent glitter colour pots, allowing you to create dozens of different colour combinations. Just place your chosen design onto a clean dry area, hold down for 1-2 minutes and then gently remove the clear film from the top of the sticker. Apply the colour glitter combination of your choice with a small brush and your tattoo is complete.
With three original tattoo sets, classic, action and glowing, there is one for everyone.
Available in 4 variations: Classic / Glow / Action / Velvet
Get your Body Art Tattoos at Buzz Retail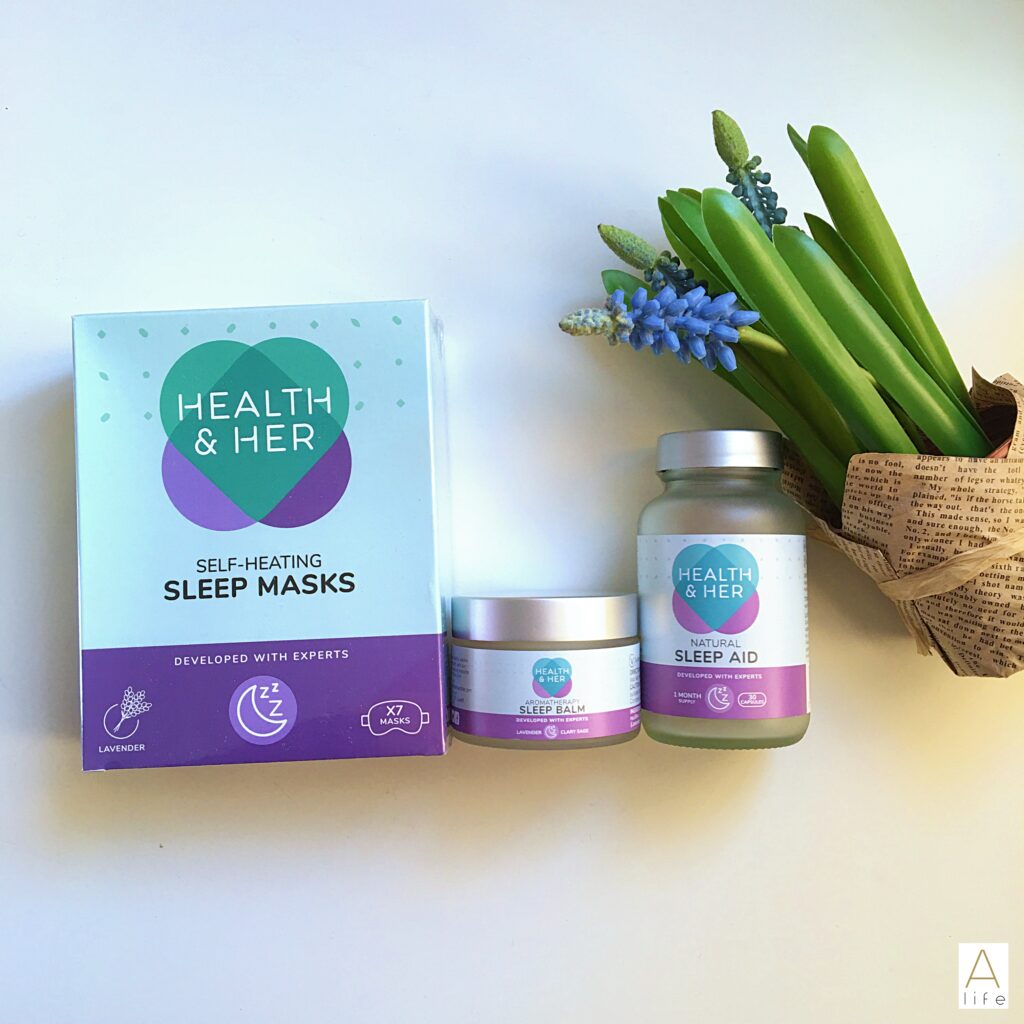 Health and Her Sleeping Care products
Oh this is soooo good! I have problems (since ever) with sleeping, so everything that helps and pampers me is always welcome.
The Self-heating Sleeping Masks (a great stocking filler!) – These sleep masks use air-activated warmth and a soothing lavender scent to gently relax you into a restful sleep. Simply tear apart the loops, place them around your ears, and relax as the gentle warming relieves tension in the muscles and skin around the eyes. Best 20 minutes before going to sleep. I just add a bit of meditation music.
The Aromatherapy Sleep Balm –  Their natural sleep balm has been designed to be massaged gently into pulse points and contains a combination of Lavender and Clary Sage blended with Sweet Almond Oil to support relaxation and aid a restful and relaxing sleep cycle.
The Natural Sleep Aid Supplement – Sleep problems are very common for women, particularly at times of hormonal flux – during PMS, perimenopause and menopause. Made with 5-HTP  Chamomile, Reishi mushroom extract, Ashwagandha extract- all well-known ingredients to help aid a restful night sleep.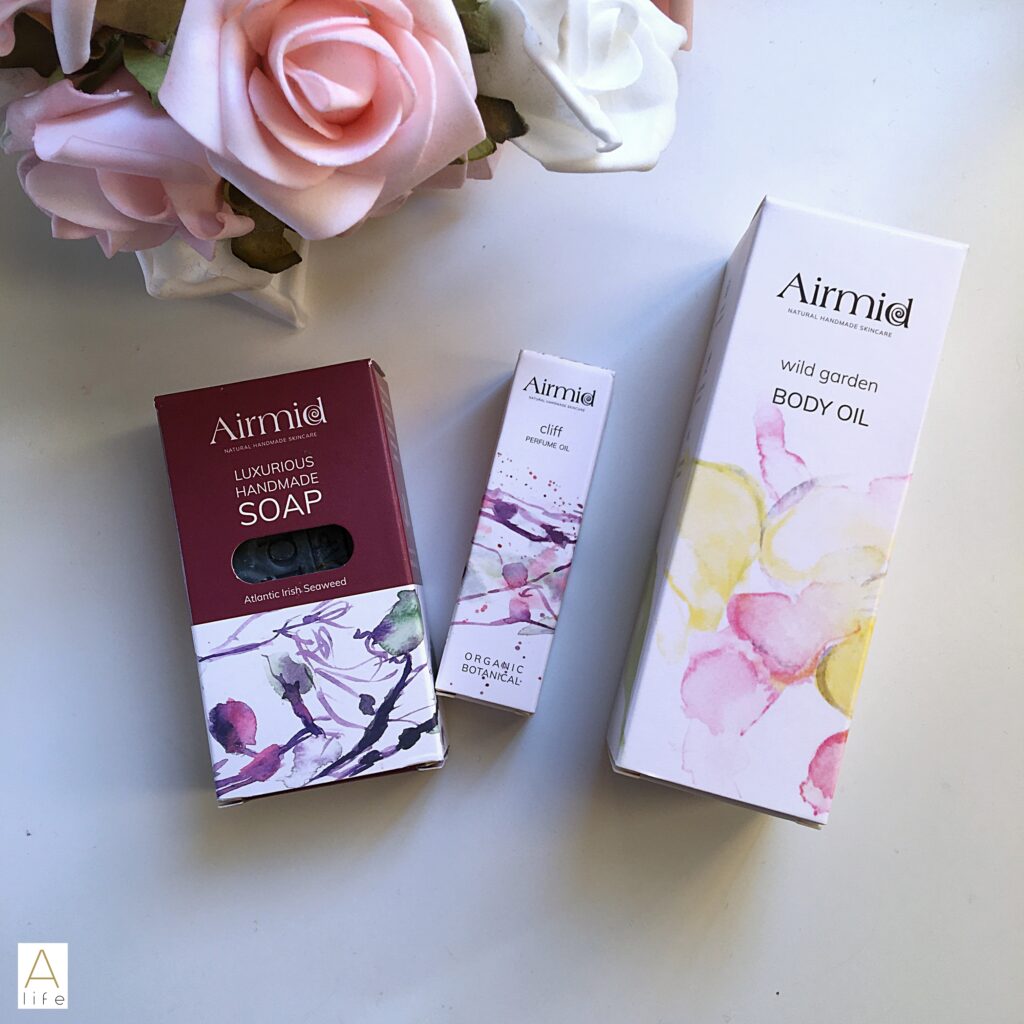 Airmid Products
I love Aromatheraphy! Makes part of who I am and part of what I studied and makes all sense to me and my family at home and for us.
Airmid is a successful Irish brand producing incredible products for body and face, as well as perfume, accesories, gifts for her and for him, and even have a special detail for weddings.
Now about this kit: You can buy a thing of each, that suits you or the gifted and make it a bundle.
Handmade Atlantic Seaweed Soap: the seaweed soap is blended with hand-harvested Atlantic Irish Seaweed (Fucus Serratus) from Atlantic Irish Seaweed in Caherdaniel and mineral rich spirulina and activated charcoal. Refreshing scented with eucalyptus and Invigorating rosemary pure essential oils. Seaweed soap cleans the body as traditional soaps do, plus it exfoliates the skin. Gritty bits of seaweed within the soap help remove dead cells on the skin. Suitable for all skin types, even sensitive.
Cliff Organic Perfume Oil: An invigorating walk along the cliffs with notes of ylang ylang to capture the cool ocean breeze Apply to pulse points and inhale. Reapply throughout the day when you need a boost!
Wild Garden Body Oil: Awaken in an enchanted garden immersed in morning mist with fresh citrus notes and neroli blossoms Airmid Wild Garden luxury body oil is a unique blend of botanical oils including organic jojoba and avocado. Nourishing care for the whole body keeping your skin hydrated and healthy. This hand poured, antioxidant and vitamin rich body oil absorbs into the skin while preventing moisture from evaporating.
Makeup Sets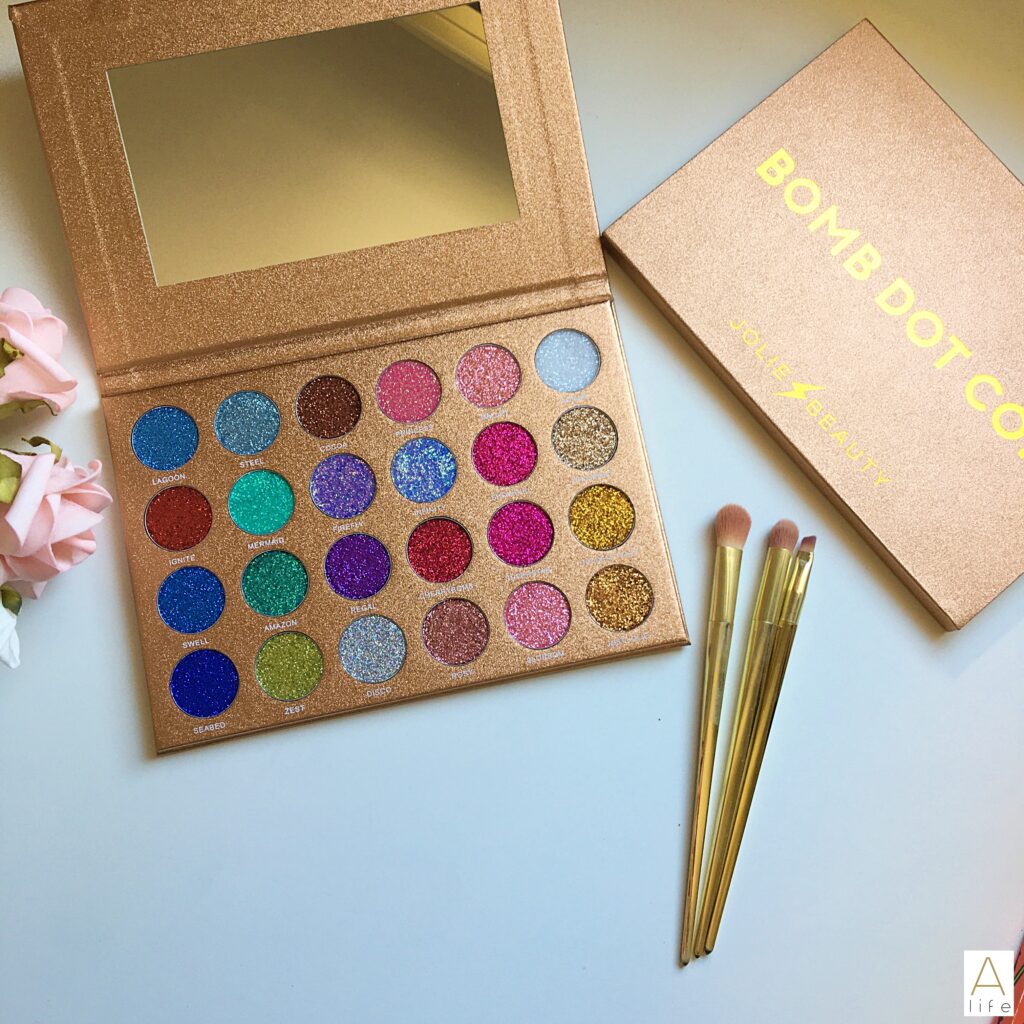 Bomb Dot Com Eyeshadow Palette by Jolie Beauty
My newest acquisition (view review here) is full of glitter and perfect for the Party Looks. All colours are glittery and with a super pigment. The colour you see is the colour you get. Check my Instagram final look using the palette.
Get your Jolie Beauty eye palette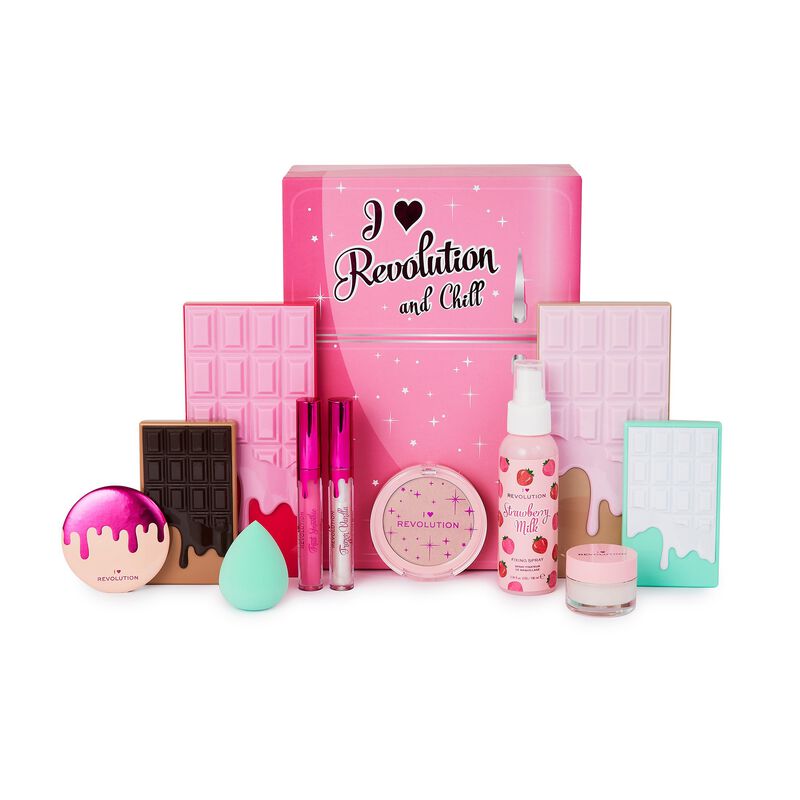 I Heart Revolution & Chill Gift Set
Stocked full of the freshest products, all exclusive to this set. s, a face palette, a mini eyeshadow palette, lip scrub, setting spray, pressed highlighter, shimmer lip topper, blending sponge, lip gloss and mirror.
Get it on Revolution Online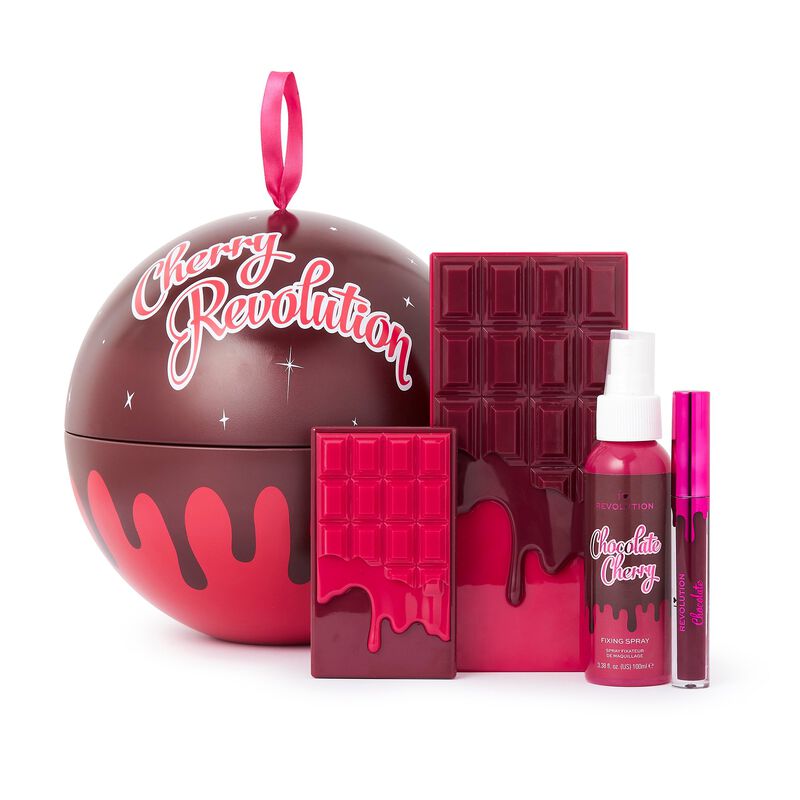 I Heart Revolution Cherry Revolution Gift Set
A giant cherry tin filled with cherry-scented delights, including a Chocolate Cherry full-size and mini eyeshadow palette, lip gloss and fixing spray. A unique Christmas gift, cherry picked for that special someone!
Get it on Revolution Online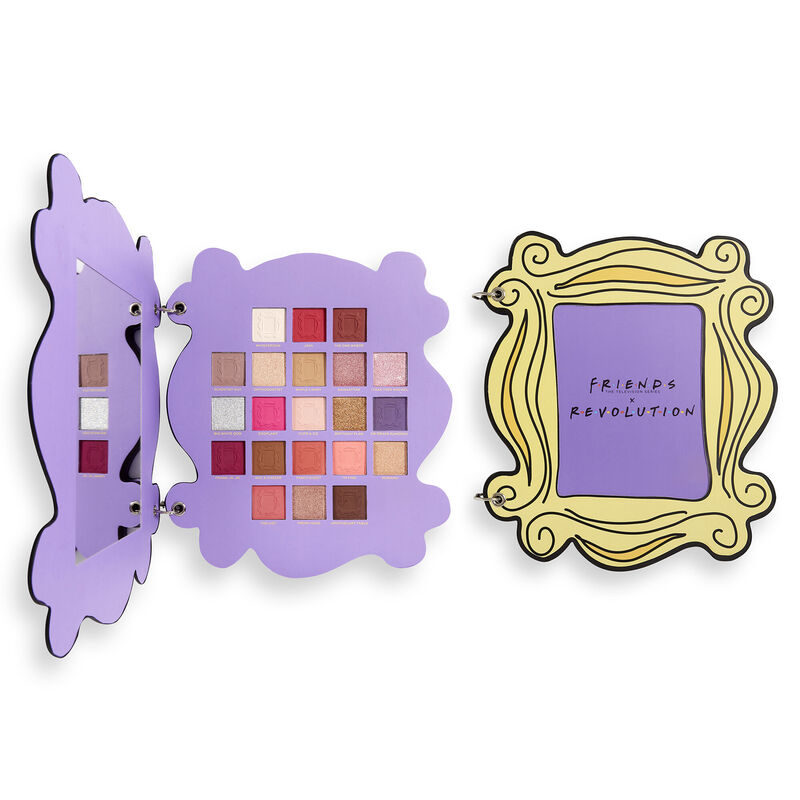 Makeup Revolution X Friends Open The Door Eyeshadow Palette
The Revolution x Friends Open the Door 3D Shadow Palette is a rich colour story eyeshadow palette featuring 21 shades. Bursting with rich browns, vibrant pinks, corals, neutrals and golden shimmer shades, this palette has everything you need to create an eye look worthy of winning the Gellar Cup.
Get it on Revolution Online
Fashion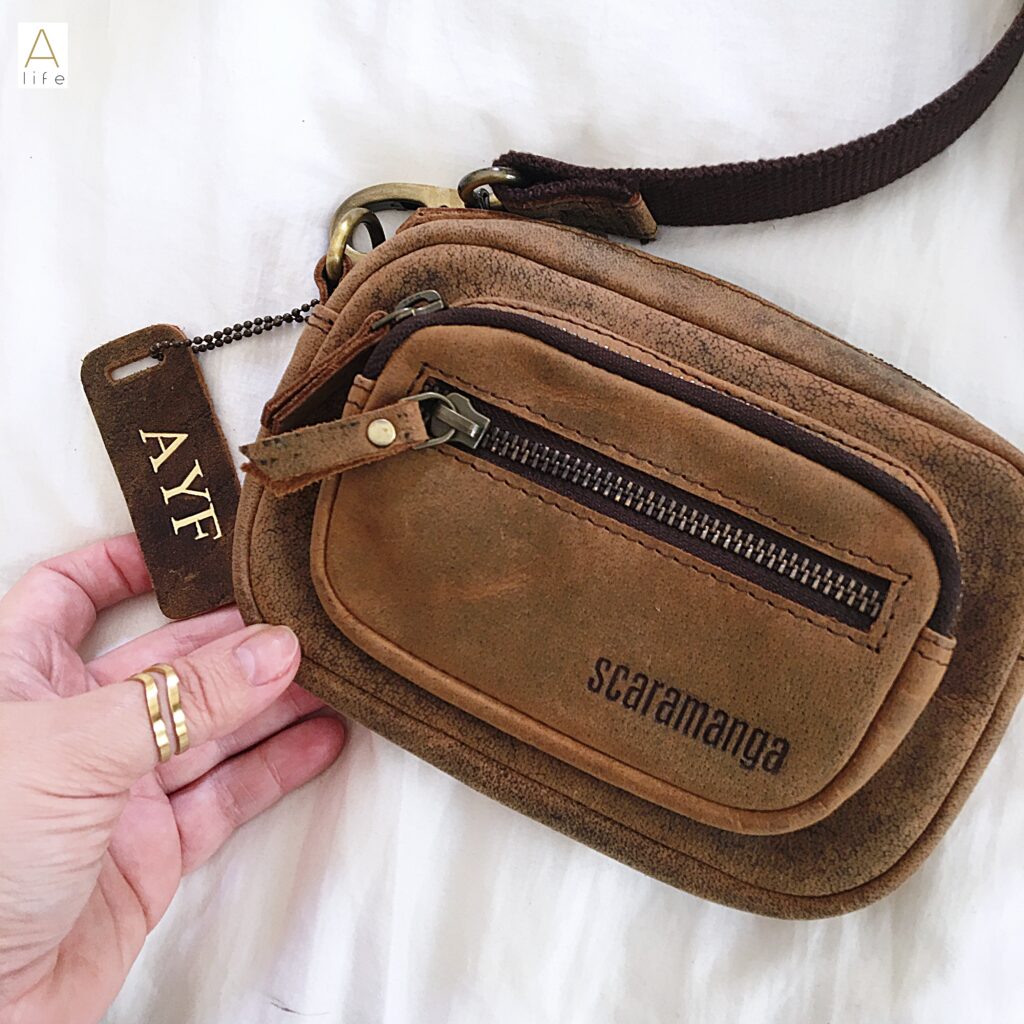 SCARAMANGA Personalized Leather Crossbody Bag
If you think having a bag or a real leather piece personalized is only for celebrities, let me tell you, you are:
a) Wrong!
b) Scaramanga is here and available for you!
Scaramanga is one of the most original brands I have met this year. They have from Leather satchel and bags, to vintage decor (check the Decor Gift List) and they can personalize almost everything. Their delivery is impeccable as well as their design and pieces are flawless.
This is my new Crossbody/Belt bag with my Initials in gold (you can customise the colours, etc). It's a crossbody leather bag that can double up as a belt bag (hello fanny pack!). Sturdy, vintage looking and excellent quality.
Check more designs from Scaramanga

Scaramanga Wallet
Shush! It's a gift! I love a personalized gift, and I am so happy with this one. Hubby's Initials on this wallet, make the perfect gift as he is very into vintage leather. Everything is personalized, from the colour of the wallet leather to the writing.  Scaramanga has impeccable customer service.
Check more designs from Scaramanga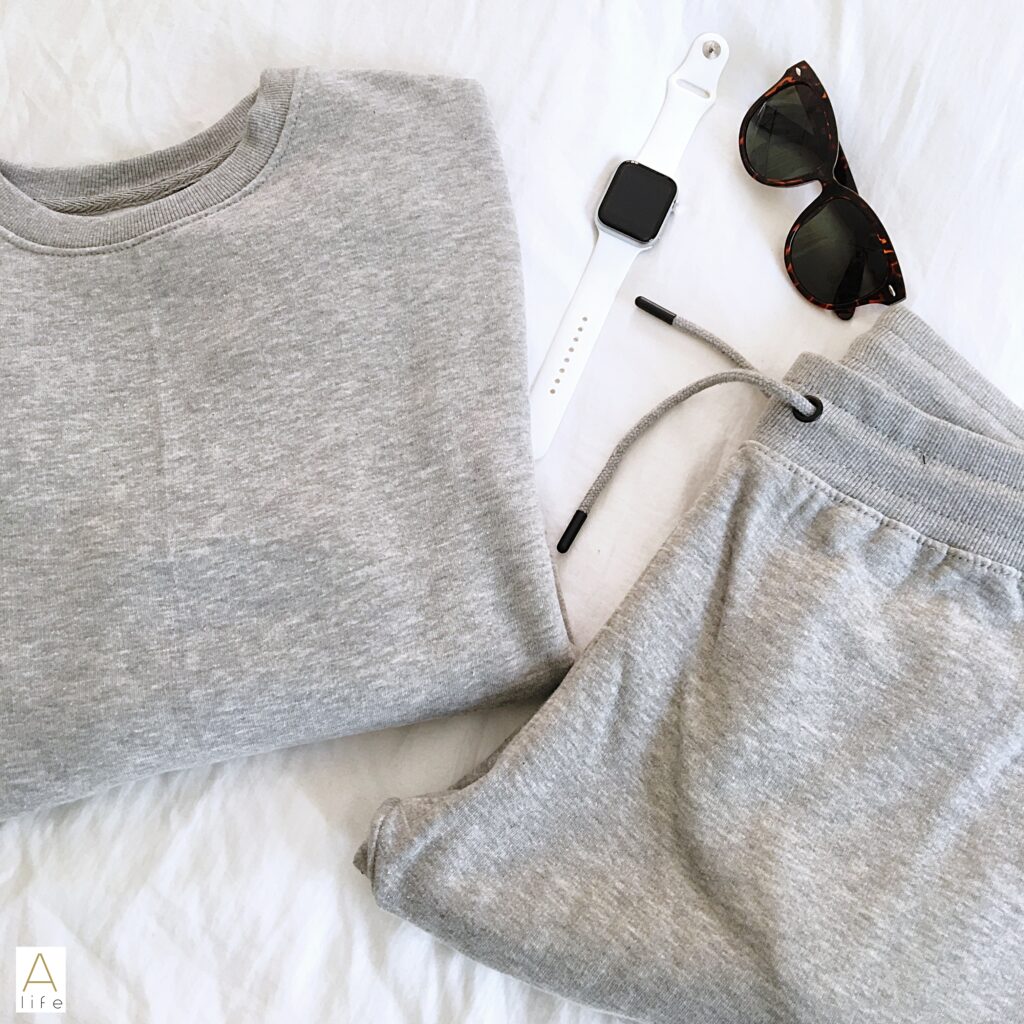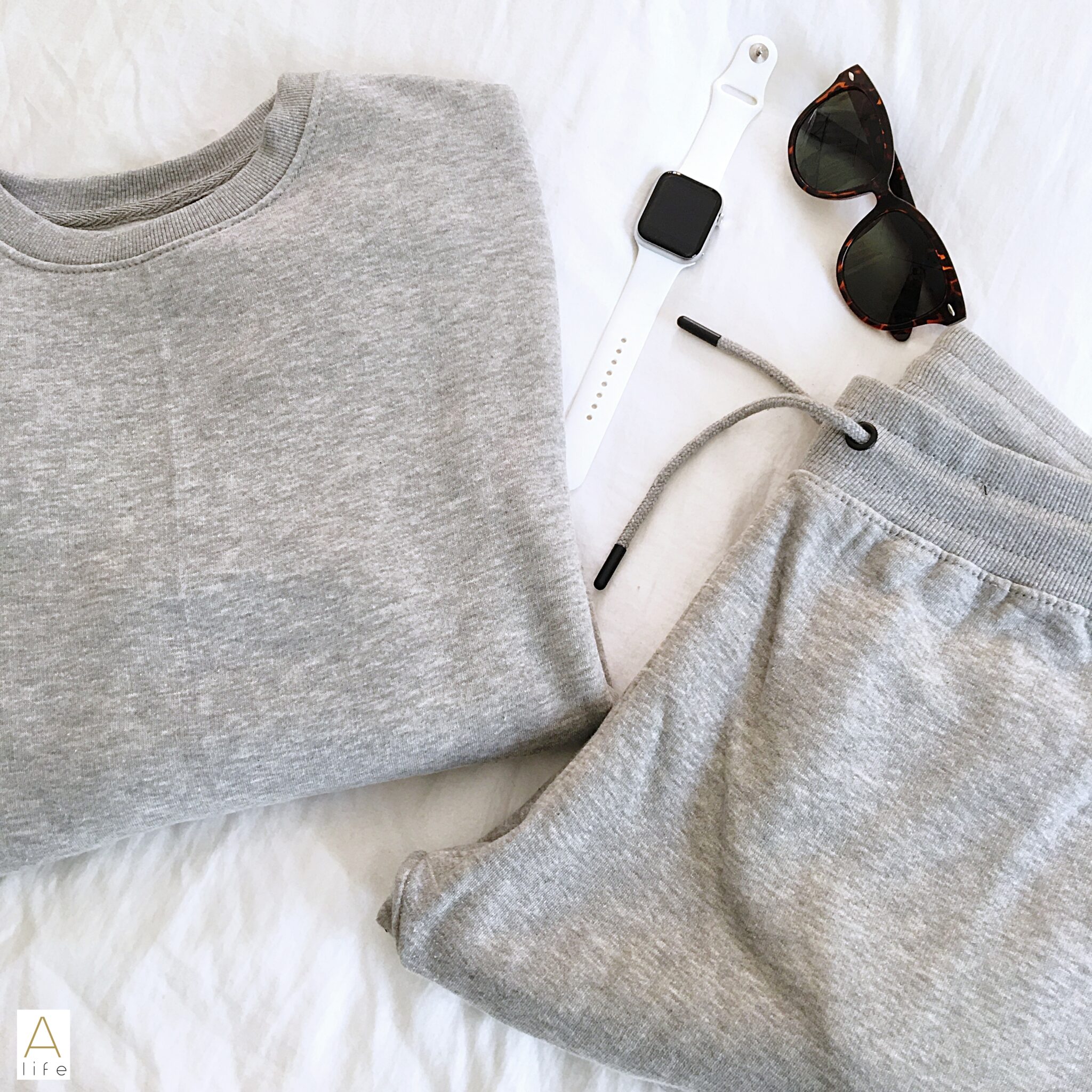 Femme Luxe Loungewear
One of the best gifts for this year. We all need it and it's becoming such a trend.
Get it at Femme Luxe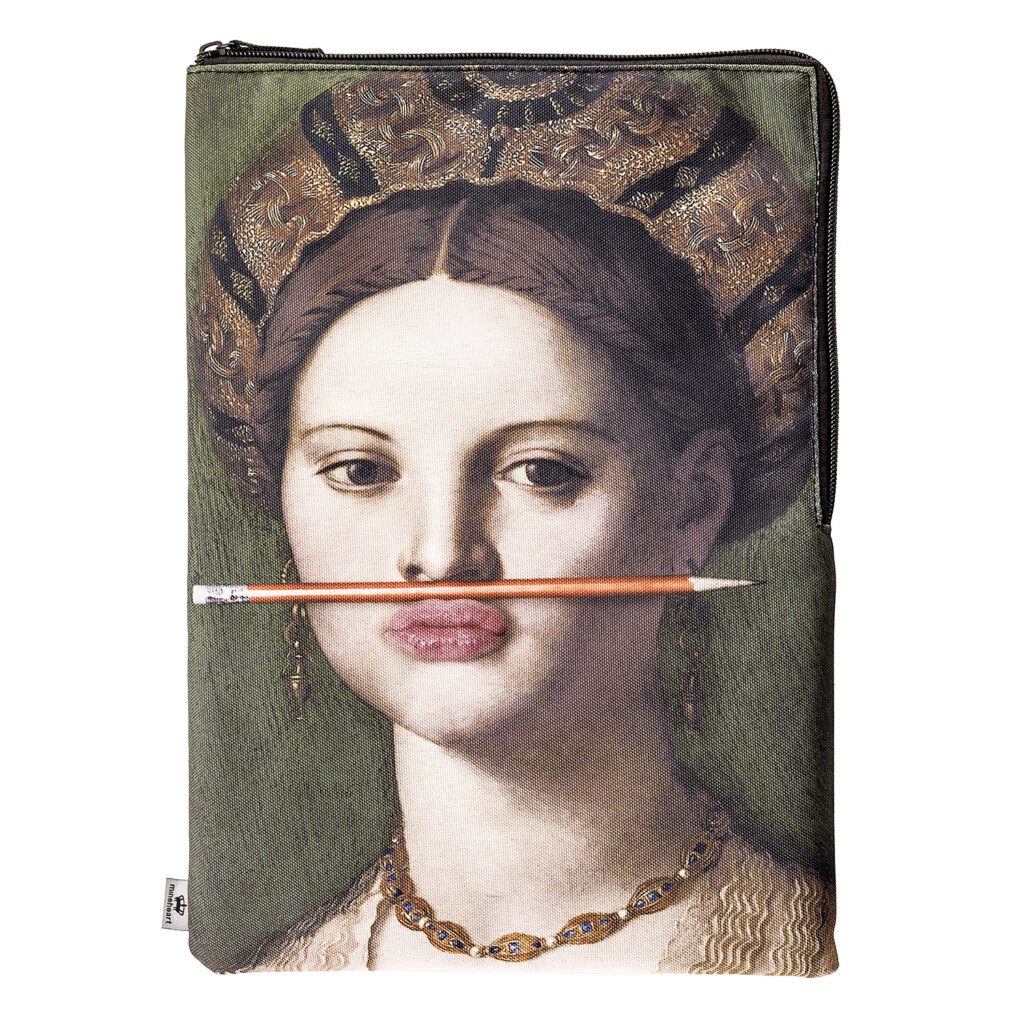 Mineheart Laptop Sleeve
Lovely and fun Art prints transformed into Laptop/Tablet clutch sleeve. There are several designs and sizes.
Get it at Minerheart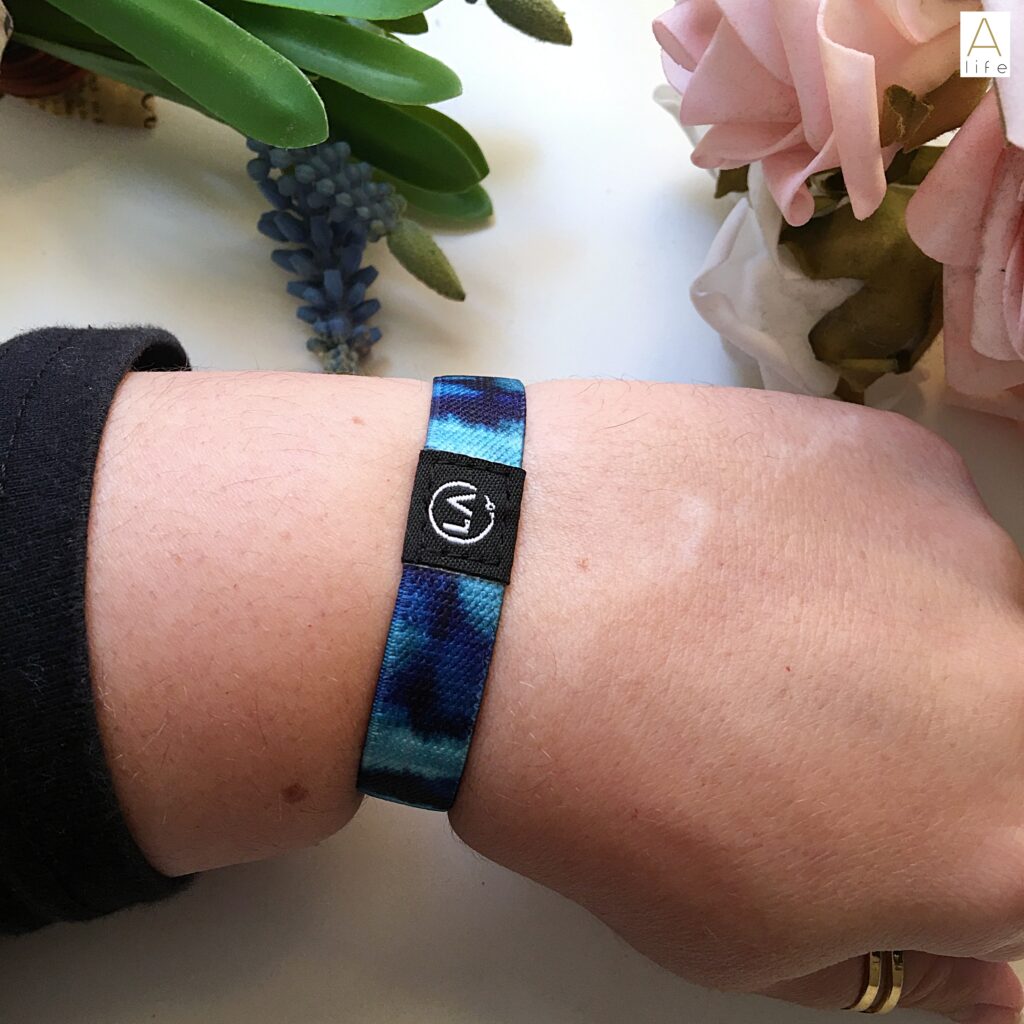 Refocus Bands
Make no mistakes: when you need a good positive thought, words can make miracles. Refocus sorted that. Chose your bracelet, flip the band and read your message for that positive kick. I chose one for my son saying: "Believe you can and you will". Seems cheesy but it's the truth.
There are lots of design, sizes, phrases and colours. Grab you Refocus Band for an excellent stocking filler.