When things started to look like returning to a new normal, and people getting out and having a proper life, there came the colder days to sort that out, right?
As I have written previously, even working at home or staying at home more often, that never meant (at least in our HQ) we couldn't take care of yourself.
Is exactly the opposite. You should do everything as You would normally do.
I do my normal routine and makeup as I would do if I go out often as I would. It's a way of picking up a normal routine and bringing yourself a bit of self-love. Believe me, it will. Same with clothing. Dress as you would be out and about. Don't linger in your pyjamas all day. Mentally this will take its toll.
This week was one of those weeks that I decided to go back to my roots and do a full glam makeup using a couple of products and trying out a new company that I didn't know in the makeup niche.
I tried out the Jolie Beauty Bomb Dot Com and let me tell you it's the bomb!
I didn't have any glitter eyeshadow palette and thought it would be fun to sort out a look that could be for the party season look, such as Christmas.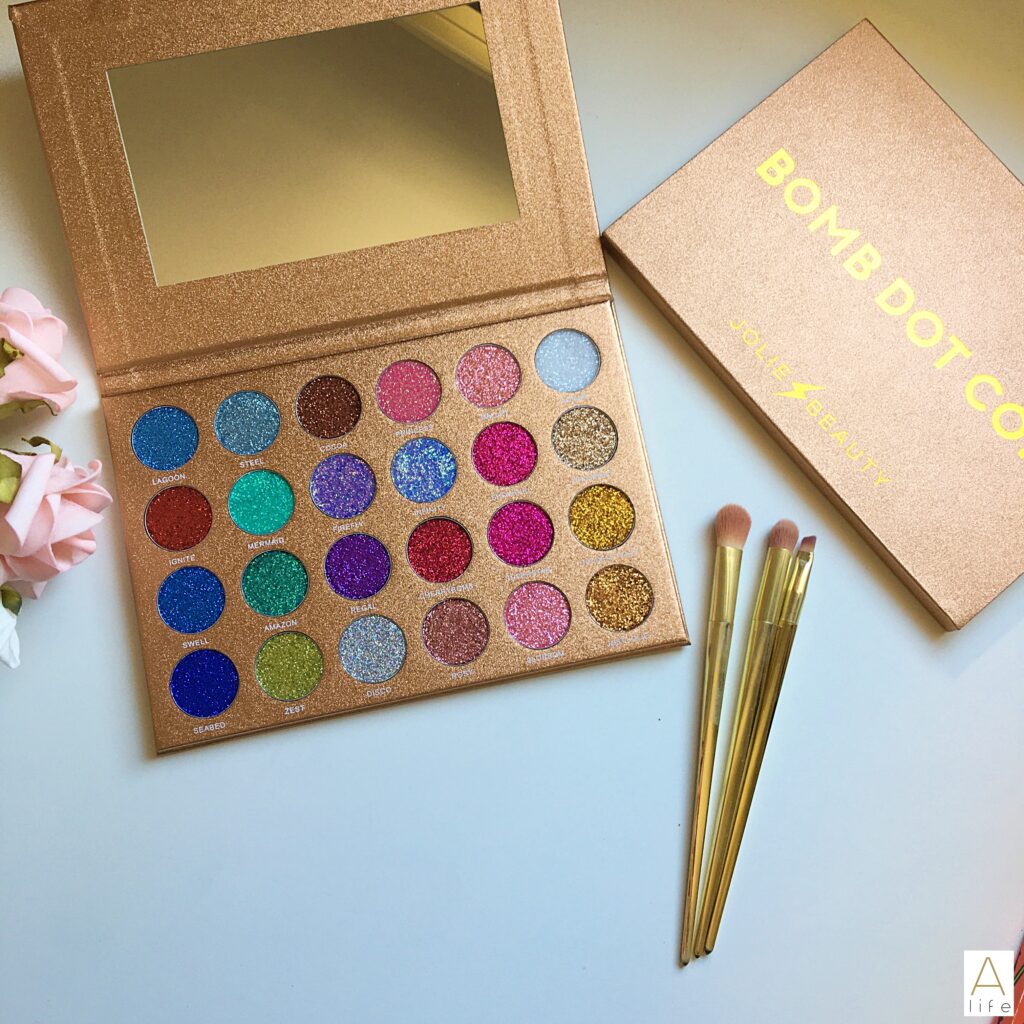 The pigments are true to themselves, meaning that the colour you see is the colour you get! And it's such a wow factor as you can see for the full makeup.
I have some tips to share about using a glitter palette:
Use a base for the glitter so it can stick such as a glitter gel that you can apply on your eyelid and it becomes sticky.
If you don't have that gel base for glitter, as I don't, I used a setting spray, wetted the brush and then applied.
Always dab or tap the glitter. Do not rub like a normal shadow. The glitter will fall down.
After making your look, apply a setting spray as you should always.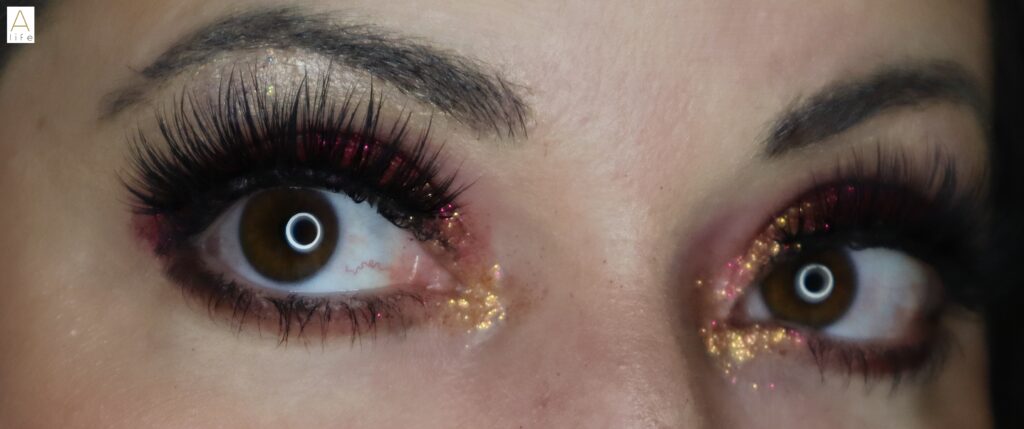 On this look I used:
Face:
Laura Mercier primer
Too Faced Born This Way Foundation in Swan
Eyebrows by Revolution Makeup
Revolution Makeup Contour and Bronzing Powder
Blush from EX1
Highlights (nose, cupids bow) I used Just Jolie  Bomb Dot Com colour "Firefly"
Eyes:
Dragon Heart  palette by Revolution Beauty to create the crease cut and prep the lid for the glitter palette
The star of this look: Jolie Beauty Bomb Dot Com palette. I used the colours: "Showgirl" and "Just Jolie".
I dabbed "Showgirl" from the middle of the lid towards the inner corner of the eye. The on the inner corner and dabbing a bit downward I added the "Just Jolie".
To finish this lovely look I added the lashes from Eylure in "Most Wanted" for that season look to open up the eye.
Lips:
I decided to create a shiny glittery lip to suit the party season. I used a lip liner that could match my lip gloss but a darker tone.
I used a lip gloss from Makeup Revolution in "Hysteria" creating a base to stick the glitter
Applied Jolie beauty Bomb Dot Com palette in the colour "Superstar". It looks flawless.
To finish, I used the All-nighter Setting Spray from Urban Decay.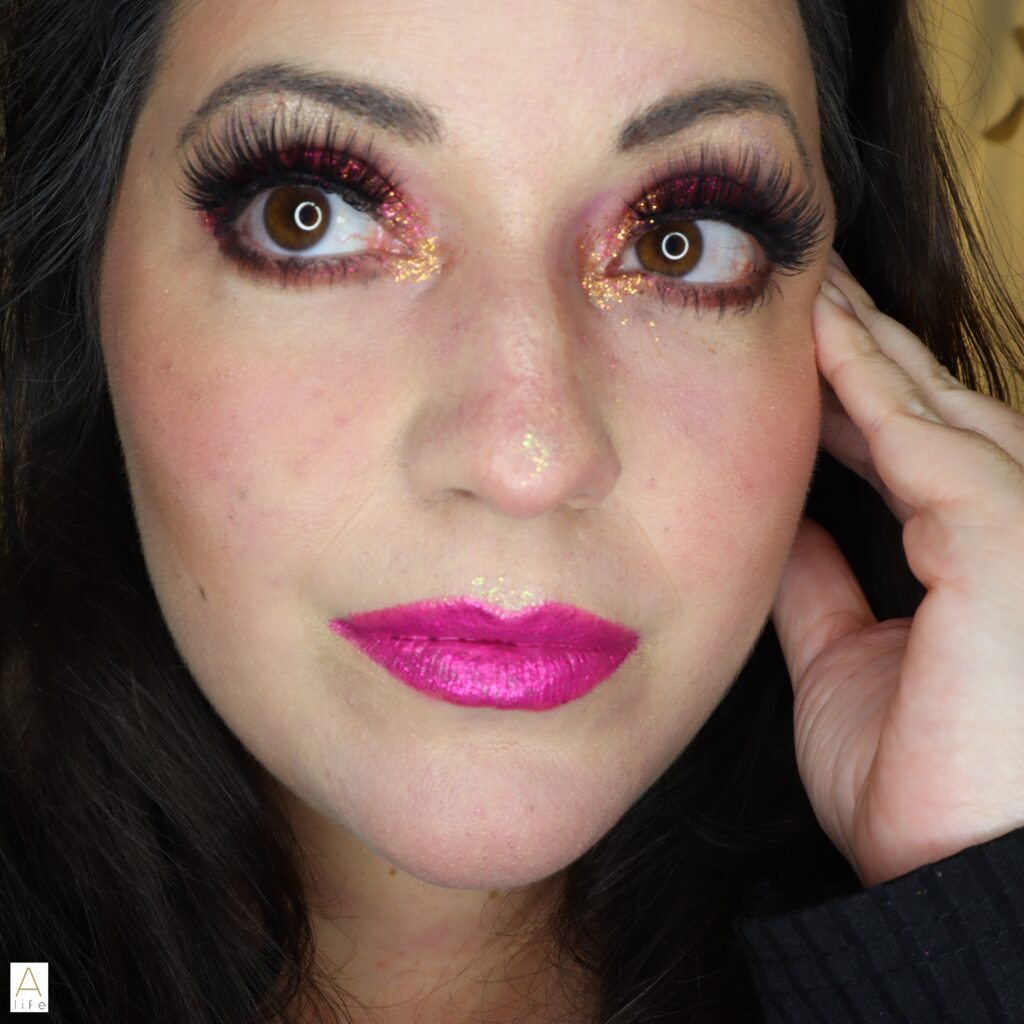 This Palette from Jolie Beauty is definitely a must have, your go-to Glitter palette to brighten up the look and bring on positive vibes.
If you want to follow up what is going online with this look, take a look at my Instagram and join the conversation.