Everyone nowadays know by now what a Paleo diet is and what a Protein diet is.
But sometimes we need a snack (I am doing both Paleo and Protein diet) and is quite difficult to be in travel and have to bring all the ingredients with me, specially when RJ is still 22 months old.
While in the BBC GoodFood Show, I came across several brands (which means I will be letting you know some foodie tips that I learned) and Pulsin was one that I wanted to try and it looked so delicious that I have to show you.
Pulsin is a British brand that has a vast range from Bars to protein powders and snacks for all ages and people and a LOT of success…and for what I've tried: Pulsin you're going even farther… to the infinity and beyond.
Great taste, great selection of ingredients and a thing I liked a lot: great prices for great quality.
Protein:
These proteins are a perfect addition to smoothies, porridge bowls, juices and your favourite recipes, such as making a gravy, cakes or why not to thicken a burger? or why not using them as "flour" for cakes, muffins and patties?
In a level on who's high on protein, you can see in the pictures below, because Pulsin puts it on their packages. Nothing to hide!
Just one serving is a big step towards your daily protein intake.
Each of these Proteins, as i said before, have a large range of uses.
You can find some recipes from Pulsin using them on their website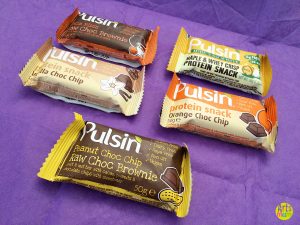 Raw Choc Brownies
Amazingly tasty and excellent for a snack in the middle of the day that will make you full, or (like me sometimes) having a craving for something sweet, and excellent for a Pre Workout or to put on your bag on the go.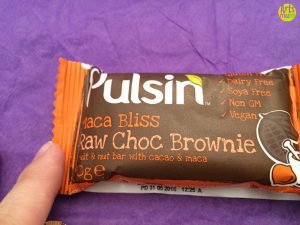 I was looking forward the Raw Choc Brownie (hum…brownie…) and it was then when I saw for the first time, a Maca brownie! I give (and use) Maca to my patients on Herbal treatments to Anaemia (Maca provide oxygen to the blood) making us having a boost of energy (and a little more exciting… if you know what I  mean).
These brownie are healthy and proteic which suits me in my diet, specially Before training, is the best thing.
Recipe time!!
But why not try these wonderful Healthy Fruit Cake Muffins with the Soya Protein instead of the flour?
Makes 24!
These mini muffins are a great alternative to dense sugary fruit cake. Sugar-free and virtually fat-free (only a tablespoon of melted coconut oil split between 24 mini muffins!), but still packed with plenty of flavour.
This recipe is very versatile, with options to make it gluten free, and/or vegan, and to change the flavour from orange to tea. The mini size, makes them perfect for a grab and go breakfasts, packed lunches, picnics and for an afternoon tea. There's also an option to add some protein powder, to make these a great pre or post workout snack!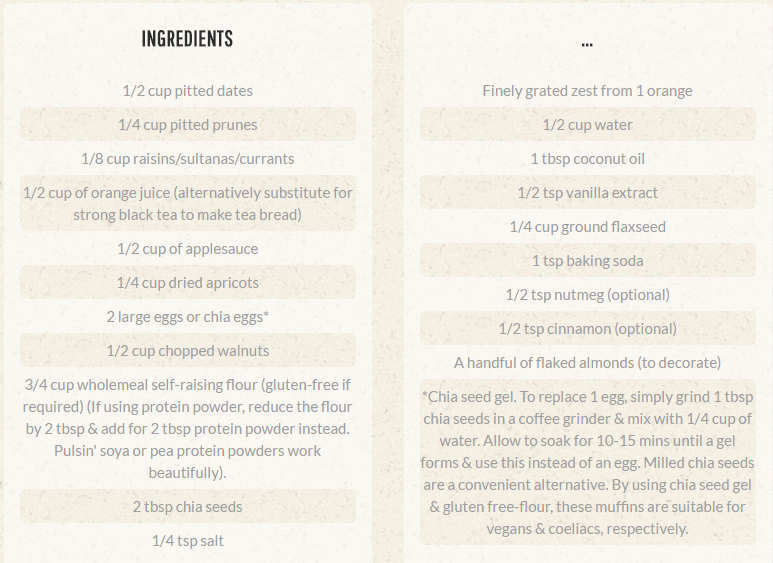 INSTRUCTIONS
Preheat the oven to 350F, 180C. Lightly grease 2 mini-muffin trays with melted coconut oil or spray coconut oil.
Cut the dates, prunes and dried apricots into small chunks. Finely grate an orange for its rind. Place all these ingredients & the raisins/sultanas/currants in a saucepan along with the orange juice and water, and boil for 5 mins.
Add sugar-free apple sauce and a tablespoon of melted coconut oil and mix together. The fruit will turn into a mushy-like paste. Set aside to cool.
Mix together eggs*, vanilla extract, chia seeds and walnuts. Add to the dried fruit paste.
In a separate bowl, sift the wholemeal flour, baking soda, salt, nutmeg and cinnamon, if using. Then add this to the fruit mixture along with ground flaxseed to the fruity paste. Mix thoroughly.
Divide the mixture equally into the muffin tin. Decorate with a few flaked almonds on top.
Bake for 25-30 minutes. Turn cake onto a wire rack to cool. Put the kettle on and enjoy!
Note: this recipe is from Pulsin Website, not mine… It is delicious so give it a go!
What do you think?
Cheerio!
Thank you to Pulsin
My Opinion is Honest and Unbiased