Now here is abit different type of books that I normally review or even read.
But the theme was quite compelling and settled in the World World II …. I was in!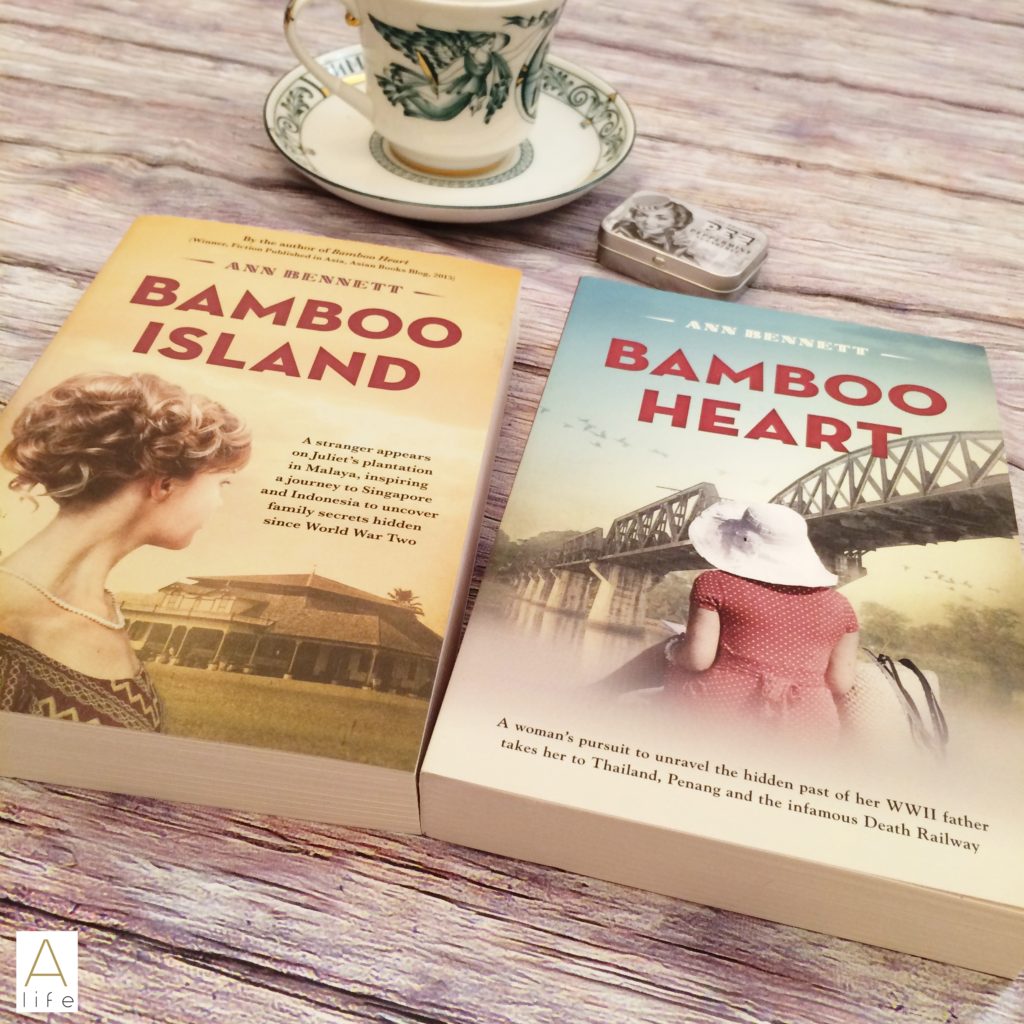 This Trilogy of books is set in Southeast Asia during WWII which can be read in any order.
The description of details are beautifully done, we can almost feel like seeing a romantic/drama movie and brings up an exquisite depiction of love and loss in British Malaya and Singapore.
The last book in the Bamboo Trilogy by Ann Bennett, is the Bamboo Road –  Follows Bamboo Heart and Bamboo Island – Remember you don't need to rad in that order… I did read it by that order so feel free to do it.
Ann Bennett wrote this Trilogy inspired by the author's discovery of her father's time as a Prisoner of War on the Thailand-Burma Railway.
This last book, Bamboo Road, highlights the Thai Resistance movement under the Japanese occupation where capture means death.
A brief synopsis of each book:
Bamboo Heart
Set in the Far East before and during the Second World War, Bamboo Heart captures the suffering and courage of prisoners of war of the Japanese. It tells the story of Tom Ellis, a prisoner enslaved on the infamous Death Railway in Thailand, and charts the journey of his daughter, Laura, who turns her back on her yuppie existence in eighties London to investigate her father's wartime experience.
Bamboo Island
A stranger appears on Juliet's plantation in Malaya, inspiring a journey to Singapore and Indonesia to uncover family secrets hidden since World War Two. Juliet Crosby has lived a reclusive life on her Malayan rubber plantation since the Second World War robbed her of everyone she loved. However, the sudden appearance of a young woman from Indonesia disrupts her lonely existence and stirs up unsettling memories. Juliet is forced to recollect her prewar marriage, her wartime ordeals in Japanese-occupied Singapore and the loss of those she once held dear.
Bamboo Road
Thailand 1942: Sirinya and her family are members of the Thai underground, who risk their lives to resist the World War Two Japanese occupation and to help British prisoners of war building the Thai-Burma railway. The events of those years have repercussions for decades to come. The book tells Sirinya's wartime story and how in the 1970s she returns to Kanchanaburi after a long absence abroad, to settle old scores from the war years.
My point of view:
I like it. I love to read about the WW's (I and II) but probably would never buy these books… which would be a mistake. They are absolutely a delight, with all the description, the smells and sightseeings, the dramas and the hopes.
If you like romance, war, survival and hope – You must read these! Recommend it highly! One of the best books I have read in awhile.