Having to organize or reorganize your office after the new trends have emerged can come as a challenge. Still, it could become a welcome change, especially after the challenging year 2020. Here are some NYC office space design trends that will boost creativity and productivity.
The starting point for reorganizing an office
A smart way to start reorganizing your office space is to go through a decluttering process. Use some decluttering tips and hacks to clean your office of all the junk. Furthermore, use this opportunity to evaluate how much space you have and how it can be optimized. For example, put away all the furniture and take some measures to see how much room you have. If you are planning to change the furniture, you will need to know what will fit.
When having to find a new office space
When you need to relocate your business, try doing some research before making any decisions. Read about the best NYC neighborhoods for renting office space and narrow down your options before you go and visit some of the most popular parts of the city. Then make sure you can afford to rent there. Good neighborhoods can have fantastic advantages, but they can also be a bit more expensive. Therefore, evaluate your budget, and when you find the right spot and at the right price, you can start planning how to organize the office by following NYC office space design trends for 2021.
Smart offices are a trend
One of the biggest problems in offices is the lack of efficiency. For instance, employees have to walk around the office space to get to a printer. Not only does it waste time, but it can also become frustrating. Choose to have a more productive layout in your office and include centralized printers. As a result, your employees will have more time to focus on their work.
Standing work desks are also a wise investment for your office. They take up a lot less space, and your staff can do their job standing instead of sitting, which also has health benefits. Firstly, they help burn more calories, and secondly, they boost energy levels. Being able to move and stretch at your desk is a lot better than sitting in the same spot for hours.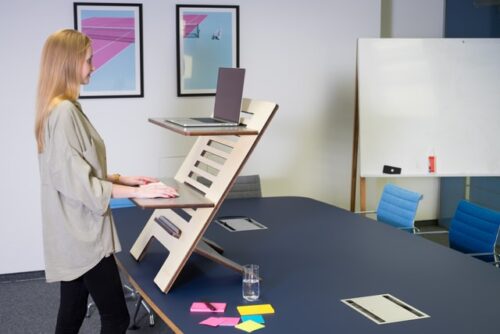 Flexibility is the key.
Recent studies show that, because of the pandemic, many employees have adapted to working from anywhere. Flexible workspaces were a thing before last year, but now they are becoming more and more popular. Therefore, trying to keep your office space efficient can sometimes mean having employees working from home. This will allow you to organize the area in a minimalistic manner. In a word, you won't need desks for all the employees if half of them are working from home.
Creating friendly corners
One of the NYC office space design trends for 2021 is to have places where your employees can relax during breaks. Depending on the amount of space you have, here are some ideas that you could embrace.
Office library. You can promote learning and self-development by placing a bookshelf or library in the office. Moreover, you can offer them a quiet room where they can read and relax.
A healthy snack bar. Offer your employees healthy snack alternatives for their lunch breaks. Put baskets with bananas and apples, different types of nuts or protein bars. They will enjoy them, for sure.
A coffee station. For many of us, coffee is a source of energy and satisfaction. Having a coffee station in your office will help your staff to get going. Also, it will be a great meeting and socializing point.
Workout space. Encourage your employees to stay fit by adding some gym equipment. Working out can help them relieve stress and boost their mood.
Recreational rooms. Bring in some board games or place a pingpong table in the common room. It will give your employees the chance to have fun at work and get to know each other better.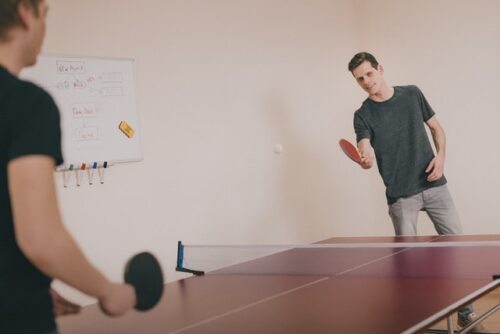 Outdoor working spaces
People like being outside, so why not allow them to work in an environment that they enjoy? One of the most popular NYC office space design trends for 2021 is to create an outdoor working space for employees. It is much more relaxing, it boosts productivity, and it is beneficial for mental health. Not to mention that, in the current pandemic situation, you can achieve social distancing with more ease. Therefore, if you have the space, a good internet connection, and ergonomic furniture, create an outdoor workspace for your staff.
Embrace biophilia
If you don't have the means to create an outdoor working space for your workers, try to bring nature inside. Biophilic office designs focus on connecting humans visually with nature. A green living wall or indoor potted plants can help you achieve just that. Besides having the opportunity to admire a piece of nature, it also has health benefits. For example, indoor plants can improve air quality, help you relax and recover from mental fatigue. Your employees will be healthier, happier, and more creative.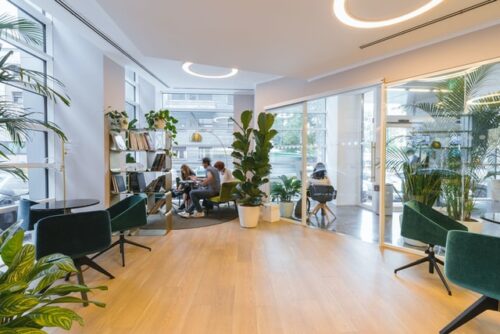 Making an office move more efficiently
Getting assistance relocating is just as important as finding the right location for your new office. Transporting fragile equipment safely or avoiding misplacement of important documents can be achieved with the help of a moving company. But, how can you make sure you find the right company for your needs? For example, Best Movers NYC specialists encourage business owners to request quotes from several companies and compare them. See which firm can offer the best services at a reasonable price. Doing a bit of research will only bring you benefits in the long run.
Adopting 2021 design trends for your office
2020 has been a challenging year for many companies and their staff. Paying rent for offices that were unoccupied due to remote working has had an impact on the budgets. As a result, many business owners cannot afford to invest in new office spaces or modify existing ones. Fortunately, a lot of NYC office space design trends for 2021 are all about downsizing. Choosing minimalistic but ergonomic furniture, encouraging flexible work, and using outdoor spaces are just some examples. With a bit of imagination and minimal investment, you can welcome your staff to a refreshed workspace.
Article by Sally Norton
Sally is a proud member of Alejandra's Life Family Team